What is the Significance of Jesus' Baptism?
What is the Significance of Jesus' Baptism?
We learn from Scripture that water baptism is an important act of obedience on the part of every believer in Jesus in response to the Lord's command. However, let me emphasize that baptism does not save as some Christians teach. One does not need to be baptized to be saved. We are saved by grace through faith alone in the Lord Jesus (Ephesians 2:8-9).
In other words, water baptism is not a requirement for salvation and anyone who teaches otherwise is gravely mistaken. We submit for water baptism for several reasons that include us publicly declaring our faith in the Lord Jesus and identifying with His death, burial, and resurrection.
But why did the Lord Jesus have to undergo water baptism before beginning His earthly ministry? What is the significance of this act on His part?
The Baptism of Jesus
The baptism of Jesus by John the Baptist was one of the highlights of the beginning of our Lord's earthly ministry. Although gospel authors Matthew, Mark, and Luke record Jesus' baptism, Matthew gives us a more detailed description by first introducing John the Baptist as the one prophesied by Isaiah as the forerunner of the Messiah.
Matthew 3:13-17
Then Jesus came from Galilee to John at the Jordan to be baptized by him. And John tried to prevent Him, saying, "I need to be baptized by You, and are You coming to me?" But Jesus answered and said to him, "Permit it to be so now, for thus it is fitting for us to fulfill all righteousness."
Then he allowed Him. When He had been baptized, Jesus came up immediately from the water; and behold, the heavens were opened to Him, and He saw the Spirit of God descending like a dove and alighting upon Him. And suddenly a voice came from heaven, saying, "This is My beloved Son, in whom I am well pleased."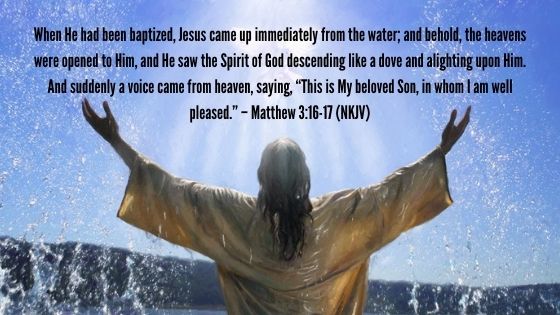 Here is the story of Jesus coming to John to be baptized by him, and after getting a little resistance from the "baptizer," Jesus is baptized. Immediately after getting up out of the water, we then have the descent of the Holy Spirit from heaven on Jesus and a voice from heaven confirming the person and work of Jesus.
The Necessity of Jesus' Baptism
John's response to Jesus' coming to him for baptism seems to indicate that John did not only know something about Jesus, but he also knew that baptism did not apply to Him (Matthew 3:14).
John had been preaching baptism unto repentance (Matthew 3:11). As the people listened and were convicted of their sins, they repented and were baptized as a witness to and sign of their inner purification.
But when Jesus came to John, he tried to stop him from being baptized because, at that moment, John was looking into the face of the Messiah – the "Lamb of God who would take away the sin of the world" (John 1:29) and "the man whose sandals he is unworthy to carry" (Matthew 3:11).
In response, Jesus said, "it was fitting for them in order to fulfill all righteousness" (Matthew 3:15). Notice that the Lord used the word "us" – "it is fitting for us." It was something that both the Sinless one (Jesus) and the sinner (John) had to do to fulfill all righteousness. Jesus was not acting alone; He was acting with John to fulfill God's plan.

Jesus' Baptism Confirmed John's Ministry
John grew up to be a very special man. But who would have thought that God would use a "wilderness man" to Christ's forerunner? He was very different from the other people who lived in his time. John was a Nazarite from birth who was filled by the Holy Spirit while still in his mother's womb (Luke 1:15).
He chose to live in the desert, wore camel's hair, and ate locusts and wild honey (Matthew 3:3-4). He was very different. After all, who else was preaching in the wilderness? Most people preached in the temple where all the people were. But John was preaching out in the desert.
Perhaps, one could say that John's mission was to introduce Jesus as God's promised Messiah. John the Baptist was specially chosen by God. In describing John's appearance, Matthew links him with Elijah (Isaiah 40:3; Matthew 3:3). Why Elijah? Why not Jeremiah, Ezekiel, or the other prophets? It's because Malachi prophesied that like John, Elijah was a kind of "wilderness man," a man who lived on the run (Malachi 3:1; 4:5).
When John the Baptist was first introduced in Matthew's gospel, his message was an announcement that the kingdom of God was at hand (Matthew 3:2). He was warning the Jewish leaders including the most zealous religious group, the Pharisees, that the King was soon to appear and will bring judgment.
Although John was careful to distinguish his ministry from that of the coming Messiah (Matthew 3:3, 11-12), his preaching was not only the warning of impending judgment; more importantly, it was a call to action. His message was intended to prepare the people for the coming of the Messiah, and for the message of salvation, that would be proclaimed after the suffering, death, burial, resurrection, and ascension of our Lord.
Through John's ministry, Jesus was introduced by God as the promised and long-awaited Messiah. By asking John to baptize Him, Jesus showed approval of his baptism, confirmed his ministry, and bore witness to it that it was indeed from heaven approved by God.
John played a vital role in the commencement of Jesus' earthly ministry as he called upon men to prepare for His coming.
Jesus Christ, the Suffering Servant
John initially refused to baptize Jesus but Jesus knew that it was His Father's will for Him to undergo water baptism. Jesus was baptized not because he was a repentant sinner; His baptism identified Himself with tax collectors and sinners, the very people He came to save.
The word "righteousness" as used in the gospel of Matthew draws its meaning from the Old Testament. A full study of righteousness will lead to a meaning for the word as that which "conforms to the standard" which would mean doing the will of God.
To say that Jesus had to be baptized to fulfill all righteousness does not mean Jesus had been unrighteous. It simply means that He is committing Himself to do God's will for Him, which is to conform to the standard which is the will of God.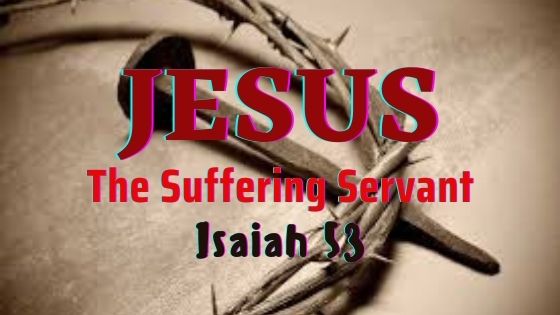 God's will for Christ was laid out centuries before He came in the book of Isaiah 53. The prophet Isaiah announced that the Suffering Servant was to be "numbered with the transgressors, would bear the sin of many, and make intercession for the transgressors" (Isaiah 53:12).
Through His baptism, Jesus began to be identified with sinners. Isaiah further described the Messiah as "God's righteous Servant who shall justify many, for He shall bear their iniquities" (Isaiah 53:11). The Father's statement in Matthew 3:17 saying, "This is My beloved Son, in whom I am well pleased," also relates Jesus Christ to the Suffering Servant (Isaiah 53:10).
Well, it's not that the Father took delight in His Son's pain but the suffering and death of the Messiah were in fulfillment of God's plan to make salvation available to everyone who believes (John 3:16). Jesus began to fulfill His work as the Suffering Servant at His baptism where He would identify with sinners, take their sins upon Himself, and justify them through His suffering and death.
Jesus' water baptism was a picture of His future baptism on the cross. He was rejected and made to suffer and die but He is also seen to come forth in victory.
Conclusion
The baptism of Jesus Christ is not to be identified as one of repentance or as one similar to Christian baptism. Jesus' baptism was unique, an initiatory right, setting Him apart to His role as a Prophet, Priest, and King, and anticipating His suffering and death on the cross.
No other, before or after, can share this baptism.
---
Disclaimer: As an Amazon Associate, I may earn a commission when you use any links on this page to make a purchase, but at no additional cost to you.