What is the Significance of the Lord's Supper?
Among the two ordinances established by Jesus Christ and observed by Evangelical Churches is the Lord's Supper. (The other one is Baptism.) So what is the significance of the Lord's Supper and why do Christians celebrate it?
Biblical Basis for the Lord's Supper
The Lord's Supper, which is actually the Last Supper that Jesus had with His disciples the night before He died, is recorded in the Synoptic Gospels (Matthew 26:26-30; Mark 14:22-25 and Luke 22:14-20).
Each Gospel writer describes Jesus giving thanks, blessing the bread and the cup and giving them to His disciples and saying that the bread is His body and the cup is the new covenant in His blood which is shed for many. In Luke 22:19, Jesus says, "Do this in remembrance of Me."
From the earliest records, we can tell that the church did exactly what Jesus said: they reenacted that Last Supper in remembrance of Jesus and His death. This is evident not only in Acts 20:7 but also in 1 Corinthians 11:23-26.
The Lord's Supper is not just some afterthought on the part of the church leaders to give the Christian faith more appeal or character. It is not also an ordinance that has somehow evolved with the passing of time. Jesus Himself instituted it and commanded it to be continued.
Elements Used in Celebrating the Lord's Supper
At the Last Supper, Jesus Christ took the bread and when He had given thanks, He broke it and said, "Take, eat; this is My body which is broken for you; do this in remembrance of Me."
In the same manner, He also took the cup after supper, saying, "This cup is the new covenant in My blood. This do, as often as you drink it, in remembrance of Me" (1 Corinthians 11:23-25).
There are two elements used in celebrating the Lord's Supper: bread and wine (or grape juice). Note that nothing is specified about the kind of bread or wine to be used. But a great deal has been given through the years as to whether the bread should be unleavened or the wine should be fermented or unfermented.
Some say that using unleavened bread seems reasonable to use based on the fact that it is what the ancient Hebrew people who fled from Egypt have used to commemorate the "First Passover."
Since the physical is only a figure of the spiritual, the choice of elements is secondary. It does not really matter if regular bread or unleavened is used. What we should be concerned about is using playful substitutes like bagels and the like.
What about the wine? We have good reason to believe that the wine mentioned in the New Testament was different from the wine we have come to be familiar with today. One of the early church fathers, Justin Martyr, described the Lord's Supper around A.D. 150, "Bread is brought, and wine and water, and the president sends up prayers and thanksgiving."
The Use of Wine Today
In Jesus' day, grape juice could not be kept without fermenting it for they had no modern canning and preserving facilities. So He must have used a very common beverage during those times. However, it was very customary to mix in a ratio of three parts water to one part of wine – the normal mixture in the Passover ritual.
If Jesus used wine, why can't we also use it today? Because of the problem of alcoholism, it might be the better part of wisdom to avoid the temptation with the use of grape juice to commemorate the Last Supper. Grape juice is easily accessible, inexpensive, and nonalcoholic.
Things to Consider When Partaking of the Lord's Supper
On the night in which He was betrayed, Jesus took the cup and the bread – the ingredients of a common meal in that day – and transformed them into a meaningful spiritual experience for believers.
However, the value of the experience depends on the condition of the hearts of those who participate. So what are the things we need to consider when partaking in the Lord's Supper?
1) We should look back (1 Corinthians 11:23-26a).
The broken bread reminds us of Christ's body, given for us; and the cup reminds us of His blood that was shed. It is a remarkable thing that Jesus wants His followers to remember His death.
Most of us try to forget how those we love died, but Jesus wants us to remember how He died. Why? Because everything we have as Christians centers on that death. We are to consciously call to mind the person of Jesus and His death as a means for the forgiveness of our sins.
2) We should look ahead (1 Corinthians 11:26b).
We observe the Lord's Supper "until Jesus comes again." The return of Jesus Christ is the blessed hope of the church and the individual Christian (Titus 2:13). Jesus did not only die for us, but He rose again and ascended to heaven.
And one day He shall return to take us to heaven at the Rapture (1 Thessalonians 4:13-18; John 14:2-3; 1 Corinthians 15:51-53) for the rewarding ceremony at the Judgment Seat of Christ (Romans 14:10; 2 Corinthians 5:10), and the Marriage Supper of the Lamb (Revelation 19:9).
Today, we are not all that we should be; but when we see Him we will be like Him (1 John 3:2).
3) We should look within (1 Corinthians 11:27-28, 31-32).
The apostle Paul did not say we had to be worthy to partake of the bread and cup, but only that we should partake in a worthy manner. If we are to participate in a worthy manner, we must examine our own hearts, judge our sins, and confess them to the Lord.
To come to communion with unconfessed sin in our lives is to be guilty of Christ's body and blood, for it was sin that nailed Him to the cross. If we will not judge our own sins, then God will judge us and chasten us until we do confess and forsake our sins.
The believers at Corinth neglected to examine themselves, but they were experts at examining everybody else. When the church gathers together, we must be careful not to become "religious detectives" who watch others while failing to acknowledge our own sins.
No one ought to come to Communion who is not a true believer. Nor should a true believer come to Communion if his heart is not right with God and with his fellow Christians. This is why we are given a time of spiritual preparation before partaking of the Lord's Supper, lest any of us bring chastening on ourselves.
We are to treat the Lord's Supper with reverence and to practice it in a spirit of self-examination. If we eat and drink in an unworthy manner, we eat and drink judgment to ourselves, and that is nothing to take lightly.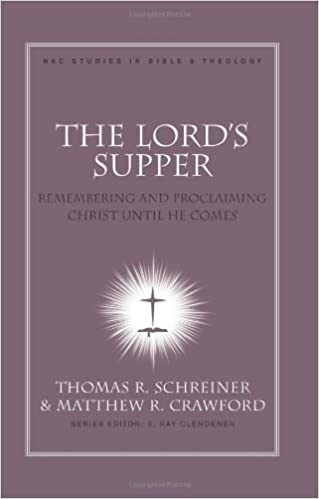 4) We should look around (1 Corinthians 11:33-34).
We should not look around in order to criticize other believers but in order to honor the Lord's body (1 Corinthians 11:29b). This perhaps has a dual meaning. We should honor Jesus' body as symbolized in the bread, but also in the church around us – for the church is the body of Christ.
The Last Supper should be a demonstration of the unity of the church – but there was not much unity in the Corinthian church. In fact, their celebration of the Lord's Supper was only a demonstration of their disunity.
It isn't only good manners to wait for one another when partaking of the Lord's Supper; it also shows love towards others. If we wait for one another, then each one can receive an equal share.
5) We partake of it as often as we can (1 Corinthians 11:25b).
Nothing is said in the New Testament about the frequency of the Lord's Supper. Some believe it would be good to do it weekly; others practice it quarterly and still, others celebrate it on the first Sunday of each month.
I believe we are free in this matter. But since we take the Lord's Supper to remember Christ's death, we should take it fairly often and regularly. In any case, it's not the frequency that matters but the attitude of our hearts.
Purpose of the Lord's Supper
1) A Remembrance
First of all, the Lord's Supper is a remembrance, a recollection. As we partake, we are to dismiss from our thoughts the care of everyday life and focus our attention completely on the Lord Jesus, foundationally remembering His death on the cross for us.
Let us not forget as some often do, how much our Lord has sacrificed for us at Calvary. The Lord in His gracious wisdom instituted the ordinance of the Lord's Supper as a loving reminder of His death, resurrection and soon-to-be return.
2) Spiritual Nourishment and Inspiration
Just as certain foods are essential to physical well-being, so we need spiritual foods to nourish our spiritual life. Prayer, Bible study, and fellowship are a few of these, but the Lord's Supper is also an important part of our spiritual diet and we should not neglect it.
3) Fellowship
The Lord's Supper is a means of fellowship with one another in Christ. It is a sign of the union of believers with Christ, their head.
Since the beginning of the church, it was customary for the believers to eat together (Acts 2:42, 46). It was an opportunity for fellowship and for sharing with those who were less privileged.
They called these meals "fellowship meals" since the main emphasis was commemorating the Lord's love and showing love for the saints by sharing with one another (Jude 12).
4) Means of Preaching the Gospel
Jesus said in 1 Corinthians 11:26, "For as often as you eat this bread and drink this cup, you proclaim the Lord's death till He comes" The word translated "show" in the original language is actually the word for "preach." So basically, Jesus is saying, "You do preach the Lord's death until He comes."
We need to understand that each time we do Communion we are actually preaching a sermon declaring that Christ died for the sins of the world, that He rose from the grave and He is coming again.
Conclusion
The Lord's Supper was a supper with great symbolic meaning attached to it. The two prominent symbols are the bread, which is broken into pieces and shared by all, and the wine poured into a common cup and drunk by all.
Jesus taught His disciples that the bread represents His physical body which was given for us so that we might be saved. The wine, on the other hand, represents His blood which was poured out for the atonement of our sins.
Jesus, the eternal Son of God, took on human flesh, adding perfect, sinless humanity to His undiminished deity. He took on a sinless body so that He could die in our place by taking our sins upon Himself.
When we partake of the Lord's Supper, we celebrate our Lord's sacrifice on Calvary for our unmerited benefit and blessing.
Here's a beautiful song by Matt Redman called "Remembrance." Listen and be blessed.