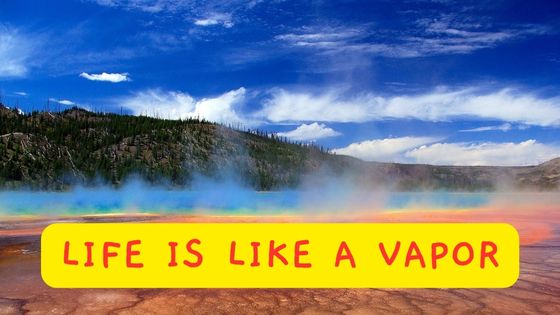 Some people do not realize that nobody would live here on earth for all eternity. That's because life is fragile, and the Scriptures made that quite clear. We may be here today and then gone tomorrow; who knows? This reminds me of the old riddle, "What is something you know but do not know?"
The answer to this is "death." We know for certain that we will all die, however, we do not know when.
Bible Verse:

James 4:14 (NKJV)
"Whereas you do not know what will happen tomorrow. For what is your life? It is even a vapor that appears for a little time and then vanishes away."
In this verse, James exposes the presumptuous folly of the practical atheists he condemned in the previous verse (James 4:13). These are those who do not know what the future holds for them.
The word vapor refers either to a puff of smoke or one's breath that appears for a moment in cold air. It stresses the transitory nature of life (James 1:10; Job 7:6-7; 9:25-26; 14:1-2; Psalm 39:5, 11; 62:9, 89:47; 90:5, 6, 10).
The Brevity of Life
Life's brevity is one of the repeated themes of Scripture. To us, life seems long, and we measure it in years. In comparison to eternity, however, life is but a vapor or "fog." James borrowed that figure from the book of Job where we find many pictures of the brevity of life.
Since life passes so quickly, we cannot afford merely to spend our lives, and we certainly do not want to waste our lives. We must invest our lives in those things that are eternal.
Spending Eternity
Everybody needs to decide where they will spend eternity. Have you answered that question yet? Our motives and choices are indicative of what is in our hearts (Revelation 20:13b).
I understand not wanting to live a godly life. The sanctified life is not always fair because it is easy to be violated. Satan and his demons are influencing the destruction of humanity.
Everybody is going to meet YHWH eventually whether they believe He is real or not. The feelings and beliefs do not change the truth. Our choices show whether we want to live with YHWH and Yeshua or not for eternity.
This life is not all there is. Satan hates humanity since we were made in YHWH'S image (Genesis 1:27). Satan is deceiving humanity to hate YHWH and Yeshua, which is evident by the fact that sin abounds (Matthew 24:12).
The temporary satisfaction of sin does not compare to living with YHWH and Yeshua for eternity (1 Corinthians 2:9). We all have our weaknesses. Life can be traumatic. That does not mean we cannot overcome them. As Philippians 4:13 says, "I can do all things through Christ which strengtheneth me."
Final Words
Life on earth is fragile and there is nothing we can do about it. No matter how long we would like to remain, that is beyond our control. Since Yahweh is the giver of life, only He has the authority over it. Only He has the power to extend to shorten our years.
Indeed, God has given us a clue as to the number of years we may live here on earth (Psalm). Yet, there is no guarantee we will all live to be 70 or 80 years old. We must understand that also that sometimes YHWH allows trials so we can rely on the grace of God (2 Corinthians 12:9).
But are we trusting YHWH enough to take care of our trials as He sees fit? More importantly, are we ready to meet Him?
---
Recommended Resource:
How You Can Be Sure You Will Spend Eternity with God by Erwin W. Lutzer 
How You Can Be Sure You Will Spend Eternity with God—it's a big promise, but this short book delivers.
It answers a host of questions, such as:
Will good deeds help me get into heaven?

Who goes to heaven and who doesn't?

What role do I have in my own salvation?

Can I lose my salvation if I commit a serious sin?

Is it wrong to doubt my salvation, and what should I do if I doubt? 
Dr. Lutzer takes many scriptural teachings and siphons them into clear, cohesive truths. The result is a concise, accessible book about how to be saved and be sure you are saved.
It is straight gospel—applicable to the skeptic, newly saved, and long-time believer alike.