Man's Opinion vs. Biblical Fact
I find it disheartening that today, people value man's opinion over biblical fact. When it comes to important matters such as family values, people choose to listen to what the world says. In other words, people give more importance to man's opinion over God's.
But no matter what the world says, their opinions do not change the facts about God and the Bible.
Bible Verse:

Hebrews 13:8, NKJV
"Jesus Christ is the same yesterday, today, and forever."
Both Malachi 3:6 and Hebrews 13:8 declare that God is immutable; He is unchanging. God remains the same always and will never change. Everything else in the world will change but we can trust God to be always good, loving, faithful, merciful, kind, etc. 
We often hear people say that the only constant thing is change and it's true. People may promise one thing today but turn around and say something different. Your life may be smooth sailing and comfortable today but you'll never know what tomorrow holds. A couple might be "over the moon" today but could end up in divorce in two years.
So, you see? Nothing is permanent; nothing remains the same. But God is the same yesterday, today, and forever.
What Happened to America?
It is a shame that American society and much of the world have rejected many biblical principles. Many things have changed because we now live in the "Era of Post-Modernism" or a "Post-Christian Society." These labels accurately depict the period we live in.
Post-Modernism emphasizes relativity and the encouragement to affirm everyone's beliefs. It does not matter anymore if someone else's opinions or beliefs are contrary to the truth. They are accepted and regarded as facts nonetheless.
Since society agrees with Post-Modernism, genuine Christianity has been largely rejected for being too exclusive. It's no wonder then that Christians are labeled as bigots and intolerant for standing up for their faith.
We've heard of a Christian baker who was sued for not agreeing to bake a wedding cake for a gay couple. But this man did not do as asked not because he was discriminating against the gay couple or intolerant of them. Rather, he refused to bake a wedding cake because doing so goes against his Christian values.
America's Rejection of God
What happened to the United States of America? Isn't this country's constitution founded on Judeo-Christian values? Aren't the founders of this great nation Christians and they wanted it to value God and His statutes?
America has rejected God in so many different ways. Gone were the days when students were free to acknowledge God in their valedictory or salutatory addresses. Today, it is considered bigotry to recite from the Bible or pray in public.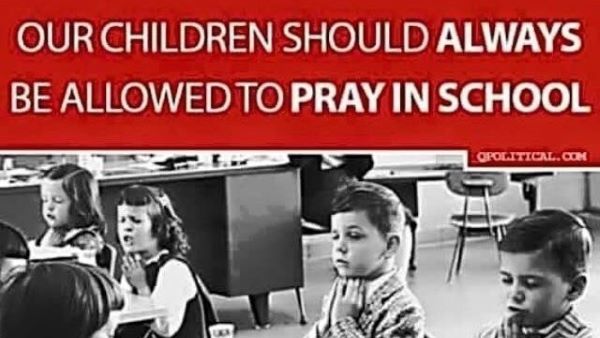 But no matter how much people hate God and want to get rid of Him completely, the truth remains. The truth does not change; God is still God! Are we all doomed to only find out the truth after we die? God forbid!
This is a wake-up call for everyone who claims to be a follower of Christ. It's time to stand up for your faith and keep spreading the truth about God. Regardless of what the world thinks of you and says about you, go out there and share the Gospel with the lost.
Jesus is the Answer
We have all sinned and fallen short of the glory of God (Romans 3:23) but thanks be to our Lord Jesus for redeeming us from sin. The only solution to humanity's problem of sin is found in Jesus Christ (Acts 4:12).
Jesus left His throne above and came down to suffer and die so that we would be reconciled to God (2 Corinthians 5:18).
Indeed, Jesus is the answer to the problem of sin. No matter how good we think we are or how much good work we strive to do, it is never enough. This is because our salvation is not based on our good works but on the finished work of Christ. The Bible is clear that salvation is by grace through faith alone in Christ (Ephesians 2:8-10).
Do you know Jesus? Have you confessed your sin, received His forgiveness, and surrendered your life to Him?
Do not value the opinion of man over God's because they cannot save you from your sin. Instead, you should start making biblical decisions because what you decide today will determine your tomorrow.
Final Thoughts
Christianity has become unpopular, but that does not change the fact that God still changes lives through the finished work of Jesus Christ. 
God has not abandoned His creation (Hebrews 13:5b) and He never will. He will continue to work through His people to accomplish His purpose. Even when things seem to be going in the wrong direction, rest assured that God is in control.
It does not matter what anyone's beliefs are now. Time will come when every knee will bow and every tongue will confess that Jesus Christ is God (Philippians 2:10-11).
Just because Jesus lived 200 years ago, does not change the fact that God has been revealed, The Bible is God's Word, He still changes lives, and all will stand before a Holy, Righteous, and impartial Judge. 
Every person needs to choose whether Jesus will be their Judge or their Advocate.  Choose wisely for your own sake! Do exactly what God is asking. Repent from your sins, believe that Christ died to save you, and live your life to serve Him until He comes again.
---
Disclaimer: As an Amazon Associate, I may earn a commission when you use any links on this page to make a purchase, but at no additional cost to you.
Recommended Resource:
Mission Possible One-Year Devotional: 365 Days of Inspiration for Pursuing Your God-Given Purpose by Tim Tebow and A. J. Gregory
In his first devotional, the New York Times bestselling author and athlete challenges you to find your mission and pursue a bolder, brighter, more fulfilling life—by building your faith every single day.
Tim Tebow knows a thing or two about living a mission-possible life. The two-time national champion, Heisman Trophy winner, first-round NFL draft pick, former professional baseball player, college football analyst, and New York Times bestselling author now shares what it takes to move toward your mission. 
Tim reveals how you can find your mission and take a step each day to reach your purpose and your best future.
Through 365 Bible-based readings, you'll discover how to:
Align your responsibilities.

Identify your priorities.

Elevate your convictions.

Make decisive, wise choices.

Fuel your drive and passion.

Set your sights on eternity.
The secret to a truly meaningful life doesn't involve more comfort or ease. It requires a clear focus on who God made you to be and a proven guide to get you there. Tim is ready to help you live that mission-possible life.