Is Doctrine Keeping Us Apart?
Are you aware that more and more people are concluding that doctrine is keeping us apart? Doctrine is destroying unity and separating family members. Thus, making it difficult for the follower of Christ to set aside differences and stand together for a common purpose.
Doctrine is also what distinguishes and divides Christians into thousands of denominations and subgroups.
Bible Verse:

Galatians 1:6
"I marvel that you are turning away so soon from Him who called you in the grace of Christ, to a different gospel."
This verse characterizes the Galatians' response to the false teachers' heretical doctrines. The Galatian believers were voluntarily deserting grace to pursue the legalism that the false teachers were propagating.
In effect, it caused division in the church.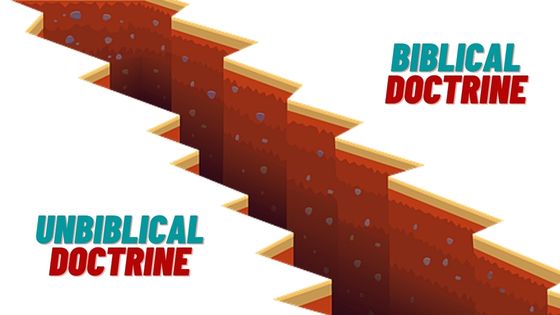 Doctrine Divides, Love Unites
Although many are pointing out that doctrine divides, the fact also remains that love unites. This is because our Lord Jesus called us to love one another (John 13:34; 15:12).
The commandment to love was not new. Deuteronomy 6:5 commanded love for God, and Leviticus 19:18 commanded loving one's neighbor as one's self. The Greatest Commandment summarizes the Law into two:  Love God with all our heart, soul, mind, and strength, and secondly, love our neighbor as ourselves.
Also, Christ Himself said that love would be the distinguishing mark of His people (1 John 2:7-11; 3:10-12; 4:7-10, 20, 21). Love is from God because God is love. Christians love because God is the essence of love.
We cannot love God without first loving our fellow believers. Anyone who claims to love God but cannot love other Christians for any reason, even doctrinal differences, is delusional.
Doctrine Unites, Love Divides
However, we cannot afford to forget that doctrine also unites. All over the world, what allows true believers in Christ to find a family is acceptance of the doctrine of Christ.
In searching for a spiritual family to join, belief in the person and works of Christ is of utmost importance. This is exactly why the first thing we want to know about a particular church is its statement of faith.
What do they believe about Christ, God's grace, the Bible, salvation, etc? Do they believe in the Triune God? What about Christ's promise to come again for His church?
When Christians accept the doctrine of the grace of God, it enables them to recognize one another as brothers and sisters. It won't matter anymore if they are of different cultures and ethnic backgrounds. They just see each other as lowly sinners saved by grace through faith alone, in Christ alone (Ephesians 2:8-9).
It is for the same reason that love divides. Once we know the truth about Christ and His sacrifice, we need to stop pretending we are in unity with those of different doctrines. We cannot sacrifice the truth for a false sense of unity, just so we could stand together in social consensus.
The Doctrine of Human Merit
When the apostle Paul wrote Galatians 1:6-8, love was working together with truth.
Forgiveness of sins, eternal life, and adoption into the family of God comes only by grace, through faith alone, in Christ alone. Any doctrine that says human merit would add to what Christ has already accomplished is unacceptable.
The Gospel of Christ makes it clear that one cannot mix faith and works when trusting God for forgiveness and salvation.
Does this mean we can do whatever we want and live the way we want to live after getting saved? That we can keep on sinning after receiving God's forgiveness?
Paul answers this question in Romans 6:1-14 where he discusses the doctrine of sanctification. Sanctification is the act of God that produces actual righteousness in the believer.

Under the Doctrine of Christ
We can't have Christ without embracing and submitting to the doctrine of Christ. We need doctrine to answer questions like: Who is God? What is He like? Does He care about what we believe about Him? And once we know Him, how are we to live?
Paul wrote this in 2 Timothy 4:2-4:
"Preach the word! Be ready in season and out of season. Convince, rebuke, exhort, with all longsuffering and teaching. For the time will come when they will not endure sound doctrine, but according to their own desires, because they have itching ears, they will heap up for themselves teachers. And they will turn their ears away from the truth, and be turned aside to fables."
Is our generation facing the danger Paul wrote about? Indeed! Many so-called preachers are encouraging people to accept Christ. Yet, they fail to bring them under the lordship of the doctrine of Christ. Thus, resulting in a growing lack of discernment making them vulnerable to the doctrines of demons.
Conclusion
On the one hand, we cannot afford to let doctrine come between us. As Paul said, "If we don't have love, we are like a sounding brass or a clanging cymbal" (1 Corinthians 13:1-3).
Yet, on the other hand, we need to be grounded on the foundations of doctrine based not on tradition but on Scripture.
---
Disclaimer: As an Amazon Associate, I may earn a commission when you use any links on this page to make a purchase, but at no additional cost to you.
Recommended Resource:
Bible Doctrine, Second Edition: Essential Teachings of the Christian Faith by Wayne A. Grudem (Author) & Alexander Grudem (Editor)
How do we know the Bible is God's Word? What is sin and where did it come from? How is Jesus fully God and fully man? What are spiritual gifts? When and how will Christ return?
If you've asked questions like these, then systematic theology is no abstract term. It's an approach to finding answers every Christian needs to know. The second edition of Bible Doctrine takes a widely used upper-level textbook on systematic theology and makes it accessible. 
You don't need to have had several years of Bible college or seminary training to reap the benefits of Bible Doctrine. It's easy to understand and packed with biblical answers to your most pressing theological questions.
This new edition is 144 pages longer than the first edition.