The Spirit Realm and The Mystery of the Mind
The Spirit Realm and The Mystery of the Mind
Contrary to what others might think, the spirit realm is very real. Ephesians 6:12 tells us that there is a battle going on in the unseen world. As believers in Christ, we are in a fight. But we are not fighting against flesh-and-blood enemies. We are up against mighty powers in this dark world, and evil spirits in the heavenly places.
But do you know that Satan attacks Christians by first attacking their minds? You may have heard pastors say that the mind is a battleground between God and Satan. This is why we are to guard our minds.
Bible Verse:

Philippians 4:6-8
6 "Be anxious for nothing, but in everything by prayer and supplication, with thanksgiving, let your requests be made known to God; 7 and the peace of God, which surpasses all understanding, will guard your hearts and minds through Christ Jesus."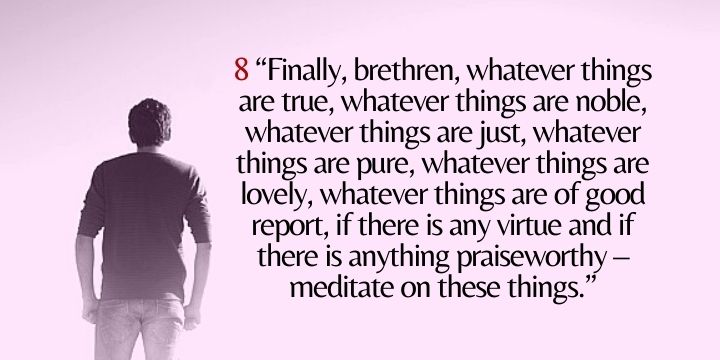 The Work of the Holy Spirit
Some Christians may not know this but the first person of the Trinity that a repentant sinner meets is the Holy Spirit.
At conversion, the Holy Spirit begins His residence in the life of the believers in Christ. He then transforms them from the carnal world of the flesh to the realm of the kingdom of God. Furthermore, the Holy Spirit guides them to righteousness and obedience to God. In theology, this is called sanctification.
Sanctification is the process of living a Godly life, under the Holy Spirit. Hence, the nature of the new creature who was saved by the finished work of Christ. As we begin to mature in our faith, we realize that we are humans. Thus, we are bound to commit sins because of our flesh.
My Thoughts and Reflection
I believe that one of the most vital keys to spiritual maturity is to realize that as humans living on this Earth, we have an enemy (Satan), whose goal is to try everything to get us off course in our journey with Christ. Sometimes, our thoughts are not our own.
In this presentation, I will share with you some ways in which Satan uses our thoughts to plant evil seeds through the mind. I'm going to use a real-life example where I will provide insight into these biblical encounters.
Brethren, I am currently working on a series in which I share what I have learned as a follower of Christ living through the pandemic. My goal is to ensure that other fellow brothers and sisters in Christ understand the significance of Christ's wonderful sacrifice at the cross in our fight against the kingdom of Satan.
What is the Mind?
Think of a construction worker who wants to build a house. Without the correct foundation, the house will collapse. Similarly, for the desire to commit evil to take place, there needs to be an activity within the brain, the inner section of the head.
God gave us the wonderful gift of knowledge. He uses our minds and our hearts to give us spiritual insight on matters on the mysteries of godly living. Now, how does the desire to do evil start? It is a seed sown by Satan, which starts in the mind. This is the foundation of what comes out of the lips and our hands, which grows from our hearts.
Many Scriptures make it clear that the primary battleground in spiritual warfare is our hearts and minds. Satan attacks with thoughts—evil suggestions, sinful ideas, false philosophies (doctrines), temptations, various lies, and so on.
Our means of defense are knowing, believing, and acting upon the Word of God.
The Mind and External Sources
It is vitally important that you understand that every thought you think does not necessarily originate from within yourself.
Satan has many spokespersons who help him plant his thoughts in people's minds. He works to influence us through newspapers, books, television, magazines, radio, through friends and neighbors, and even through preachers (false prophets.)
Even the apostle Peter was once unwittingly used as a spokesman for Satan. In Matthew 16:21-23, Peter suggested to Jesus that it was not God's will for Him to die. Satan and his legions also work directly on human minds, without any human intermediary.
All Christians will at times find themselves under direct assault. That is when the warfare starts.
Dealing with Satan's Attacks
A Christian encountered a woman who would frequently experience blasphemous thoughts in nature while engaging in prayer with God. She was a very sweet, dedicated woman who was actively involved in church. One day, she stopped praying every day because she was afraid that she would have these evil thoughts again. Eventually, the woman started to counteract those evil thoughts with the truth presented through the Word.
What can we learn from this testimony?
It was revealed to the woman that those blasphemous thoughts against God were not her own, but rather, they came from Satan. By being afraid that we might think wrong thoughts, we are inviting them, as fear is the opposite of faith.
Learning from experience, I have learned that fear is one of Satan's biggest weapons against believers in Christ. Instead of trusting God and His promises, we trust in the lies that Satan feeds in our minds. By trying not to think about something, we have to think about it to try not to think about it.
In other words, we must substitute what is false and evil with something good, honorable, and pleasing to God. For example, if a thought suggested that Jesus was an idiot, we would replace that thought with the truth. We declare that Jesus is the divine Son of God and died for our sins because of His great love.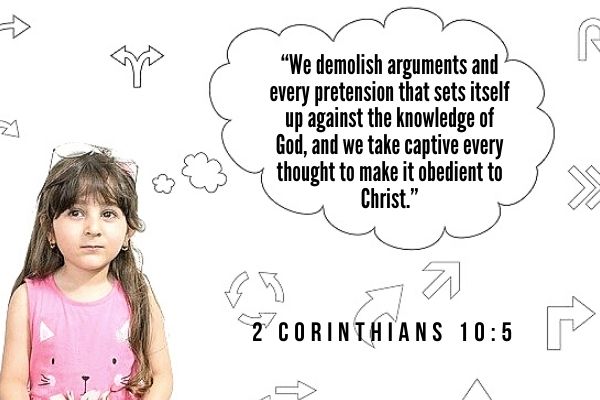 A Closing Prayer
Dear Lord, I recognize that these tormenting, violent thoughts are not of you. I now choose to submit my mind completely to you and refuse to allow these thoughts to torment me any longer.
Satan, I now recognize that you have put these violent, tormenting thoughts in my mind. I refuse to allow them to enter my mind any longer. Your powers were broken at the cross 2,000 years ago. You have no power over me. My mind is now completely free of your plans or attacks. I now submit my mind completely to the Lord Jesus.
Lord, fill my mind with clean and holy thoughts. Help me not allow any demonic thoughts to enter by guarding all that I see on TV, movies, books, news, or magazines. Convict me when I am tempted to look at something impure.
Finally, I ask that this presentation has touched others as they are going through dark seasons in their lives. I pray that I would be a role model who strives to emulate your love, compassion, gentleness, and your holiness. Help me to continue shining Your light to edify Your glorious kingdom.
In Jesus' name, I pray, amen.
---
Recommended Resource:
Spiritual Warfare in the End Times by Ron Rhodes
Understand the Battle Before You Enter It
When you think about the end times, you've probably already considered the rapture, the tribulation, and the Antichrist. But are you prepared for the spiritual warfare that is already escalating around us as we draw closer to the final days?
Now more than ever, it is essential to equip yourself with God's truth so you can stand against the encroaching darkness.
In Spiritual Warfare in the End Times, bestselling prophecy author Ron Rhodes powerfully exposes Satan's most destructive and effective tools of spiritual injury—and the means of rendering them ineffective. Ron will help you understand…
the identity, tactics, and dominion of Satan—and the spiritual armor God has given you for protection

the pivotal roles the Holy Spirit and the Word of God play in your spiritual victory

the sheep (Christians) who keep close to the Shepherd (Jesus) are safest from the predatory wolf (Satan)
Though Satan will always want to diminish your capacity to serve in God's kingdom, God promises you'll never fight him alone.
Spiritual Warfare in the End Times will provide you with all you need for victory both now and in the future.