God's Example of Gift-Giving
God's Example of Gift-Giving
Christmas is just around the corner. And get this … Christmas celebration is not complete without gift-giving! I believe this is the part that makes most people, especially kids, excited about Christmas. This is the highlight of most celebrations such as birthdays, anniversaries, etc.
Don't you love gifts! Everybody loves gifts! I do not know of anyone who doesn't.
Giving presents and exchanging gifts have become parts of our practices and traditions. And that is not a bad thing! The problem is this, we tend to be choosy.
We want something fancy and expensive. We want to get the best of all gifts. Little do most people realize that God has already given us the best gift. I'm talking about the greatest gift we've ever received mentioned in Ephesians 2:8-9.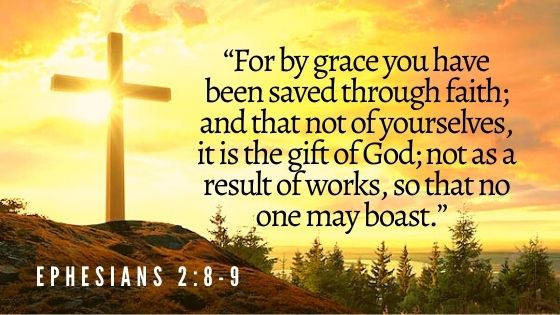 God's Greatest Gift to Us
This gift of God has nothing to do with our efforts. We didn't earn it, deserve it, or purchase it. God gave it through His sacrificial gift so our salvation would not be our boast, but His kindness.
What is this gift? Our salvation!
We may not realize it but this gift from God is unlike any other gift that we can buy from the gift shop. Some people may think it's cheap because it is available to anyone who wants to receive it. But it's priceless; you can't put a price tag on it.
It's because God paid for it with His life. Jesus redeemed us with His blood (Ephesians 1:7). To redeem means "to pay off," "to buy back," or "to regain possession of."
Originally, we belonged to God. But because of sin, we were separated from God. We're on our way to hell and are destined to spend eternity there. But God did not want us to perish so He sent His Son to redeem us.
God's Greatest Gift to Us
First of all, Christ did not come down to earth to start a Christmas tradition that includes the giving of gifts to one another. Christ came to offer His life as a ransom for many. He came to give us eternal life.
By doing what He did, God also exemplified the true meaning of gift-giving.
So, what are the things that God wants us to take into consideration whenever we give to others?
"For God so loved the world that He gave His only begotten Son, that whoever believes in Him should not perish but have everlasting life" (John 3:16).
Giving Should be Motivated by Love
God had one reason and one reason only for giving us the greatest gift of all and that is love. We have no reason to doubt this. You see, God did not have to give His Son but He did it anyway.
Why? It's all because of His great love. God is not only full of love; God is love (1 John 4:16). Everything God does stems from His great love for us. If God did not spare His own Son but gave Him up for us, how can He not also give us all things (Romans 8:32)?
What about us? What is our motivation in giving? In goal-setting, they call this "finding your why." In other words, what's your reason for doing the things that you do.
Why do you give to charitable institutions and orphanages? Is it because your friends are doing it? If your reason is that you feel sorry for them, that means your heart is in the right place.
Why do you give in support of God's work? Why do you give birthday presents to your friends or other people on any occasion?
By the way, giving is not only in terms of material things, like money or anything tangible. It could also mean spending time with your friends and loved ones. Or taking a break from your busy schedule to comfort a colleague or friend who's going through tough times.
Giving Should Be Unconditional
Unconditional means "no strings attached." It's just like how God gave His Son to die on the cross for our sins. God was not expecting anything in return. All He wanted was to spare us from eternal condemnation.
But these days, when you offer something too good to be true, people are quick to ask, "What's the catch?" And we can't blame them. As they always say, "You don't get anything for free. There are no free hand-outs and if there are, they're most likely trash."
When God gave us the greatest gift of all, He did so without condition. How do we know this? It's because God did it out of love and God's love is unconditional.
God did not say, "Hey, you need to be a good person first." Neither did He say, "Turn away from your sin and then I will give My Son to die for you" (Romans 5:8).
God had expectations as some scholars argue, it's that everyone would receive His gift by faith. And also, for them to share that gift with others. This is why Jesus gave the Great Commission.
But we need to emphasize that what God expects from the recipients of His gift is not for His benefit. Rather, it's for the people who are still in darkness. Simply put, it's about giving back or passing it on.
Do we give, expecting something in return? Isn't it more blessed to give than to receive? This is why it's always best to give to the people who are unable to give back to us.
This is not to say that the principle of "give and take" is wrong or bad. What is wrong is when a person who has the means to give prefers to be always on the receiving end.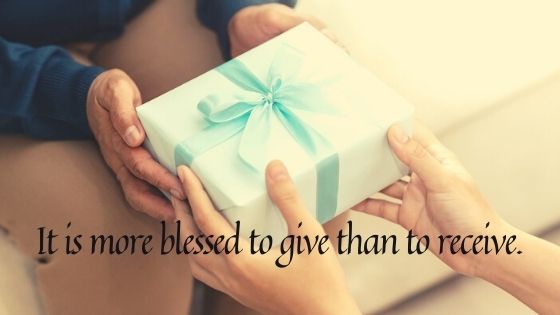 Giving Should be Sacrificial
When we hear the word sacrifice, it always involves doing something difficult and painful. It's not going to be easy and it would take courage to be able to do it. It's about setting aside your own comfort and happiness for the sake of others.
God modeled sacrificial giving 2,000 years ago. The Father endured the pain of having to watch His only Son suffer and die at the hands of His creation. But for man to be spared from hell, God had to experience pain.
We all know the story of Abraham who is about to offer his son Isaac on Mount Moriah? That was a foreshadowing of what God would do to His Son about 1,500 years later on Mount Calvary.
I can't imagine the pain that a parent has to go through when his only child gets brutally killed in front of him. You are blessed to not have to go through this kind of pain.
Have you ever felt pain as a result of "giving" to your family or loved ones? You were saving for a new cellphone but your daughter needed money to pay her lease. Or you wanted to treat yourself to an expensive restaurant but your friend suddenly in need.
These are part of the sacrifice we have to make just so we can give to our loved ones or extend help to those in need.
Giving Should be Purposeful
Why did God give His Son to die on the cross? What was His purpose for sacrificing His only Son? For us to have eternal life! To provide salvation to all who will believe. Again, it's for the benefit of the recipients.
If we read Isaiah 53:10, it says, "But the Lord was pleased to crush Him (the Son), putting Him to grief." Doesn't that sound brutal?
But God did not just do this for nothing. God's giving of His Son was for the sole purpose of saving us from the horrors of hell. It should be the same thing with us when we give anything to someone. It should always be for the benefit of the one who gets the gift.
Is what you're giving beneficial to the receiver? Is it something they need? Oftentimes, what people want is not necessarily what they need. This is why when we ask God for something that does not benefit us, He won't give it (1 John 5:14). God will not grant our requests that are harmful to us.
On our part, when we give a gift or present, we don't give something just for the sake of giving. We should give it some thought. Again, this comes down to our reason or motivation in giving. When we give out of love, we will surely give what we think is best for the recipient.
No matter how expensive your gift might be if it won't be useful to the one who gets it, it's useless. On the other hand, even if the gift is somewhat cheap as long as it's exactly what the person needs, it will be valued and appreciated.
Bottom line is, it's not the worth that counts but its usefulness.
Final Thoughts
God modeled the true meaning of gift-giving. God has not only given us so much; He's also given us the greatest gift of all.
God gave us His only begotten Son, the Lord Jesus Christ. And in the person of Jesus Christ, we find salvation, redemption, reconciliation with God, and eternal life (1 John 5:12).
The least we could do to pay back God for all He's done is to strive to follow our Lord's example. We are to share that gift with others as well.
So, to recap what God has taught us about gift-giving, remember the acronym P-L-U-S.
Recommended Resource: Hidden Christmas: The Surprising Truth Behind the Birth of Christ by Timothy Keller
From pastor and New York Times, bestselling author Timothy Keller comes the perfect gift for the Christmas holiday—a profoundly moving and intellectually provocative examination of the nativity story.
Even people who are not practicing Christians think they are familiar with the story of the nativity. Every Christmas displays of Baby Jesus resting in a manger decorate lawns and churchyards, and songs about shepherds and angels fill the air.
Yet despite the abundance of these Christian references in popular culture, how many of us have examined the hard edges of this biblical story?
In his new book, Timothy Keller takes readers on an illuminating journey into the surprising background of nativity.
By understanding the message of hope and salvation within the Bible's account of Jesus' birth, readers will experience the redeeming power of God's grace in a deeper and more meaningful way.