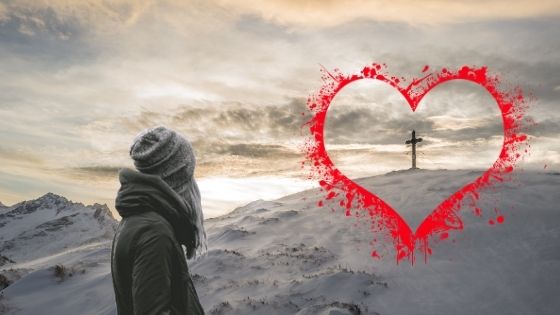 What is the Biblical Definition of Love?
One of the exciting parts of high school life is filling out slum books and answering questions such as "What is love?" It was quite interesting to read different answers.
But if you are looking for the best definition and illustration of love, you may want to open your Bible to John 3:16.
"For God so loved the world that He gave His only begotten Son, that whoever believes in Him should not perish but have everlasting life."
The Love of God
We see in this text a perfect example of a "cause and effect" relationship, wherein one event causes another to happen. It is a combination of action and reaction.
A cause is something that produces an event; an effect is what results from the event. In this case, the cause is God's love and the effect is Him sending His only begotten Son to die for the sins of the world.
God created man out of love and it is also out of love that God chose to save man from eternal condemnation. You see, there was no need for God to create man; God did not need man.
This is exactly why Hillsong's "What a Beautiful Name" isn't theologically sound. There is a phrase that says, "You did not want heaven without us, so Jesus, You brought heaven down." This is a complete fallacy and has no biblical standing at all.
The Triune God is complete within Himself. In the community of the Trinity, there is a perfect love relationship, unity, and fellowship. So, why did God create man? It's because God is love.
God created man to be the object of His love, the apple of His eyes, and the joy of His heart.
Love: God's Motivation
In the story of creation, we read that before God created man, He prepared everything first. God made sure that the environment was comfortable and convenient for man and the only thing left for man to do was to take care of the rest of God's creation (Genesis 2:8-15).
God planted Adam in the beautiful Garden of Eden and gave him full dominion over everything else. And when God saw that Adam needed a "suitable partner," He immediately put him into a deep sleep, took out one of his ribs, and created a woman out of it (Genesis 2:21-23).
Again, God did this out of love. Adam didn't have to ask. God determined that man needed a "suitable partner" and immediately took action (Genesis 2:18).
But after everything that God did for man, what did man do? He willfully and deliberately disobeyed God. Yet, because God is love, merciful, and gracious, He still chose to forgive man.
We know the rest of the story. Man got caught up in this cycle of rebellion and repentance. And throughout history, we see God's love for His people manifested over and over and over again.
God was in no way morally obligated to save man (human beings, male and female). But He did it out of love. We must understand that God is not full of love; He is love.
Love is God's character; it's one of the things that make Him God. God's love motivated Him to give His Son for the world.

Mutual Love Between the Father and the Son
For us to understand the depths of God's love for us and the world, we must first realize how much the Father loves the Son.
John repeatedly emphasizes the mutual love between the Father and the Son in several passages (John 3:35; John 10:17; John 14:312; John 17:24), revealing an intimate relationship; an affection expressed in self-giving sacrifice. To save the world He so loved; God was willing to endure the pain of losing His Son.
Parents, can you bear to see your only child getting punished for somebody else's fault? Let alone see your child suffer and die knowing that he/ she hasn't done anything wrong?
Can you punish your only child for his schoolmates' sin? I don't think so! It is the instinct of parents to protect their children at all costs.
Years ago, a story broke about a mother who was willing to go to prison for her son's crime. Accordingly, a young man accidentally killed their neighbor after a heated argument. He went home and told his mother what had happened. When the police got to the crime scene, they found the mother with the murder weapon.
If our earthly parents will do everything for their children, how much more our heavenly Father. Imagine the pain that the Father experienced at the sight of the suffering and death of His Son that He, the Father Himself, inflicted.
At the cross on Calvary, God poured out His wrath upon His Son (the cup). God watched as Jesus suffered and died to satisfy God's justice. We must never forget that God is love but He is also just.
For Whom Did Jesus Die?
Going back to our text, we see that the object of God's love is the "world." But who or what embodies the "world?" There are different interpretations from Bible teachers, scholars, and denominations. Some argue that God's special love is only for Israel. Others say it's for the church and still, others believe it is for the elect.
But several passages tell us that Jesus sacrificed Himself for everyone. He shed His blood not just for some special groups of people but for all as we read in passages such as 1 John 2:2; 1 Peter 3:9 and Galatians 3:28.
However, let us be careful not to get sucked into the assumption that because God gave His Son for the world then everyone is automatically saved. This just means that salvation became available to anyone.
If we read John 3:17, God's purpose in sending His Son was not to condemn; the world was already in a state of condemnation as a result of man's sin.
The great news is, God provided the gift of salvation for all and it's free. All we have to do is choose to either receive or reject it. One must believe and continues to believe in the Son of God to avail of the gift of eternal life.

The Father Gave His Begotten Son
I cannot overemphasize the biblical truth that God's love caused Him to sacrifice His only begotten Son. But let us look more closely at what the term "begotten Son" means and what is its significance.
If you are reading from a modern Bible translation such as the NIV, NASB, ESV, etc., the phrase used is "one and only Son," which was especially appropriate for a particularly beloved child, normally, an only child.
Interestingly, this same phrase was used to highlight Abraham's obedience to God when asked to offer his son, Isaac, as a burnt offering unto the Lord on the altar he was asked to build at Mount Moriah (Genesis 22:15-16). But before Abraham could slay his son, the Angel of the Lord stopped him and provided a ram instead.
The story of Abraham and Isaac was a foreshadowing of what was to take place at Calvary many years later. God provided a ram for Moses to sacrifice in the place of Isaac but He provided His only Son as an atoning sacrifice for all (1 John 2:2).
People say "I love you," all the time but oftentimes they don't mean it. Actions speak louder than words, right? Well, God did not stop at the words, "I love you." He demonstrated His love by sending His only Son to suffer and die for us. And He did it while we were still in our sins (Romans 5:8).
This is the biblical definition of love – sacrifice.
The Justice of God
I would like to pick up where I left off on the justice of God because this is where many Christians struggle and sometimes stumble.
We understand pretty well the phrase, "God is love." We all agree that God loves us so much; He loves us unconditionally and He sacrificed His only begotten Son to save us from destruction out of His great love.
But when we read that Jesus had to suffer and die to satisfy God's justice, we can't seem to comprehend why. Most people think that the suffering and death of Jesus Christ were inflicted upon Him by Satan.
Of course not! Why did Jesus have to suffer and die? To appease God's wrath and satisfy God's justice. What do you mean?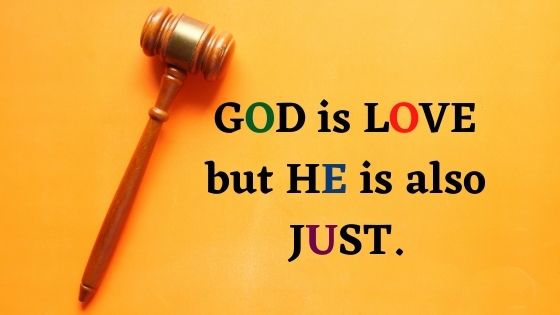 Let me say it again, God is love but He is also just. There was no way God would just sit back and let the sinner go unpunished. Man sinned and he needed to pay. Sins have consequences.
It's like when you commit a crime, you have to pay the penalty. You go on trial and when convicted you'll be sentenced according to the heinousness of your crime.
The punishment for man's sin (rebellion against God) is eternal condemnation, i.e., death or separation from God (Romans 6:23). But because God is love, He wasn't going to let man be condemned forever. So, He came up with a solution – He sent His Son to pay the penalty instead.
The Father Crushed His Son
Isaiah 53:10 says, "It pleased the Lord to crush Him…" Crushed who? His Son! How did the Father crush the Son? By pouring out the fullness of His wrath upon Jesus.
What was Jesus' prayer in the Garden of Gethsemane? For the Father to take the "cup" away from Him (Mark 14:36). But what's in the cup? The wrath of God. When the cup was poured out on Jesus, He took upon Himself the sins of the world and the punishment from God. And when Jesus cried out, "It is finished!" (John 19:30) the penalty was paid in full.
The Bible tells us that during those three hours that Jesus hung on the cross, there was darkness all over the land (Matthew 27:45; Luke 23:44-46), which tells us how horrible Jesus' death was that God had to conceal it from the people.
Conclusion
Are you still in search of true love? Look no further. Come to Christ in repentance and receive His gift of eternal life. God sacrificed His one and only Son so that you and I could enjoy eternal life with Him.
"This is love, not that we loved God, but that He loved us and sent His Son to be the propitiation for our sins" (1 John 4:10).
But just like any other lover, God desires for us to love Him back. And if you truly love the Lord, you are to love Him with all your heart, with all your soul, with all your mind, and with all your strength. You are also to love others as yourself (Mark 12:28-31).
These two are better known as God's Greatest Commandments.
---
Disclaimer: As an Amazon Associate, I may earn a commission when you use any links on this page to make a purchase, but at no additional cost to you.
Recommended Resource: The Difficult Doctrine of the Love of God by D. A. Carson
Description:
At first thought, understanding the doctrine of the love of God seems simple compared to trying to fathom other doctrines like that of the Trinity or predestination. Especially since the overwhelming majority of those who believe in God view Him as a loving being.
The Difficult Doctrine of the Love of God seeks to restore what we have lost.
In this treatment of many of the Bible's passages regarding divine love, noted evangelical scholar D. A. Carson not only critiques sentimental ideas such as "God hates the sin but loves the sinner," but provides a compelling perspective on the nature of God and why He loves as He does.
Carson blends his discourse with a discussion of how God's sovereignty and holiness complete the biblical picture of who He is and how He loves.