God and Government Revisited
Should the government always consider what God has to say when making legislation? Why does it matter to consult God when discussing matters about government authority?
In this short Bible verse and reflection, we will revisit what the Bible has to say about God and the government.
Bible Verse:

Proverbs 14:34, NKJV
"Righteousness exalts a nation, but sin is a reproach to any people."
Although Israel is the only nation that has a special covenant relationship with God, the principle of this proverb still stands.
Deuteronomy chapter 12, Amos chapters 1 to 2, and Romans 1:18-32 make it clear that God judges the Gentile nations for their sins. This is so even if God didn't give them the same law that He gave to Israel (Psalm 147:19-20).
National leaders can't escape the judgment of God when they lead the people away from God's holy standards. Legalizing sin doesn't make it right!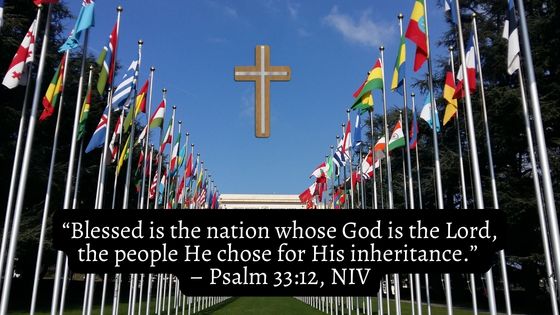 America and the Bible
I have heard multiple individuals from different groups including pastors say they believe in the separation of church and state. The secular community would say that means the separation of God from everyday life and government.
Did you know that the USA is a Constitutional Republic? That means that every citizen is equal under the law. There should not be anyone exempt from the law. Do you have an objective or unchanging standard to say all people are equal and deserve fairness?
I think it is funny that the slogan "Make America Great Again" is found in Proverbs 14:34. Replace the words "a nation" with America and realize that "exalts" is just another word that means "to make great." ☺
Related Article: Politics and the Bible: Are they Compatible?
Regardless of how you feel about the 45th POTUS, God's principle remains. A nation that chooses to disobey God's law and a leader who leads the people to sin will suffer God's judgment. This is not to say that leaders can't and won't stumble in their governance. The issue here is their willingness to submit to God's authority and lead according to God's standards.
I find it disheartening that some candidates for the upcoming US Midterm Elections are promising to codify abortion. It's bad enough that some states have made abortion up to the moment of birth legal. But that's not enough, is it? They want to pass killing defenseless babies in the womb into law!
Whatever happened to the nation whose constitution was founded on Biblical principles and Judeo-Christian values? How did we allow this to happen?
Last Words
The problem is that many people do not believe in a moral objective standard to determine what is righteous. What is your objective standard? It is also obvious that if righteousness is the standard for greatness, it would be spelled out in Scripture as well.
How well are you looking for that standard?
The founders of America knew that the population needed to be righteous for America to be great so that the government would not need to control the people. The only way to be truly free is to be personally free of sin as the entire verse is saying.
Are you righteous before God? The greatness of America is found in the Righteousness of Jesus Christ who died and rose again to save sinners. Are we exalting or shaming our nation? How righteous are you?
---
Disclaimer: As an Amazon Associate, I may earn a commission when you use any links on this page to make a purchase, but at no additional cost to you.
Recommended Resource:
Life According to the Truth by Michael Heilman
Do you know what it means to be a disciple of Jesus Christ? Did you know that God wants to prepare you during this life to live in heaven with Him? Does your purpose for life evade you?
In Life According to The Truth. Disciple of Jesus Christ, Michael Heilman honestly writes about the issues facing the church and how to live the victorious Christian life.
Michael expounds on biblical principles God has applied to Michael's life and led to God's blessing in many areas of his life.
With illustrations, humor, and most importantly scripture, he explains to any born-again believer who is spiritually wandering through life, how to be spiritually blessed by God as a disciple of Jesus Christ.
In this devotional Bible study, you will be enlightened regarding:
Why God must be the key focus of your life

Loving God and others

Discerning God's will for your life

Being confident with your identity in Jesus Christ
Life is difficult, but God can enable you to have abundant joy. If you are a born-again believer that needs encouragement, this book is for you.