Jesus Teaches About Humility and Service
Humility and service are just two of the values that Jesus not only taught but exemplified during His earthly ministry.
On so many occasions in the Bible, we read the Lord teaching His disciples to consider others before themselves. Jesus repeatedly emphasized the importance of self-denial and service to others.
In Luke 14:7-14, Jesus used the occasion of a banquet to give insight into humility and service. He addressed the guest regarding humility in verses 7 to 10, And in verses 12 to 14, He spoke to the host about serving others.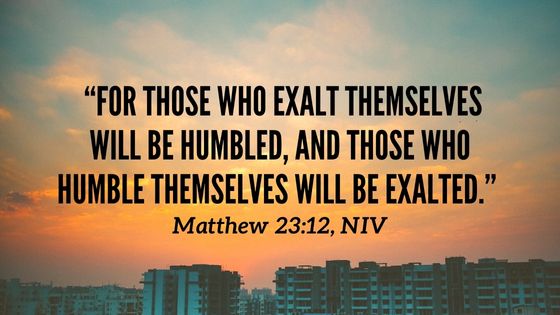 Bible Passage:

Luke 14:7-14, NKJV
So He told a parable to those who were invited when He noted how they chose the best places. He said to them, "When you are invited by anyone to a wedding feast, do not sit down in the best place, lest one more honorable than you be invited by him.
And he who invited you and him come and say to you, 'Give place to this man,' and then you begin with shame to take the lowest place. But when you are invited, go and sit down in the lowest place, so that when he who invited you comes, he may say to you, 'Friend, go up higher.'
Then you will have glory in the presence of those who sit at the table with you. For whoever exalts himself will be humbled, and he who humbles himself will be exalted."
Then He also said to him who invited Him, "When you give a dinner or a supper, do not ask your friends, your brothers, your relatives, nor rich neighbors, lest they also invite you back, and you be repaid.
But when you give a feast, invite the poor, the maimed, the lame, the blind. And you will be blessed because they cannot repay you; for you shall be repaid at the resurrection of the just."
Humble Yourself and Be Exalted
Jesus' teaching is clear – don't think so highly of yourself that you expect the best treatment at all times. No matter who you think you are in society, remember that there's always somebody higher than you. Being ambitious might be good at times but certainly not on many occasions.
Imagine a city mayor who went to a wedding banquet along with his bodyguards and servicemen. Upon his arrival, the host was too busy attending to other guests so he could not personally welcome him. Thinking he was the most highly regarded guest, the mayor took the best seat and made himself comfortable.
When the host noticed his presence, he came and whispered to his ear that the seat he occupied is reserved for the governor. The mayor had no choice but to get up so the governor could take his rightful seat. What a huge embarrassment for the mayor knowing that all eyes are on him.
Humility and the Christian
Humility is a fundamental grace in the Christian life, and yet it is elusive. There may be times when we think we deserve VIP treatment because of who we are in the church or society. Or perhaps there have been times when we exhibited false humility.
Do you think you have this virtue? Please allow me to say, "If you know you have it, you have already lost it!"
As someone rightly said, "Humility is not thinking meanly of ourselves; it is simply not thinking of ourselves at all." Jesus is the greatest example of humility, and we would do well to ask the Holy Spirit to enable us to imitate Him.
A True Act of Charity
The Lord Jesus also emphasized the importance of treating people equally regardless of their social and economic status. Unfortunately, when we host a banquet, we prefer to invite rich and powerful people.
But Jesus told the host of the banquet that when he holds a feast, he should invite the poor, the lame, and the blind. Why should the host do what Jesus said? It's because these people won't be able to repay him. They could not invite him back because they couldn't afford to host a banquet! However, the host will receive his reward at the resurrection.
The reality is that whenever we host a party, we prefer to invite our friends, relatives, and the rich and famous. We want to have people who can bring gifts or those who can invite us to their party in the future.
Of curse, there's nothing wrong with inviting these people. When Jesus said, "Do not invite your friends, brothers, relatives, or rich neighbors," He did not mean absolute prohibition. Such language is common in Semitic discourse and is used for emphasis.
The Lord's point here is that inviting one's friends and relatives cannot be classified as a spiritual act of charity. It may also be a rebuke against those prone to reserve their hospitality for rich neighbors. They intentionally do this knowing that these guests will feel obligated to return the favor.
Here's a beautiful song called, "Heart of a Servant" by the City Harvest Church.
Greatness and Servanthood
In Matthew 20:26-27, Jesus taught His disciples that greatness is parallel to servanthood. Jesus said in response to the request of James and John's mother for them to be given high places in God's Kingdom.
In his reply, Jesus highlighted being a "servant." The word here means a "slave" and our English word "deacon" comes from it. Not every servant was a slave, but every slave was a servant.
The Lord was teaching His disciples that the style of greatness and leadership for believers is different. The Gentile leaders dominate in a dictatorial fashion, using carnal power and authority. Believers are to do the opposite. They lead must by being servants and giving themselves away for others, as Jesus did.
Sadly, in the church today we have many celebrities but very few servants. There are many who want to "flaunt" their authority but few who want to take the towel and basin and wash feet.
But while there are people who are still willing to serve, it's interesting to note that they also have their motives. Some are sincerely serving to glorify God but others serve for honor and recognition.
What's your motive for serving God and others?
Conclusion
In Philippians 2:3-4, Paul uses the example of Jesus' humility and service to encourage believers to do the same. He uses the word "selfishness" which is sometimes rendered "strife" because it refers to fractionism or rivalry. It speaks of the pride that prompts people to push for their own way.
And then Paul encourages the church to have humility of mind. It was a term of decision with the idea of being low, shabby, and humble. The basic definition of true humility is regarding others as more important than yourself.
Our motive for being humble and serving others must be the praise of God and not the applause of men. We must care about the eternal reward in heaven and not the temporary recognition on earth. Remember, "You can't get your reward twice" (Matthew 6:1-8).
On the day of judgment, many who today are first in the eyes of men will be last in God's eyes. And many who are last in the eyes of men will be first in the eyes of God (Luke 13:30).
Do you exhibit the kind of humility and service that the Lord requires?
---
Disclaimer: As an Amazon Associate, I may earn a commission when you use any links on this page to make a purchase, but at no additional cost to you.
Recommended Resource:
Rediscovering Humility: Why the Way Up is Down by Christopher Hutchinson
Most of us value humility . . . especially in other people. But Jesus taught that humility is central to the Christian life. Author Christopher Hutchinson invites the church to follow Christ—both individually and corporately—in this high calling.
A systematic and comprehensive treatment of this core tenant of Christianity, Rediscovering Humility is structured around the three times Jesus addresses the topic in Scripture—how it is found, embraced, and applied.
This insightful resource should be required reading for all seminary students so they can understand the pitfalls of leadership before they begin to pastor. Current pastors and church leaders will find Hutchinson's critiques and suggestions helpful as they seek to create humble and healthy churches.
Individuals who have lost an appreciation for humility as a central Christian virtue will be reminded of its value as the best way to grow closer to and more like Jesus.
Humble Christians create healthy churches, but in today's world of celebrity pastors and widening platforms, our churches are more than ever imitating the prideful methodologies of our culture. Through his critiques, Hutchinson also offers suggestions for how Christians can better practice and promote humility in our time.
Offering a fresh and updated application of humility to our day, Hutchinson calls for a return to the path of humility as the one pilgrimage most necessary for Christian faith and life.
By showing humility in all its truth, beauty, and goodness, it becomes a value worth seeking — if never fully found — on this side of heaven.