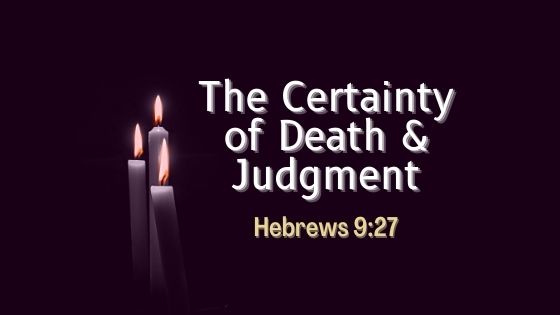 One reality that nobody could escape is death. The Bible says we are all appointed to die once and after that the judgment. There comes a time when Christians and non-Christians alike will give an account to God on how they lived.
Bible Verse:

Hebrews 9:27
"And as it is appointed for men to die once, but after this the judgment."
I used to hear people ask, "What is something you know but at the same time you do not know."
Tricky question, isn't it? Think about it; you know for certain it will happen but you don't know exactly when.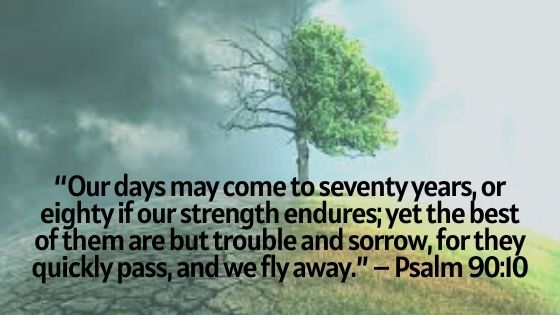 Death and Judgment
To die once is a general rule for all mankind. There have been very rare exceptions. For instance, Lazarus died twice (John 11:43-44). Those, like Lazarus, who was raised from the dead by a miraculous act, died a second time.
Another exception will be those who don't die even once, but who will be caught up at the Rapture  (1Thessalonians 4:17). Then there's Enoch (Genesis 5:24) and Elijah (2 Kings 2:11) who did not die but were taken up alive.
The word judgment is a general term encompassing the judgment of all people; believers and unbelievers. Those who are in Christ will be judged at the Judgment Seat of Christ (2 Corinthians 5:10). Unbelievers, on the other hand, will face God at the Great White Throne (Revelation 20:11-15).
The Uncertainty of Life
How many people know when they will die? Some die in an accident. Others die from a long-drawn-out illness. Still, others have their life taken from them.
Nobody knows how long we will live on this earth, hence the reason why life is uncertain. We do not know what a day will bring.
In James 4:14, the Lord's brother exposes the presumptuous folly of the practical atheists he condemned. These people thought they knew what the future holds for them. But it's God alone who knows what will happen tomorrow or the day after.
When James said, "life is like a vapor," he is referring to either a puff of smoke or one's breath that appears for a moment in cold air. It stresses the transitory nature of life. See James 1:10; Job 7:6-7; 9:25-26; 14:1-2; Psalm 39:5, 11; 62:9; 89:47; 90:5-6, 10.
Preparing for Eternity
Are you prepared for eternity? How many people are prepared to meet God?
Since there is nothing more sure than death and taxes, how are you preparing for eternity? Or are you just wasting your time?
Every person has a finite amount of time. So, use it wisely. Don't use your time to glorify yourself. Rather, use it to glorify God. God wants His creation to glorify Him. Sadly, most people in this world want to do their own thing.
Hence, the consequence of disobeying God is found in Hebrew 9:27.
No two people indeed disobey God the same way, but that does not mean anyone is good compared to God. Jesus said in Matthew 19:17 that none is inherently good except God. We are all sinners before God, hence the reason why we all face judgment after we die.
Have you taken care of that sin debt before God by repenting and asking for forgiveness through the finished payment of Jesus Christ? If not, why not now?
Closing Words
For those of us that are saved, are you spreading this glorious news that Jesus came to save sinners? Are we using our finite amount of time to glorify ourselves or God?
Jesus is coming. Can you honestly say that you are prepared to meet Him? Romans 12:1-2 says we are to sacrifice our will to do God's will; are doing just that?
Too many Christians look at salvation as fire insurance rather than a lifestyle change. When we glorify ourselves over glorifying God, we are acting just like unbelievers.
Do you believe that is what God wants for us? Absolutely not! Jesus died to make us new as 2 Corinthians 5:17 says. Are we living like that is true?
---
Recommended Resource: 
Preparing for Heaven: What Dallas Willard Taught Me About Living, Dying, and Eternal Life by Gary Black Jr.
In his acclaimed books, renowned writer, speaker, and philosophy professor Dallas Willard explored the nature of Christian life in God's Kingdom.
Yet one topic remained undisclosed: Willard's understanding of heaven and eternal life. In the months before his death, Willard engaged in moving and insightful conversations about the meaning of life and the life to come with close friend and theologian Gary Black Jr.
These inspiring dialogues were steeped in biblical theology as well as practical wisdom grounded in the here-and-now.
In, Preparing for Heaven, Black reveals not only Willard's profound and liberating vision of life after death, but he also deftly unpacks the implications these realities hold for our lives today.
Black shows how Willard understood our mortal lives as preparation for what comes next—that death is not the end of one life and the beginning of another, but rather a transition through which we continue the transformational work begun on Earth.
Informative, challenging, and poignant, Willard and Black's conversations and insights challenge us to reconsider our beliefs—that perhaps the line separating the afterlife from this life is not as absolute as we think, and that there is work to be done both now and in the glorious life to come.
As a result, we will find that our faith is more vibrant—and eternal—than we have dared to imagine.