Psalm 23: The Shepherd's Song
Psalm 23: The Shepherd's Song
Many Christians are familiar with Psalm 23, also known as the "Shepherd's Song." It is often used by preachers and ministers to encourage and comfort people who are going through difficult and trying times.
We live in a society where most people are engulfed with fear and anxiety for what the future holds for them. But how should we as Christians respond to the anxiety in our lives?
David showed us by example how exactly we are supposed to respond in a constructive, God-honoring way.
God is the Shepherd
We know from reading David's life story that he spent his younger years leading sheep to greener pastures and keeping them safe from danger. For David, using the shepherd, as an illustration, was perfectly natural.
"The Lord is my shepherd" (Psalm 23:1) was David's way of saying, "the Lord provides for me and protects me from harm." In writing "The LORD is," David was referring to the God who was, the God who is, and the God who will always be.
As we face life's difficulties, we need to know that "God is." When cancer comes, He is Jehovah Rapha, the healer. When worry consumes us, He is Jehovah Shalom, the peacemaker. When Satan attacks us with false accusations, He is Jehovah Nissi, the spiritual warrior.
The Shepherd Walks with the Sheep
Unlike the Philistine gods of wood, stone, or brass, David describes God as a personal savior in calling him "my shepherd." And unlike cold, lifeless objects, the Shepherd walks the field with His sheep, taking care of their needs.
Whatever the circumstances, David had learned to want for nothing (Psalm 23:1). When the lion roared against David, God protected him. When the bear came to devour David, god shielded him (1 Samuel 17:34-36). When Goliath laughed at young David and his stones, God gave him power (1 Samuel 17:48-51).
Our Lord calls believers "My sheep" because He died for them (John 10:11), and because the Father gave them to Him (John 17:10, 12). The emphasis is that Jesus is adequate for every need the sheep may have as they are in the pasture.
Whatever trials we face, God helps us find rest and refreshment, leading us to "green pastures" and "still waters" (Psalm 23:2). When we go astray, God pulls us back into the flock, giving us another chance at a relationship with Him (Psalm 23:3). There is nothing we can do that is too bad for God to forgive (see 1 John 1:9).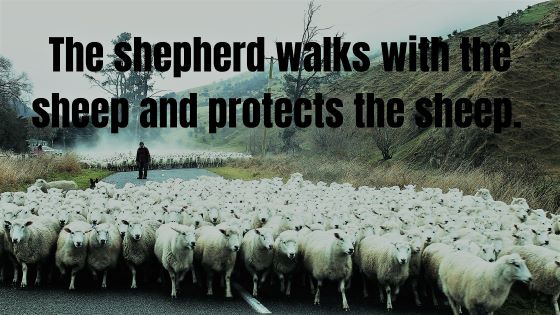 The Shepherd Protects
David had no fear as he walked "through the valley of the shadow of death" (Psalm 23:4) for he knew that God would be with him and protects him.
"Anoint my head with oil" (Psalm 23:5) could refer to the anointing of David, but it probably refers to the oil shepherds used to put on the cuts that sheep would get from the rock and brambles in the fields. The oil kept out parasites and infection.
When we find ourselves cut and bruised, we can let Jesus pour His anointing oil on us to protect us.
If you are going through some difficult circumstances with your finances, at work or you're dealing with the untimely death of a family member, you should know that God has not abandoned you. Our Lord, the Good Shepherd may have allowed this to accomplish His greater purpose in your life.
The Shepherd is Eternal
David was confident that God's goodness and mercy would "follow me all the days of my life" (Psalm 23:6). Jesus also used the shepherd analogy when He said, "I am the good shepherd. The good shepherd gives His life for the sheep" (John 10:11).
Despite his sins and failures, David had been followed by the Lord's goodness and mercy, which is the Old Testament equivalent of Romans 8:28.
We need to ask ourselves, "Do I know the Good Shepherd and am I known by Him" (see John 10:14-15)? We can have the confidence that David had, knowing that we will spend eternity in heaven living in the green pastures with the Good Shepherd taking care of our every need.
Closing Thoughts
God is a faithful Shepherd who provides all our needs, guides us into a righteous life for His own sake, protects us not by shielding us from trials and difficulties, and allows in our lives only what is beneficial to us according to His purpose.
We just need to trust Him completely and when we do, we can sing the shepherd's song joyfully as we wait for that day when we shall meet our Shepherd face to face and be with Him for all eternity.
---
Disclaimer: As an Amazon Associate, I may earn a commission when you use any links on this page to make a purchase, but at no additional cost to you.
Recommended Resource: The Lord Is My Shepherd: Resting in the Peace and Power of Psalm 23 by Robert J. Morgan
Rob Morgan, the bestselling author of Then My Soul Sings, explores the rich meaning behind the world's best-known and most-loved poem—Psalm 23.
The Lord is my shepherd; I shall not want.
He makes me to lie down in green pastures;
He leads me beside the still waters…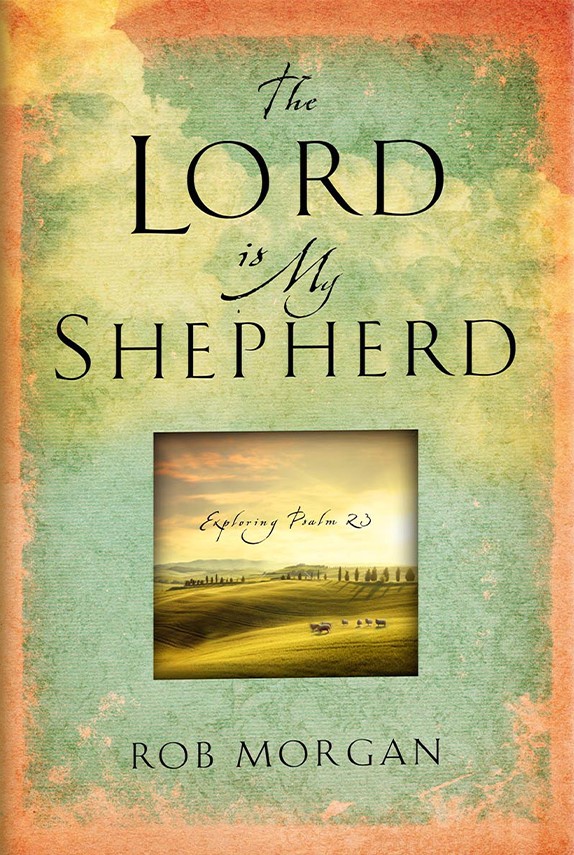 These are the opening lines to one of the most memorized, inspirational, and comforting passages in the Bible—and one of the greatest poems of all time. In six verses, it provides a microcosm of God's grace.
When anxiety robs us of sleep, our most powerful "tranquilizer" is Psalm 23. It's a soul-soother. It appears in the middle of a trilogy of psalms dealing with our past, our present, and our future needs.
In "The Lord is My Shepherd," Morgan teaches Psalm 23 verse-by-verse, explaining its extraordinary power to change lives and ease our troubles. He shares its fascinating context and colorful background, as well as his own charming, real-life stories of herding sheep.
You'll find encouragement to enjoy the "green pastures" of life while becoming strengthened by the "dark valleys." Furthermore, Morgan maintains that some of the Bible's richest truths are summarized in these six simple verses of Psalm 23.
In knowing the Good Shepherd, we have total resources for all our internal, external, and eternal needs.
Through this clear explanation of the biblical text and great stories that illustrate the love and care of the shepherd, The Lord is My Shepherd will help you rediscover the joy, inspiration, and peace in the green pastures of this beloved psalm.