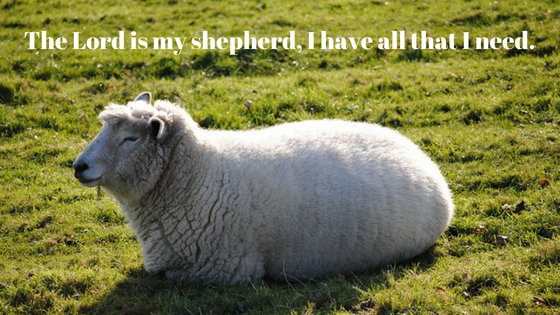 Bible Study on Psalm 23
Bible Study on Psalm 23
In my article, "How to grow in the grace and knowledge of our Lord," I emphasized the importance of a patient and careful Bible study if we want to grow as Christians. When we continue to persevere in God's words, we will get to know more about God, His plans and will for us, and how we are to love and serve Him in a way that fulfills His purpose.
Today's article is a Bible study on Psalm 23, also called the "Shepherd's Psalm." What is this psalm all about and what principles can be applied in the lives of believers in the 21st century?
Psalm 23 (NKJV)
"The Lord is my shepherd; I shall not want. 2 He makes me to lie down in green pastures; He leads me beside the still waters. 3 He restores my soul; He leads me in the paths of righteousness for His name's sake. 4 Yea, though I walk through the valley of the shadow of death, I will fear no evil; for You are with me; Your rod and Your staff, they comfort me. 5 You prepare a table before me in the presence of my enemies; You anoint my head with oil; my cup runs over. 6 Surely goodness and mercy shall follow me all the days of my life, and I will dwell in the house of the Lord Forever."
Let us now explore and study the passage phrase by phrase:
"The Lord is my Shepherd."
The use of the present tense verb "is" means "The Lord is shepherding me," indicating an ongoing relationship. As David thought about God and his relationship with Him, he made the analogy of a shepherd and his sheep. God was like a shepherd to David, and David was like a sheep to God.
When David said, "The Lord is my shepherd," he's saying that the LORD was a real, personal shepherd for him and not just for others in a theoretical sense. Having been a shepherd himself, David found comfort and security in God as his shepherd who cared, preserved, sustained, and watched over him in the same way he did for his sheep.
Jesus spoke of Himself as the Good Shepherd who gives His life for the sheep in John 10:11-14. It is well to know, as certainly as David did, that we are the sheep and God is our Shepherd.
However, Charles Spurgeon said that before one can truly say, "The Lord is my shepherd," he must first acknowledge and feel in himself that he has the nature of a sheep. We must understand that sheep are not the smartest animals; they need someone to guide, protect, correct, and take care of them. We too need a shepherd, the Lord Jesus, who loves, guides, protects, corrects, and cares for us.
Do you know the Lord as personal Shepherd as David did? Your experience with God can never be vital until it's personal.
"I shall not want."
This is the most powerful line in this psalm. It is a blunt and frank statement of affirmation. David is saying, "All my needs are supplied by the LORD, my Shepherd, and I decide to not desire more than what He gives." Because God was David's shepherd, he lacked (wanted) nothing. In the NLT (New Living Translation) the phrase says, "I have all that I need."
All that a sheep need is a good shepherd since a good shepherd by his very nature will always supply all the sheep's needs. In the same way, a good father will provide for his child's every need. "The young lions may lack and suffer hunger, but those who seek the Lord shall not lack any good thing" (Psalm 34:10).
To have God as our Shepherd is to have everything we need. It does not mean that we will have everything we want but we will be cared for, loved, and provided for very well. God promised that He will supply all our needs according to His riches and glory in Christ Jesus (Philippians 4:19).
We live in a society where we tend to think of ourselves as always lacking something and always needing something more. But the Lord our God is sufficient and with Him, we need nothing else.
Like a good shepherd, the Lord Jesus gives Himself to us, and therefore, we really lack nothing. Some of us may be having deep struggles with our present financial situation. But we need to come to terms with the truth that as we seek God, He will give us what is excellent according to His own purpose and agenda.
"He makes me to lie down in green pastures."
The expression "lie down" speaks of rest. (See also Ezekiel 34:15.) Just as a literal shepherd would care for his sheep, the LORD as a shepherd knew how to make David rest when he needed it.
Notice that it says, "He makes me to lie down …," it implies that the sheep don't always know what it needs and what is best for itself; it needs help from the shepherd. Do you know that it is almost impossible to make sheep lie down while they are hungry?
Until they have eaten sufficiently, they will mill around and nibble on bits of grass. But when their stomachs are full they will find a quiet place and lie down. The adequate provision of lush pastureland to which the shepherd has led his sheep will cause them to lie down and rest.
"He leads me beside the still waters."
The word translated "lead" means "to lead gently." You cannot drive sheep. The sheep hear the shepherd's voice and follow him, just as we listen to Christ in His Word and obey Him (John 10:3-5, 16, 27). The image of still waters is rich with a sense of comfort, care, and rest. It may also represent love, peace, beauty, and harmony. This reminds us of Jesus who said, "Come to Me, all you who labor and are heavy laden, and I will give you rest" (Matthew 11:28).
How do these phrases apply to us today? This means that Jesus is adequate for our every need. All our needs will be provided so we do not have to worry about today or tomorrow (Matthew 6:25). We do not have to struggle to make ends meet. We can rest in the promise of Jesus, our Good Shepherd, to take care of us.
Instead of worrying, why not trust God for what only He can provide? It is reasonable to trust Jesus our faithful Shepherd, for His provision (physical or spiritual) is always perfect; it renews us and satisfies us.
Satisfaction comes only as a result of the provision and peace that comes from our sheep/shepherd relationship with God.
"He restores my soul; He leads me in the paths of righteousness for His name's sake."
The first line, "He restores my soul," conveys David's thought that God will sustain and renew his life by supplying him with the necessary provisions of food and water that sheep require. But beyond the literal meaning of physical nourishment and rest, it appears that there is a spiritual meaning implied in this phrase as suggested by David's use of the same expression to "restore the soul" in Psalm 19:7.
For David, God desired to lead him down the paths of uprightness during his reign as king and enable him to win his battles in order to possess the land God has promised to them. For the believers, it is God's desire to lead them into living righteous and sanctified life (1 Thessalonians 4:7).
A shepherd provides food and rests for his sheep but God provides His sheep with spiritual nourishment, rest, and restoration through His Word. Rest is not only related to the required physical provisions of food and water but to restoration as well. Rest is needed in order to be refreshed and renewed in spirit.
One of the principal tasks of a shepherd is guidance. It is often necessary for a shepherd to lead his flock to both pasture and water because there are some paths that are dangerous and should be avoided. The 2nd and 3rd lines tell us that as a shepherd leads his flock, so God guides His people on the right paths – the paths of righteousness.
Just like David who is so confident that he will never lack God's leading in his life, we can also be confident of God's leading in our life not only because He is our Shepherd but also because His name is on the line.
God can be relied on to guide His sheep (people) for the sake of His reputation. Just as parents are evaluated by the way they care for their children, shepherds are judged by the condition of their flock.
What kind of reputation do you think would God earn for Himself if He were careless with those who belong in His charge?
"Yea, though I walk through the valley of the shadow of death, I will fear no evil; for You are with me; Your rod and Your staff, they comfort me."
This is the central verse of the psalm, and notice how the personal pronoun changes from "he" to "you." David is no longer speaking about the Shepherd; he is speaking to the Shepherd. David knows that in the dark valley, God is not before him but beside him leading the way and calming his fears.
The "valley of the shadow of death" represents any difficult experience of life that makes us afraid, and that includes death. David recognized that even when following the LORD as a shepherd, one may still go through some dark and difficult times.
Each of us at some point in our Christian walk will encounter a valley to pass through that will try to produce fear and worry in us. But just like David, we do not have to fear, for we are not walking alone. The LORD our shepherd is with us. Although the presence of the LORD does not eliminate fear and the presence of evil, it certainly banishes the fear of evil.
Traditionally, shepherds carry a rod and staff. The rod was a heavy cudgel with which the shepherd could stun or kill an attacking beast, and the staff was the shepherd's crook, which he used to assist the individual sheep. The LORD our Shepherd also has His rod and staff which He uses to protect, guide, or at times push us on the right path.
Are you going through some difficult circumstances in your job or family? Are you struggling with an untimely death in your immediate family? How should you respond? Know that God has not abandoned you. He is the Good Shepherd (John 10:14); He only allows what is ultimately good for you and will never allow permanent separation to come between you and Him (Romans 8:38-39).
"You prepare a table before me in the presence of my enemies; You anoint my head with oil; my cup runs over."
This table doesn't necessarily refer to a piece of furniture used by humans. Table here suggests bounty and blessings even in the presence of danger or of those forces that oppose you. David enjoyed the richness of the LORD's goodness as his host and he was also refreshed by a head that was anointed with oil.
It is customary for people in the Middle East to anoint the heads of their visitors with very fragrant perfumes and serve them with a glass of choice wine, which they are careful to fill until it runs over. This act meant that they were very special.
In the same way, the LORD not only equips believers to become effective in their ministry; He also anoints them with oil. The anointing of oil is a symbol of the Holy Spirit and it also pictures the anointing of the believers as kings and priests someday (Revelation 19:9).
A cup that is running over could be a symbol of abundance, not only in terms of physical provisions but also of spiritual blessings. In the same way that David has experienced God's abundant grace and fellowship, we too can enjoy the tremendous grace of God throughout all our days.
Are you enjoying God's abundant grace and blessings? Are you allowing God to continually fill you with His Holy Spirit? Before His ascension, Jesus specifically commanded His disciples to not depart from Jerusalem but to wait for the Holy Spirit whom God has promised (Acts 1:4), because it's the Holy Spirit that will enable them to be effective witnesses for Christ.
"Surely goodness and mercy shall follow me all the days of my life, and I will dwell in the house of the Lord forever."
Goodness and mercy or loving-kindness are probably the two most comforting attributes of God's character for the Christian. The phrase "follow me" literally means "pursue me." As a guest at God's table, David is pursued by God's goodness, instead of being pursued by his enemies.
God not only walks before us and leads us to a place of rest and refreshment, but His goodness follows us as well. This means that no matter where we are, no matter what we've done, and no matter what our circumstances might be, God's goodness and loving kindness will pursue us to uphold us, care for us, challenge us and forgive us.
Do you realize how God has been gracious to you in Christ? We have been forgiven of our sins and we were given the Holy Spirit to enable us to walk with Him. Rather than be overcome by anxiety over the circumstances that the Good Shepherd allows in our lives, let us greatly rejoice in God's abundant grace towards us.
Conclusion
One of the greatest lessons we learn from Psalm 23 is that every person who belongs to God's flock (by trusting in Jesus Christ as Lord and Savior) is individually cared for as one of God's sheep.
What a great comfort to know that the LORD will provide for our every need; that He will give us rest when we're weary, He drives away all fears and will lead us down the path of righteousness for His name's sake, that He will guide, preserve and protect us, does not withhold any good things from us, and that He will come for us someday and take us to heaven for the wedding banquet (1 Thessalonians 4:13-19; John 14:1-3).
Psalm 23 may be a short psalm but it is full of powerful promises and blessings. With the Lord as our Shepherd, what more could we ask for?
---
Recommended Resource: A Shepherd Looks at Psalm 23 by W. Phillip Keller
Travel the shepherd's path to the green pastures and cool, refreshing waters of Psalm 23. As a shepherd, Phillip Keller shares his insights into the life and character of sheep―and of the Good Shepherd who loves and cares for them.
This beloved classic will give new meaning to the ageless Shepherd Psalm, enriching your trust in and love for the Lord who watches closely over you.