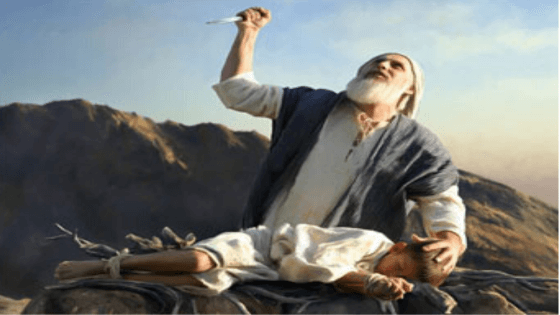 Why did God Test Abraham's Faith?
Why did God Test Abraham's Faith?
We often hear many believers in Jesus say that trials are part of the Christian life. And most of the time they quote James 1:2, the story of Job, the temptation of our Lord (Matthew 4:1-11), and of course the classic example of God testing Abraham's faith.
Genesis 22:1-24 records the greatest test that Abraham ever faced. But why did God test Abraham? Although the passage presents a beautiful picture of our Lord's sacrifice at Calvary, the main lesson is obedient faith that overcomes in the trials of life.
Abraham eventually became known as the father of faith as a result of believing God's promise despite the impossible circumstances.
Bible Verse:

Genesis 22:1-2
Now it came to pass after these things that God tested Abraham, and said to him, "Abraham!" And he said, "Here I am." Then He said, "Take now your son, your only son Isaac, whom you love, and go to the land of Moriah, and offer him there as a burnt offering on one of the mountains of which I shall tell you."
Trials vs. Temptations
As I said earlier, trials are different from temptations and we need to learn how to distinguish between the two.
Temptations come from our desires within us (James 1:12-16) while trials come from the Lord who has a special purpose to fulfill. Temptations are used by the devil to bring out the worst in us but trials are used by the Holy Spirit to bring out the best in us (James 1:1-6).
Temptations seem logical while trials seem very unreasonable.
God Tests Abraham's Faith
In Genesis 22:1-2, we read God asking Abraham to go out early the next day to Mount Moriah with his son Isaac and sacrifice him there as a burnt offering. Why would God give Abraham a son and then ask Abraham to kill him?
So, let me get this straight. God told Abraham to sacrifice his son. What? Consider how unreasonable God's request was. Isaac was Abraham's only son, and the future of the covenant rested in him. Isaac was a miracle child, the gift of God to Abraham and Sarah in response to their faith. Abraham and Sarah loved Isaac very much and had built their whole future around him.
When God asked Abraham to offer his son, He was testing Abraham's faith, hope, and love, and it looked like God was wiping out everything Abraham and Sarah had lived for.
Jehovah Jireh – The Lord Will Provide
Two statements reveal the emphasis of the passage: "God will provide for Himself the lamb for a burnt offering" (Genesis 22:8), and "Yahweh-Yireh" which means, "The Lord will see to it," that is, "The Lord will provide" (Genesis 22:14).
As he climbed Mount Moriah with his son, Abraham was confident that God would meet every need. Abraham could depend on the promise and provision of the Lord. He had already experienced the resurrection power of God in his own body (Romans 4:19-21), so he knew that God could raise Isaac from the dead of that was His plan.
Apparently, no resurrection had taken place before that time, so Abraham was exercising great faith in God. According to Ephesians 1:19-20 and Ephesians 3:20-21, believers today have Christ's resurrection power available in their own bodies as they yield to the Spirit of God.
We can know "the mighty power that raised Him from the dead" (Philippians 3:10 NLT) as we face the daily demands and trials of life.
In times of testing, it is easy to think only about our needs and our burdens; instead, we should be focusing on bringing glory to Jesus Christ. We find ourselves asking, "How can I get out of this?" instead of "What can I get out of this that will honor the Lord?"
Isaac, a Type of Christ
If ever two suffering people revealed Jesus Christ, it was Abraham and Isaac on Mount Moriah. Their experience is a picture of the Father and the Son and the cross and is one of the most beautiful types of Christ found anywhere in the Old Testament.
Jesus said to the Jews, "Your father Abraham rejoiced to see My day, and he saw it and was glad" (John 8:56). In Isaac's miraculous birth, Abraham saw the day of Christ's birth, and in Isaac's marriage (Genesis 24:1-67), he saw the day of Christ's coming for His bride. But on Mount Moriah, when Isaac willingly put himself on the altar, Abraham saw the day of Christ's death and resurrection.
We sometimes waste our trials and sufferings by neglecting or ignoring opportunities to reveal Jesus Christ to others who are watching us go through the furnace. But we make good use of difficulties by developing Abraham's attitude, "God will provide."
Trusting God means we keep moving forward even though we don't know exactly how things will turn out. The outcome we leave in God's hands.
---
Disclaimer: As an Amazon Associate, I may earn a commission when you use any links on this page to make a purchase, but at no additional cost to you.
Bottom Line
The greatest thing that can happen as we experience the trials that God sends is that we grow closer to our Father and become more like the Lord Jesus Christ. Calvary is not only the place where Jesus died for our sins, but it is also the place where He sanctified suffering and, by His resurrection transformed suffering into glory.
Every experience that God allows into our lives comes with the possibility of glory for God. He can take those times we find unspeakable and make them fountains of praise to Him. But we can't see this until after we have trusted and obeyed, the same way Abraham did.
Let us then seek to glorify the Lord even when God tests our faith by bringing us trials, and He will do the rest.