Who Do You Say Jesus Christ Is?
Peter's confession of who Jesus is in Matthew 16:16 has been considered by many as pivotal and climactic in the entire narrative of Matthew. That's because it was on this confession that Jesus built and established the Church. Who do people say Jesus Christ is? Who do you say He is?
We learn from the Gospel accounts that people followed Jesus around wherever He went during His earthly ministry, either to listen to Him teach, have the sick and demon-possessed healed and delivered, or in the case of the religious leaders, to test and trap Him.
Peter's Confession of Jesus as the Messiah 
Matthew 16:13-17 
When Jesus came to the region of Caesarea Philippi, He asked His disciples, "Who do people say the Son of Man is?" 14 They replied, "Some say John the Baptist; others say Elijah; and still others, Jeremiah or one of the prophets."
15 "But what about you?" He asked. "Who do you say I am?" 16 Simon Peter answered, "You are the Messiah, the Son of the living God." 17 Jesus replied, "Blessed are you, Simon son of Jonah, for this was not revealed to you by flesh and blood, but by my Father in heaven."
Background of the Passage
After the account of Jesus' rejection at Nazareth (Matthew 13:53-58), the feeding of the five thousand at or near Bethsaida (Matthew 14:13-21), His encounter with the Canaanite woman who has great faith in the region of Tyre and Sidon (Matthew 15:21-28), and the feeding of the four thousand on a mountainside near the sea of Galilee, Jesus and His disciples withdrew to the region of Caesarea Philippi.
This move was likely a retreat from the pressing crowds. Do you notice in the Gospels that whenever Jesus wanted to teach His disciples some very important "Kingdom" truths, He would take them to a private or remote place?
About Caesarea Philippi
Caesarea Philippi was a Gentile city at the northernmost region of ancient Israel, some 25 miles or 40 km north of the Sea of Galilee, 50 miles southwest of Damascus and situated in a beautiful location at the foot of Mount Hermon.
Something noteworthy is the historical fact that Caesarea Philippi was a region strongly identified with pagan religions and idol worship. In his commentary, Barclay says, "The area was scattered with temples of the ancient Syrian Baal worship."
Originally, Caesarea Philippi was called Paneas in honor of the pagan god Pan. And during the reign of King Herod the Great, he built a temple there to honor Augustus Caesar.
When Herod's son Philip took over, he developed and expanded the city and renamed it Caesarea in honor of Emperor Caesar. He then added his name to distinguish it from other regions named Caesarea, hence, Caesarea Philippi.
What a setting for Jesus to ask a very important question. They had just left the city where there were a lot of false teachings about Jesus. (See Matthew 16:5-12 where Jesus warned His disciples about the yeasts/leaven of the Pharisees and Sadducees.)
And as they came to the region of Caesarea Philippi, they saw the temple built by King Herod with all the statues of gods. Some commentators even suggest that Jesus and His disciples could be standing in front of the temple when the conversation took place.
The Question of Jesus' Identity
In Matthew 16:13, Jesus asked a pointed question – a question of His identity: "Who do men say that I, the Son of Man am?" In other translations, it reads, "Who do people say the son of Man is?"
In other words, Jesus was asking what men in general, whether high or low, rich or poor, educated or uneducated, are saying about Him. Why did Jesus ask this question? Was He interested to know who people thought He was?
Is Jesus having some kind of identity crisis? Didn't He know who He was? Or was it because He's so concerned about other people's opinion of Him? Of course not! Jesus knew exactly who He was.
Some say that one probable reason for asking this question was the changing opinions about Him under the teachings of the Pharisees and Sadducees. Consider this scenario: Every time Jesus finishes teaching a certain crowd, the religious teachers would step right in to teach the people something else contrary to what Jesus taught them.
No wonder then that despite all the wonders and miracles that Jesus performed which the people witnessed with their own eyes, they still couldn't figure Him out.
The Reply
"Some say John the Baptist, some, Elijah, and others, Jeremiah or one of the prophets" (Matthew 16:14).
Obviously, people who thought that Jesus was John the Baptist (such as Herod the tetrarch in Matthew 14:1-3) didn't know much about Him; or they would have known that Jesus and John had ministered at the same time.
Apparently, some people thought Jesus was a herald of national repentance like John the Baptist.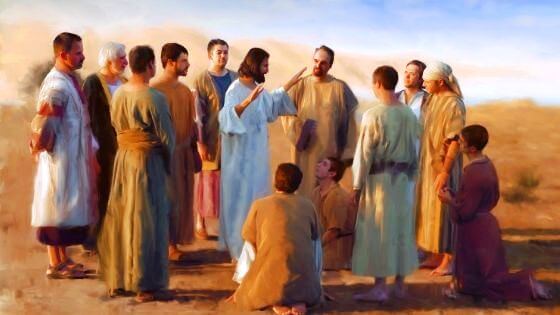 But why Elijah? Because of the miracles that Jesus performed, some people believed He was the forerunner of the Messiah and a famous worker of miracles. The Jews knew their Torah so very well and were familiar with the various miracles that Elijah performed (in the name of God).
And still, others thought Jesus was someone who spoke the word of God, like Jeremiah and the prophets.
The Unbelief of the People
Notice that no group was officially confessing Jesus as the Messiah. Regardless of the fact that in His words and His works, Jesus gave every evidence to the people that He was the Messiah, the Son of God, the people did not get the message.
They never denied that Jesus was a great teacher and prophet; they did not deny that He performed many miracles. Yet they chose to listen to popular opinions and followed them, instead of diligently seeking for the truth, just as many people do today.
Instead of following their convictions, the people chose to rely on their opinion and the opinions of others, and this is what led them all astray.
While the opinions of the crowd were complimentary towards Jesus, they were inaccurate. Jesus was much more than a national reformer like John the Baptist, more than a miracle worker than Elijah and more than a prophet like Jeremiah.
We might think that the above answers as to who Jesus is are not in any way bad or negative. However, the general tendency was to underestimate Jesus and to give Him a measure of respect and honor but end up falling short of the honor due to Him for who He really is.
The Follow-up Question
Going back to the question of Jesus' identity, Jesus asked the question as an introduction to a more important follow-up question.
Upon hearing the different opinions of men concerning Him, I find it interesting that Jesus did not make any reflections or comments. Instead, He immediately redirected the question to His disciples. He asked, "But what about you? Who do you say I am" (Matthew 16:15)?
The disciples had been with Jesus for three years. They left everything and followed Him when He called them and became His disciples. Why? Because they believed in Him. You wouldn't follow someone unless you believe in him, right?
On the part of Jesus, He knew exactly what kind of faith His disciples had on Him. He could see right through them and that is why He often rebuked them for their little faith and told them to increase their faith.
Why did Jesus have to ask His disciples who they thought He was? Because it was not enough to just believe in Him, they must confess Him as well. A confession has to be made as Romans 10:9-10 clearly says.
Peter Confesses Jesus as Christ
Simon Peter answered, "You are the Christ, the Son of the Living God" (Matthew 16:16)! In other translations, it says, "You are the Messiah, the Son of the Living God."
Note: "The Christ" is the Greek rendering of the Hebrew "the Messiah," meaning, the Anointed One.
In his answer, Peter was saying, "You are the Anointed One, the only Son of God, the Savior of the world, the Life Everlasting."
Peter understood that Jesus was not only the Messiah but also God Himself. In the Jewish context, to receive the title "The Son of the Living God" in a unique sense was to make a claim to deity itself.
Jesus Pronounces a Blessing
Jesus replied, "Blessed are you, Simon son of Jonah, for this was not revealed to you by flesh and blood, but by My Father in heaven" (Matthew 16:17).
You see, Christ's messianic claims had always been subtle allusions to Old Testament prophecies, combined with miraculous works that substantiated those claims. Jesus had never explicitly taught His disciples the fullness of His deity.
So what happened was, God the Father had opened Peter's eyes and heart and revealed to him who Jesus really was. When Peter confessed Jesus as the Christ (Messiah), the son of the Living God, it did not come out as a mere expression of an academic opinion about the identity of Jesus.
Instead, it was a confession of personal faith that was made possible only by a divinely-regenerated heart.
The carnal man does not have any idea who Jesus is (2 Corinthians 2:14). Only true believers are the ones who understand who Jesus really is. Unless God reveals to us in our spirit, we will never truly understand who Jesus really is.
Closing Words
We know that many people today do not believe Jesus to be the Messiah, the Son of God and Savior of the world. But what about us as individuals, what do we believe about Jesus. Who do we say Jesus is?
"Who do you say I am?"
This is the question placed before us today and all who hear of Jesus. Do you believe that Jesus is the Christ? The Messiah? The son of the Living God? The Life Everlasting? Did you confess with your mouth His lordship over your life? Do you believe in your heart that Jesus is who He claimed to be?
Believing Jesus is the Messiah is one thing, confessing Him as Lord and Savior of your life is another thing, especially these days when talking about Jesus, Christianity and the Bible is not the most popular thing to do.
What you and I believe and confess about Jesus is a matter of life and death. We deserve the death penalty as a result of our sin but we receive eternal life as a gift from God when we place our faith in Jesus Christ our Lord.
---
*Recommended Resource: 
Who Do You Say that I AM?: A Fresh Encounter for Deeper Faith
By Becky Harling
Who Do You Say That I Am? is an 8-week study of the "I AM" statements of Jesus that will help women draw deeper into the Word of God for a more personal relationship with Christ. He wants your answer to his question, "Who do you say that I AM?"
The Study Book contains five days of study for each of the 8 weeks along with reflection questions.