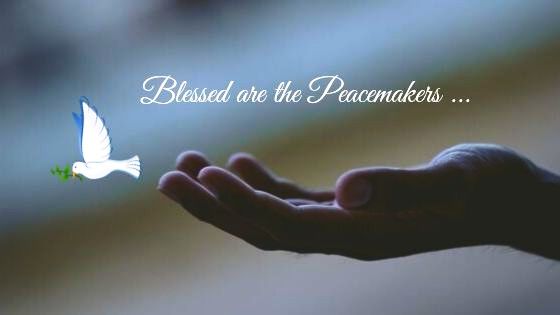 4 Ways to Become a Peacemaker
In the Sermon on the Mount recorded in the Gospel of Matthew, Jesus opens with a series of blessings known as the Beatitudes. The 7th beatitude is, "Blessed are the peacemakers for they shall be called sons of God" (Matthew 5:9).
But what makes a peacemaker? In this article, we name 4 ways by which we can become a peacemaker.
Who are the Peacemakers?
There is a difference between a peacekeeper and a peacemaker. A peacekeeper is someone who maintains peacefulness by seeing to it that things are kept in order. It's kind of like the sergeant-at-arms in high school who always makes sure everyone in class behaves properly.
A peacemaker on the other hand is someone who makes things to happen in pursuit of bringing God's peace to mankind and in pursuit of bringing peace between people.

One can never be a peacemaker unless he has peace in his own heart because as the saying goes, "You cannot give something you don't have." And in order to have peace in your heart, you must first make peace with God by acknowledging and repenting of your sins.
However, we need to be reminded that being a peacemaker does not pave the way to our salvation, for it is only by the grace of God that we are saved through faith (Ephesians 2:8-9). And because we have come to faith in Jesus Christ and are led by the Spirit of God, we are now called sons or children of God (Romans 8:14).
As God's children, we are to bring God's peace to mankind.
The Bible's Definition of Peace
Peace in the Bible does not necessarily mean the absence of conflict. Instead, peace means being still and confident even in times of trouble because we know that in whatever circumstance God is with us. God gives us peace unlike what this world has to offer (John 14:27).
A good example of an event in the Philippines where there has been thousands of "peacemakers" all at one place at the same time was the EDSA Revolution in 1986.
Jesus: The Perfect Example of a Peacemaker
No matter how hard one tries, there could never be a perfect example of a peacemaker other than the Lord Jesus Christ, the King of Peace. Jesus is our perfect example of a peacemaker.
We were separated from God because of sin (Isaiah 59:2) and were enemies with God but were reconciled to Him by Christ's death on the cross (Colossians 1:21-22). Jesus paid the price for the forgiveness of our sins and we now have peace with God through Him (Romans 5:1-2).
Christ as peacemaker has also united Jews and Gentiles, broken the wall of separation and reconciled them both to God in one body through the cross, thereby putting to death the enmity (Ephesians 2:14-16). Through His death, Jesus had brought a new covenant and this He has written in the hearts of His people (Hebrews 8:10).
What Makes a Peacemaker? Listed below are 4 things we must do or practice in order to become a peacemaker.
1. CONTROL over Oneself
Self Control is one of the fruit of the Holy Spirit laid out in Galatians 5:22-23. What is self-control and why is it so important? Self control is not just about temperament; it is about resisting the temptation to sin by breaking God's Law.
David is one good example of a peacemaker in whom was found godly fear, despite his power. Although David had the chance to kill Saul, he didn't. After secretly cutting off a corner of Saul's robe, David's heart troubled him. He then restrained his servants from rising against Saul because He acknowledged that Saul was a man anointed by God (1 Samuel 24:1-7).
David spared the life of Saul who he could have easily killed as a result of exercising self-control. In return, Saul spoke blessings to David and said that God will reward him for sparing his life. He further added that David will surely be the king of Israel and the kingdom will be established in his hand (1 Samuel 24:16-20).
To be a peacemaker, one needs to have self-control.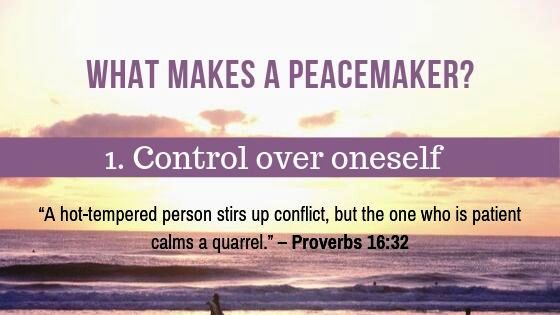 Discipline is Self Control
Discipline is some sort of self-control. The dictionary defines discipline as the practice of training people to obey rules or a code of behavior, using punishment to correct disobedience.
Paul says that Christians must exercise self-control like the Greek athletes, only our goal is eternal, not temporal (1 Corinthians 9:25-27). In his first letter to the Corinthians, he was teaching them through his own example. Unlike a boxer who beats the air, Paul aims to share the Gospel through self-control and discipline. Otherwise, He finds himself to be a failure.
2. ACT on God's Word
Bringing God's peace to others is being active rather than passive by obeying the Word of God. Christians are the salt of the earth and the light of the world (Matthew 5:13-14). Others must see the peace and goodness of God through the light we bear by obeying what we hear.
In essence, it doesn't really matter how much of the Bible we know or how often we listen to preachers talk about the importance of knowing the Scriptures, if we do not live them out and put them into action.
We have to be sensitive to the weaknesses of others and bear with their mistakes while peaceably rebuking their ways. It is expected from us who have already been enlightened to do all that leads to peace for the enlightenment of everyone (Romans 14:19 NIV).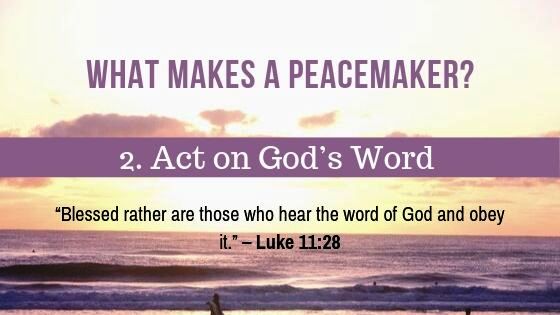 Nothing good will come from a bad source. If we only work for peace, we will get something good as a result. We cannot harm others and expect peaceful gestures in return. As James 3:18 (NIV) says, "Peacemakers who sow in peace reap a harvest of righteousness."
One more thing, as a peacemaker, we must always see to it that we turn away from evil and refrain from deceiving others. If we have nothing good to say, it is far better to keep our mouth shut because a provoking tongue will only reap trouble (1 Peter 3:10-11).
To be a peacemaker, one needs to act on the Word of God.
3. LOVE Difficult People
One of the greatest teachings of the Lord Jesus is for His followers to love not only their friends and family but also their "enemies" (Luke 6:27-28). You might say, "Easier said than done." And I totally understand. It's hard to love the people who are against us and especially those who want to harm us.
But Jesus, through His own example, is teaching us not to retaliate and repay evil with evil. Prior to His crucifixion, the Lord Jesus was mocked, spat on, insulted and humiliated beyond imagination. Yet, He did not hold it against them. Rather, He said, "Father, forgive them for they know not what they are doing" (Luke 23:34).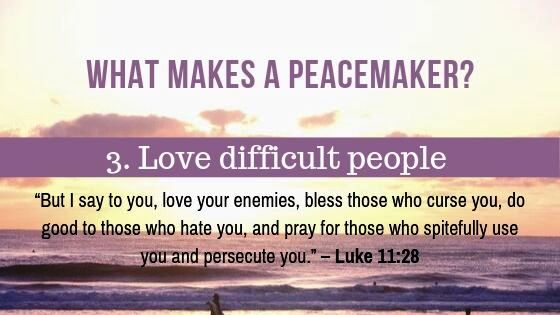 As the best example of a peacemaker, Jesus demonstrated His love for us even when we were yet in our sins and died on the cross for us (Romans 5:8).
To be a peacemaker, one needs to love even the most unlovable  people.
4. MEDIATE the Conflict
Man's pride and selfishness drives to contention. Oftentimes, man can't accept the fact that others have dominion over them. Things get even worse when a hot-tempered person is involved. Some people with impulsive spirits may start a conflict simply by the way they look at others.
When people are into each others' throats, peacemakers mediate the conflict by trying to calm the parties involved. In case, you do not succeed, it is best to just let the situation cool down. As the saying goes, "If we cannot bridge the gap, don't fuel the feud."
James 1:19-20 give us three things we must do to get rid of provocation that eventually leads to anger: be quick to listen, slow to speak and slow to become angry. This is because human anger does not produce the righteousness that God desires.
In Genesis 13:5-11, we read the account of Abraham and his nephew Lot in the place where Abraham first built an altar but they had to part company because the land could not support them any longer, for their possessions were so great.
In this passage, Abraham exemplified what it means to be a peacemaker by not only making the decision for him and Lot to separate in order to avoid any quarreling between them and between their herders, he also made Lot choose which area of the land he wanted to live in.
To be a peacemaker, one needs to mediate or avoid a conflict at all cost.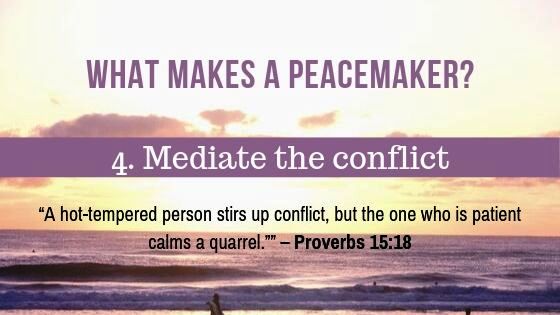 Bottom Line
As God's people, we are to be peacemakers and there is a blessing that comes with it; Jesus says that "peacemakers shall be called sons of God." We need to understand that this beatitude does not apply to worldly people. Only those who have trusted in Jesus and received Him as Lord and Savior of their lives are given the right to become sons and children of God.
What does it take to be a peacemaker? We need to be C-A-L-M:
C – control over oneself
A – act on God's Word
L – Love difficult people
M – mediate the conflict
But again, we cannot be peacemakers without the peace that is found in Jesus alone. Jesus Christ is our peace who has made both one, and has broken down the middle wall of separation (Ephesians 2:14).
Jesus said that we will have many tribulations in this world but we have peace in Him because He has overcome the world (John 16:33). So we can become peacemakers because of the peace that we have in our hearts given by the Lord Jesus.