Finding Hope Amidst Difficult Times
Finding Hope Amidst Difficult Times
The year 2020 could well go down in history as one of the most challenging years we all had to face as a result of the Covid 19 pandemic. But we cannot and should not lose hope. Amidst trials and in difficult times, there is hope. Christians can enjoy living in victory even when all hope seems to be lost.
In this post are some principles God has laid out in His Word that every believer in Jesus should apply if they expect to live victoriously this new year 2021 and onward.
The Babylonian Captivity
The Babylonian Captivity, also known as the Babylonian Exile, is a period in biblical history that highlights the restoration of the nation of Israel. But while in exile, it is apparent that the Jews were on the verge of losing hope. Will they ever get out from this ordeal and safely go back to their land?
Considering that when King Nebuchadnezzar II took the Jews captive, Babylon was an up and coming world superpower. How could the Jews be confident that God was up to the job of delivering them from the hands of the Babylonians?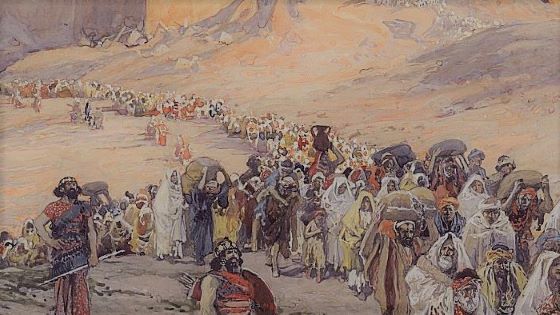 In chapter 3 of Isaiah, we read God reminding the Jewish exiles about who He is and what He is capable of doing for them. We read the following in Isaiah 43:16-19 (NIV):
This is what the Lord says – He who made a way through the sea, a path through the mighty waters, who drew out the chariots and horses, the army and reinforcements together, and they lay there, never to rise again, extinguished, snuffed out like a wick:
"Forget the former things; do not dwell on the past. See, I am doing a new thing! Now it springs up; do you not perceive it? I am making a way in the wilderness and streams in the wasteland."
Biblical Principles for a Victorious Life
In the passage quoted above, God, through the prophet Isaiah, gave four instructions to the nation of Israel.
1. Remember God's Great Works in the Past.
Verses 16-17 looks back to what God did for Israel when He brought them out of the land of Egypt through the wilderness to Canaan (Exodus 14). God parted the Red Sea so they could cross and escape the Egyptian armies.
Isaiah powerfully brings up these images when he writes of the chariots and horses, the army and reinforcements of these enemies of God's people, and how they shall lay there and never to rise again, extinguished and snuffed out or quenched.
"Then Moses stretched out his hand over the sea; and the Lord caused the sea to go back by a strong east wind all that night, and made the sea into dry land, and the waters were divided. So the children of Israel went into the midst of the sea on the dry ground, and the waters were a wall to them on their right hand and on their left" (Exodus 14:21-22).
Just as God overwhelmed the Egyptian armies, He would also judge the Babylonians.
2. Forget the Past.
Notice that there is an instructive switch between verses 16-17 and verse 18. In Isaiah 43:16-17, Israel is told to look to the past by remembering the great things God did for them at the Red Sea. But in Isaiah 43:18 they are told, "Do not remember the former things nor consider the things of old." Why?
It is important to note that God had performed many miracles for Israel – probably one of the most memorable was their deliverance from slavery in Egypt by their miraculous passage through the Red Sea on dry ground!
But now, God was saying, "Forget the former things; do not dwell on the past." Is God contradicting Himself? No, not at all! Rather, God is telling the Jews, "That's nothing compared to what I am about to do."
No matter how great the miracle God performed to get their forefathers out of Egypt and bring them to the Promised Land, God wants this generation of Jews to focus on the new work He will do for them.
God promises that He is going to do greater things for them; much more than what He had done in the past. He tells them to forget the past because if they are stuck in the wonders and miracles of God in the past, they will never be able to move forward to the new things God has in store for them.
3. Keep in Step with God.
After reminding the Jews of His mighty works in the past and instructing them not to get stuck in those wonders, God then assures them the deliverance they have been hoping for.
God says this in Isaiah 43:19a, "Behold, I will do a new thing, now it shall spring forth; shall you not know it?"
God is moving on – He is doing a new thing – bigger and better than ever before. Past blessings are for a time gone by. God promises a new blessing for a new day!
Staying stuck in the past can keep the nation of Israel (and us) from the new things God wants to do. God will do a new thing that is in no way inferior to what He has done in the past. God will do a new thing that is in no way inferior to the things of old.
God can do new wonders; He is creative and He is always doing something new.
4. Trust that God Can and Will Do the Impossible.
Between Babylon and Israel lay hundreds of miles of wilderness. But God assures His people that they had nothing to fear because God would make a road in the wilderness and rivers in the desert (Isaiah 43:19b)
They can be confident that the same power that made dry land in the waters can produce waters even in the driest land.
Application for Believers Today
How do Christians apply these four principles? We must take God's word at face value.
God is also telling us today to forget the former things and not dwell on the past. Yes, we must remember the past in terms of God's great work. It is to our benefit to often remember what God did to the nation of Israel. Remembering God's faithfulness gives us hope and assurance that we can trust God to work on our behalf
We can always count on God and we can be confident that He will make good His promises because He is faithful (2 Timothy 2:13). If God kept His covenant with Israel, He will surely keep His covenant with us. God is immutable; He is the same yesterday, today, and forever (Hebrews 13:8).
Yes, we are to thank God for past revivals, answered prayers, and blessings. The downside is those past blessings can hold us back because we expect the same thing over and over again.
We must forsake and forget the past, with all its discouragement, failures, sin, and defeat, and move on to what God has for us in the future. Past sins and failures can hold us back too!
The Example of Simon Peter
Do you ever feel like you have let God down in some way? You may have stumbled and failed Him a couple of times and now you feel like you're no longer worthy of another chance. You fear that God cannot use you again.
If there's somebody who has gone this path and was restored, it's Simon Peter. Among all those who followed our Lord closely, I find Peter's story quite fascinating.
Consider the following about Peter:
He alone got to experience walking on water with Jesus (Matthew 14:28-29).

He was one of the three disciples to witness the transfiguration (Matthew 17:1-13).

It was Peter who confessed that Jesus is the Christ, the Son of the living God (Matthew 16:13-20).

It was Peter who cut off the ear of Malchus, the servant of the high priest and he did it in an attempt to prevent the arrest of Jesus (John 18:10).

But more than all these, Peter promised Jesus that he will never forsake Him even though it will cost him his life (Matthew 26:35).
But on the night that Jesus was arrested, Peter swallowed his words because he denied Jesus, not just once but three times at the time that Jesus needed him the most. He must have felt terrible when he realized what he has done.
But after the resurrection Jesus reinstated him at the lake of Tiberius in Galilee (John 21:15-19) and a few days later on the Day of Pentecost, Peter preached probably the most powerful gospel sermon resulting in the 3000 souls that were saved and added to the Church (Acts 2:14-36).
When All Hope Seems Lost
You may have experienced a lot of heartaches and pain, trials, and difficulties in the past year. But God promises to do something great in your life.
You may have lost a loved one and up to now you still don't understand why you had to go through all that. Maybe you got heartbroken last year or in the previous years and you are still unable to move on.
This year, give your heart to Jesus and rest assured that He will never break it; He will never disappoint you and He will never leave you nor forsake you (Hebrews 13:5).
Today, God is telling us to forget the past – blessings, and failures – because the past will fade into insignificance compared with what God is doing, and going to do.
Trust God At All Times
As we look forward to the future, God wants us to trust Him completely, regardless of the circumstances we are facing. Let us not make the common mistake of worrying about the details or obstacles for the fulfillment of God's promise. We do not have to worry about it at all.
God has all the resources needed. We may not have a perfect picture of what God is about to do but we can be certain that He will bring them to fruition. He is the Lord, the God of all flesh; nothing is too difficult for Him (Jeremiah 32:27). Things may be impossible from a human perspective but with God, all things are possible (Matthew 19:26).
By the way, trying to lend God a helping hand never works so don't even try. In Genesis 12:1-3 God promises to make Abraham's children into a great nation. There's just one problem – his wife could not have children, and they were both advanced in years!
What did Abraham do? He tried to help God out only to realize later on that it was a big mistake (Genesis 16:1-16). Then as now, meddling in God's business only ends in disaster.
Conclusion
Indeed, we can always find hope in the Lord even in difficult times.
But we need to get our focus off the past: the good, the bad, and the ugly. These are nothing compared to what God is about to do! God is doing something new. His laws and principles never change – but His blessings are new every morning.
Are we ready for it? Are we in step with the Holy Spirit? We can be amid a blessing and not see it.
By the way, let us be reminded that whatever new and great things we will receive, it's all God's work – it's not of us! We may have labored in the fields sowing and reaping but it is God who gives the increase (1 Corinthians 3:6-9).
So we must always humble ourselves before God – realizing that it is not because of anything we have done – but it is only by the grace of God. We must ensure that God gets the glory for it all.
---
Disclaimer: As an Amazon Associate, I may earn a commission when you use any links on this page to make a purchase, but at no additional cost to you.