Daniel's Vision of 4 Beasts
Daniel's Vision of 4 Beasts
Daniel's disturbing dream in chapter seven of his book has sparked so much interest among Bible readers. Who are these four beasts that Daniel saw in his dream and visions?
In Daniel 7:1-7, God communicated with Daniel while he was asleep by giving him a disturbing vision in a dream. What's interesting is that, during this vision, Daniel was also part of the event. We know this because he was able to approach an angel and ask for an interpretation.
Daniel did not explain how he could be asleep in his bed and yet be able to speak to an angel standing before the throne of God. Perhaps like Paul, he didn't know if he was in the body or out of the body (2 Corinthians 12:1-3).
What Daniel Saw
In his vision, Daniel observed the sea being stirred up into a raging storm by the four winds of heaven (Daniel 7:2). The churning (stirring) sea is a frequent biblical image for the nations of the world (Isaiah 17:12-13; 57:20; 60:5, 9; Ezekiel 26:3; Revelation 13:1; 17:15).
Just as the ocean is sometimes, so the nations of the world are sometimes in confusion or even at war. Just as the waves and currents of the ocean are unpredictable, so the course of world history is human ability to chart or predict.
God stirred up the sea, and from its foaming, raging waters came forth four horrifying beasts. These beasts, each different from the other, are described in Daniel 7:4-7.
"The first was like a lion and had eagle's wings. I watched till its wings were plucked off, and it was lifted up from the earth and made to stand on two feet like a man, and a man's heart was given to it.
And suddenly another beast, a second, like a bear. It was raised up on one side and had three ribs in its mouth between its teeth. And they said thus to it: 'Arise, devour much flesh!'
 After this, I looked, and there was another, like a leopard, which had on its back four wings of a bird. The beast also had four heads, and dominion was given to it. After this, I saw in the night visions, and behold, a fourth beast, dreadful and terrible, exceedingly strong.
It had huge iron teeth; it was devouring, breaking in pieces, and trampling the residue with its feet. It was different from all the beasts that were before it, and it had ten horns."
Interpretation of Daniel's Vision
Daniel's vision troubled and terrified him. So, he approached one of those who stood by (possibly an angelic being) to ask for the interpretation of the things he saw and was given to him (Daniel 7:15-16).
The four beasts were four kings and their kingdoms, who will arise from the earth (Daniel 7:17).
The First Beast: The Babylonian Empire
Daniel describes the first beast as one like a lion with eagle's wings.
It is generally agreed that this beast represents the Babylonian Empire and king Nebuchadnezzar in particular. While God does not specifically tell Daniel that this represents Nebuchadnezzar He does reveal that the "head of gold" in the vision of the great statue was Nebuchadnezzar (Daniel 2:36-38).
Since the head of gold seems to describe the same king and kingdom as the first beast, it may not be too far afield to conclude that Nebuchadnezzar is the king represented by the first beast.
The Second Beast: The Medes and Persian Empire
The second beast looked like a bear that was rearing up on one side and it had three ribs in its mouth between its teeth. This beast symbolized the empire of Medes and Persians who defeated Babylon (Daniel 5) and parallels the arms of chest and silver in the great image (Daniel 2:32, 39).
The bear was raised up on one side because the Persians were stronger than the Medes. In Daniel's later vision of the ram with two horns (Daniel chapter 8), the higher horn represented the Persians (Daniel 8:3, 20).
Interpreters do not agree on the meaning of the three ribs that the bear carried in its mouth. But the best explanation is that they stand for Libya, Egypt, and Babylon – nations that the Medes and Persians had conquered.
The armies of the Medo-Persian Empire did indeed "devour much flesh" as they marched across the battlefields.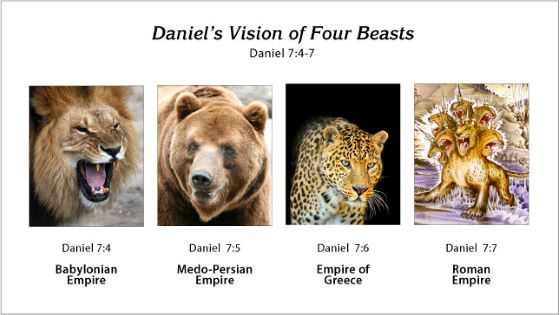 The Third Beast: The Kingdom of Greece
The third beast looked like a leopard with four wings and four heads; it represented Alexander the Great and the swift conquest of his army, resulting in the incredible expansion of the kingdom of Greece.
This beast was identified with the number four: four heads and four horns (Daniel 8:8, 21-22). Alexander's untimely death in 323 BC left him without a successor and his kingdom was divided into four parts and assigned to his leaders.
Israel and Egypt went to Ptolemy I; Syria was ruled by Seleucus I; Thrace and Asia Minor were assigned to Lysimachus, and Macedon and Greece were governed by Antipater and Cassander.
The Fourth Beast: A Fourth Kingdom
This fourth beast is a fourth king different from the first three. It receives greater attention and is of the most interest to Daniel. It seems more terrifying, dreadful, more powerful, and much more hostile toward God and His saints (Daniel 7:23).
Daniel describes this beast to have huge iron teeth, crushing and devouring its victims, and trampling their remains beneath its feet. It has the distinction of ten horns. And as Daniel was looking at these horns, suddenly a small horn appeared among them before whom three of the first horns were plucked out by the roots. And there, in this horn, were eyes like the eyes of a man, and a mouth speaking pompous words (Daniel 7:8).
Some believe this creature represents the Roman Empire, a mighty kingdom that indeed crushed all its foes.
The Small Horn
The ten horns represent ten kings who will emerge out of the fourth kingdom. But then, an eleventh king (small horn) rises to power, different from the others, replacing three of the previous kings (kingdom (Daniel 7:24).
The "small horn" (Daniel 7:8, 11, 24-26) represents the last world ruler, the man called Antichrist. The Greek prefix anti can mean "against" and "instead of." The final world ruler will be both a counterfeit Christ and an enemy who is against Christ.
The mention of his eyes suggests that he would have remarkable knowledge and skill in planning his exploits. He would also be a man skilled in using words and able to promote himself so that people follow him (Daniel 7:11, 25; Revelation 13:5-6).
He would also blaspheme God and ultimately convince the unbelieving world that he is a god (2 Thessalonians 1:1-12). He would become the ruler of the world and would not only control the economy and religion but would also seek to change the times and the laws.
But while this king appears to be successful in his plans against God and his saints, we read that the Lord would grant him success only for an appointed time of three and a half years (Daniel 7:25-26). God would permit the Antichrist to rise to power, rule the world, and even allow him to make war on the saints and temporarily win the victory (Daniel 7:21)
But when the court shall be seated, his dominion is taken from him and he is destroyed forever. The greatness of the kingdoms under heaven and its dominion shall be given to the saints of the Most High (Daniel 7:27).
Final Words
This prophetic vision of Daniel was fulfilled and these four kingdoms represented by the four beasts have already come and gone. However, Daniel 7:12 indicates that each kingdom continues to exist in some way within the succeeding kingdom that "devoured" it.
Daniel saw in his vision something that hadn't been revealed to Nebuchadnezzar: the last human kingdom on earth would be a frightful kingdom, unlike any of the previous kingdoms, and it would even declare war on God (Daniel 7:8-12).
This is the kingdom of the Antichrist, described in Revelation 13 through 19, an evil kingdom that will be destroyed when Jesus Christ returns to earth (Daniel 7:11-12, 21-26).
What a comfort to know God wins in the end. And we, His saints, will be there with Christ our King to celebrate the greatest victory.
---
Disclaimer: As an Amazon Associate, I may earn a commission when you use any links on this page to make a purchase, but at no additional cost to you.
Recommended Resource:
Daniel: The John Walvoord Prophecy Commentaries by John Walvoord and Charles H. Dyer
The book of Daniel is key to the entire Old Testament prophetic revelation.
Who better to help you understand Daniel's stories, prophecies, and dreams—and give you a brighter hope for things to come—than John F. Walvoord, one of evangelicalism's most prominent leaders, and Charles Dyer, a Bible professor and expert on Israel?
In this second work of a renewed series of commentaries, Dr. Walvoord addresses alleged historical inaccuracies and considers past and future fulfillment of specific prophecies. At key points, different views and approaches to interpretation are explored.  
Walvoord devotes special attention to textual and doctrinal issues while avoiding technical language.
Refined, updated with the English Standard Version (ESV), and streamlined, this classic text is set to help you understand and interpret the book of Daniel and gain a better grasp of what the future may bring.