Biblical Truths for Christians Today
Biblical Truths for Christians Today
As Christians, we want to make sure we are living in accordance with the will of God, which is why we go the Word of God, study it, and draw from it the principles we should apply for holy, Christian living.
One thing we need to understand is that all of God's principles are based on His character and His laws. So, in this short devotional post, I would like to share certain biblical truths that God has impressed upon my heart.
The Truth for Today
"Your righteousness is an everlasting righteousness, And Your law is truth." – Psalm 119:142
God's Law, Righteousness, and Truth are all eternal because God is eternal unlike us. We have broken His Law, which makes us unrighteous and liars. This world is broken because all people have broken God's Law.
As Romans 3:23 says, "For all have sinned and fall short of the glory of God,"
We are not able to save ourselves as so many religions want to tell you. That is why these principles are impossible in our own human abilities.
Isaiah 64:6 says, "But we are all like an unclean thing, and all our righteousnesses are like filthy rags; we all fade as a leaf, and our iniquities, like the wind, have taken us away."
No person on earth is able to be good enough to be like God. There would be no point to be living even a moral life if we can't be good. Jesus said in Matthew 19:17, "Why do you call Me good? No one is good but One, that is, God. But if you want to enter into life, keep the commandments."
God is the Standard of Good
Honest people know that there is an objective standard of good. That conscience is evidence of an eternal God that is the objective standard of good. That conscience also tells us we cannot maintain that standard in real life.
That is why Jesus, the God-Man, came to earth to save us from the punishment of our sin as 1 Timothy 1:15 says.
"This is a faithful saying and worthy of all acceptance, that Christ Jesus came into the world to save sinners, of whom I am chief."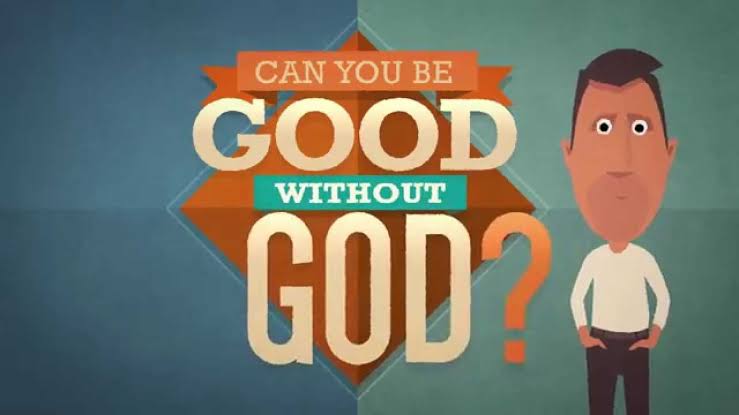 Because He was God, He did not have sin that required His death and yet He laid down His life for you and me because He loves us.
John 3:16 says, "For God so loved the world that He gave His only begotten Son, that whoever believes in Him should not perish but have everlasting life."
Some might ask how can Jesus give life if He is dead? Good question.
1 Corinthians 15:3-4 answers that question.
"For I delivered to you first of all that which I also received: that Christ died for our sins according to the Scriptures, and that He was buried, and that He rose again the third day according to the Scriptures."
Yes, Jesus died and rose again bodily to save you and me. His righteousness is given to us when we get saved as promised in Romans 4:24-25.
"But also for us. It shall be imputed to us who believe in Him who raised up Jesus our Lord from the dead, who was delivered up because of our offenses, and was raised because of our justification."
Living According to the Truth
Because of that glorious salvation and imputed righteousness, Jesus enables us to live Life According to the Truth. Philippians 4:13 says, "I can do all things through Christ who strengthens me."
With God's enabling power found in the Holy Spirit, you and I can live out these principles in our everyday lives. Before Jesus ascended into heaven, He specifically instructed His disciples to wait for the power of the Holy Spirit to come upon them before they go about witnessing for Him in Jerusalem, in all Judea and Samaria, and to the ends of the earth (Acts 1:4, 8).
Salvation by Faith and Confession
Are you sure you are saved? Have you received God's gift of eternal life? Can you claim to be living a victorious Christian life? If you know in your heart that you are not right with God, why not get right with God now by confessing with your mouth the Lord Jesus and believe in your heart that God has raised Him from the dead.
For with the heart one believes unto righteousness, and with the mouth, confession is made unto salvation. For the Scripture says, "Whoever believes on Him will not be put to shame." (See Romans 10:9-11.)
Closing Words
God wants your heart so that He can change you from the inside out. These principles are not just a list of rules that He pushes on us. He changes who we are as 2 Corinthians 5:17 says.
"Therefore, if anyone is in Christ, he is a new creation; old things have passed away; behold, all things have become new."
Has that change occurred in you? If not, why not ask Him to save you today?
---
Disclaimer: As an Amazon Associate, I may earn a commission when you use any links on this page to make a purchase, but at no additional cost to you.
Get a copy of my devotional book Life According to the Truth.
Publisher's Description
Do you know what it means to be a disciple of Jesus Christ? Did you know that God wants to prepare you during this life to live in heaven with Him? Does your purpose for life evade you?
In Life According to the Truth, disciple of Jesus Christ, Michael Heilman, honestly writes about the issues facing the church and how to live the victorious Christian life.
Michael expounds on biblical principles God has applied to his life and led to God's blessing in many areas of his life. With illustrations, humor, and most importantly Scripture, he explains to any born-again believer who is spiritually wandering through life, how to be spiritually blessed by God as a disciple of Jesus Christ.
In this devotional Bible study, you will be enlightened in regards to:
Why God must be the key focus of your life.

How to love God

How to love others.

How to discern God's will for your life

How to be confident with your identity in Jesus Christ
Life is difficult, but God can enable you to have abundant joy. If you are a born-again believer that needs encouragement, this book is for you.