How to Grow in the Grace and Knowledge of Our Lord
How to Grow in the Grace and Knowledge of Our Lord
The most important thing in the life of a Christian is to grow in the grace and in the knowledge of our Lord and Savior Jesus Christ (2 Peter 3:18). Yes, we were saved by grace (Ephesians 2:8-9), but grace does not end there. And salvation (or eternal life) involves knowing God (John 17:3).
So, how do Christians grow in the grace and knowledge of our Lord?
As Peter writes his final epistle, he was concerned about the false teachers that were plaguing the churches and wanted to encourage the believers to persevere. Thus, Peter repeats what he has emphasized throughout his letter on the danger of being misled by the doctrinal errors of these false teachers, and exhorted them to grow in the grace and knowledge of Jesus Christ.

What Does it Take to Grow?
Before we look at how and what it means to grow in the grace and knowledge of our Lord Jesus Christ, we need to consider several truths about growth in general.
1) Growth is dependent on life.
Where there is life, there must be growth. But you must be born before you can grow.
This principle is just as true spiritually as it is physically. The Bible tells us that we were all born into this world spiritually dead (Ephesians 2:1; Colossians 2:13), and that is why we all need to be born again (John 3:7). Only God can impart to us a new life.
2) Growth is never an option, it's a necessity.
Growth is normal when there is life. Unless a child has a serious health problem, he will grow and not remain a child his entire life. The same is true for the Christian; he must keep growing in order to maintain steadfastness. God wants Christians to grow up in every way like Christ and not to remain as children (Ephesians 4:14-15).
3) Growth is always gradual, not instant or automatic.
Have you ever seen a baby grow into adulthood in just a matter of days, weeks, or even a few years? You don't bring a baby home from the hospital and expect him to do what a 20-year-old can do. Growth is a process; it takes time to mature and develop.
In contrast to what some people think that one can become "holy" instantly through some powerful experience with God, spiritual growth is gradual. It requires cooperation with God and the application of spiritual diligence and discipline.
4) Growth is not easy, it's difficult and painful.
A baby crawls first before he can walk. And once he gets the hang of walking, he still falls down a lot. He even falls flat on his face sometimes. It's the same way with spiritual growth. There are a lot of tough lessons that we only learn by trial and error. Sometimes we thought we "got it," only to realize later on that we haven't really learned the lesson so we have to go through it again.
I – Grow in the Grace of our Lord
Grace is God's unmerited favor by which He saves and sustains anyone who places their trust in Him. In other words, grace is not merely God's way of drawing us to Him in the beginning. It is also the way we grow and remain steadfast in our faith in Christ.
The new birth is not the end; it is just the beginning. So how do we grow in the grace of our Lord Jesus Christ? To grow in grace means coming to a greater understanding of God's holiness, justice, and sovereignty, which in turn allows us to see more of our rebellion, selfishness, and pride.
We do not only come to see more and more our unworthiness as the object of God's grace, but we also see more and more how great His undeserved favor and love were that drew us to Himself.
Growing in grace involves developing the 7 Christian character traits that Peter wrote about in 2 Peter 1:5-7: virtue, knowledge, self-control, perseverance, godliness, kindness, and love. These traits must be produced by the Spirit of God. (See also Galatians 5:22-23.)
"But also for this very reason, giving all diligence, add to your faith virtue, to virtue knowledge, to knowledge self-control, to self-control perseverance, to perseverance godliness, to godliness brotherly kindness, and to brotherly kindness love."       
God gives these character traits to us, but we need to develop them by regular Bible study and prayer, fellowship and service, confession of sin, and practicing good stewardship.
Although some unsaved people possess amazing self-control and endurance, these virtues point to them and not to the Lord, so they get the glory. But when God produces the beautiful nature of His Son in the life of a Christian, God receives the praise and glory.
We can grow in the grace of God (spiritual growth) and develop these Christian character traits because we were made in the image of God. This growth takes place through the power of God and the precious promises of God.
II – Grow in the Knowledge of Our Lord
In his epistle, Peter refers to Jesus as "our Lord and Savior Jesus Christ" three times (2 Peter 1:11; 2:20; 3:18). In doing so, Peter gives emphasis to the fact that you cannot separate Jesus Christ as Savior from Jesus Christ as Lord.
Peter is saying that the moment you place your trust in Christ as Savior, you are yielding all of yourself that you know to all of Christ that you know. When you become a Christian, you are to progressively grow in submission to Christ. And as a result, you will see more of who He is and more of who you are through the Word of God.
Becoming a Christian involves knowledge and understanding. Such knowledge of Christ includes both facts about Him, as revealed in the Scriptures, and knowing Him personally. Growing in the knowledge of our Lord does not only involve reading the Bible in order to know what He has revealed about Himself; it also involves establishing a personal relationship and intimate fellowship with the Lord Jesus.
How do we grow in the knowledge of our Lord?
1) Upon establishing a personal and intimate relationship with God through faith in Christ Jesus, we grow in the knowledge of our Lord by continually seeking Him.
Since God alone is the author of our knowledge of Himself, only He can reveal Himself. We cannot possibly know God if He does not reveal Himself to us. The knowledge of God is received by those who continue to seek Him and call upon his Name (Jeremiah 29:13; Jeremiah 33:3).
2) Growing in spiritual wisdom and understanding involves complete dependence upon the Holy Spirit to illuminate our minds to the truth (John 16:13).
The Holy Spirit uses the Word of God to teach and transform believers. As we read, study, memorize and meditate on Scriptures, the Holy Spirit not only illuminates our minds to the knowledge of God but also equips us to instruct others in the knowledge of God.
We cannot ignore the handbook God has given us and expect to gain knowledge of Him in some other way. A patient study of the Scriptures enables us to hear God's voice and to learn about how God views Himself, ourselves, and others. We will also know how God wants us to serve Him in order to accomplish His purposes.
3) Growing in the knowledge of our Lord involves faithfulness and obedience to Him.
This is the part where the believer exhibits in his life the knowledge of God he received by living a life that is worthy of God. This means that the way a believer conducts himself and lives his life must correspond to the character of Christ. Christians grow in the knowledge of God by living in complete submission to and obedience to God.
4) Growing in the knowledge of our Lord requires patient endurance and a teachable spirit.
The Christian life is for long-distance runners, not sprinters. If you want to grow in the knowledge of our Lord, you need to be open to learning from God's Word and the Spirit. Christians who think they know it all have no more room for growth.
God does not reveal Himself and everything we need to know about Him all at once. We must learn to be patient and wait upon Him. We need to continue to persevere in God's Word and abide in Christ. And that requires patient endurance on our part. The good news is that God will give us the strength to endure.
Conclusion
Did you know that you can be a Christian and never grow up? A famous quote by Maya Angelou says, "Everyone grows old but not everyone grows up." This is not only true in the physical sense; it's also true in the spiritual sense.
Hebrews 5:12-13 (NLT)
"You have been believers so long now that you ought to be teaching others. Instead, you need someone to teach you again the basic things about God's word. You are like babies who need milk and cannot eat solid food. For someone who lives on milk is still an infant and doesn't know how to do what is right."
Growing in the grace and knowledge of God is a process, it's not automatic.  There is no instant pill you can take today that will make you spiritually mature tomorrow. There is no shortcut to spiritual growth.  It takes time, effort and intentional pursuit.
So how can you tell if you're growing in the grace and knowledge of God? When you are learning more and more through God's Word how He wants you to live and when the character traits of Christ become more and more evident in your life, then you are definitely on the right track.
---
Recommended Resource:
Growing Your Faith: How to Mature in Christ by Jerry Bridges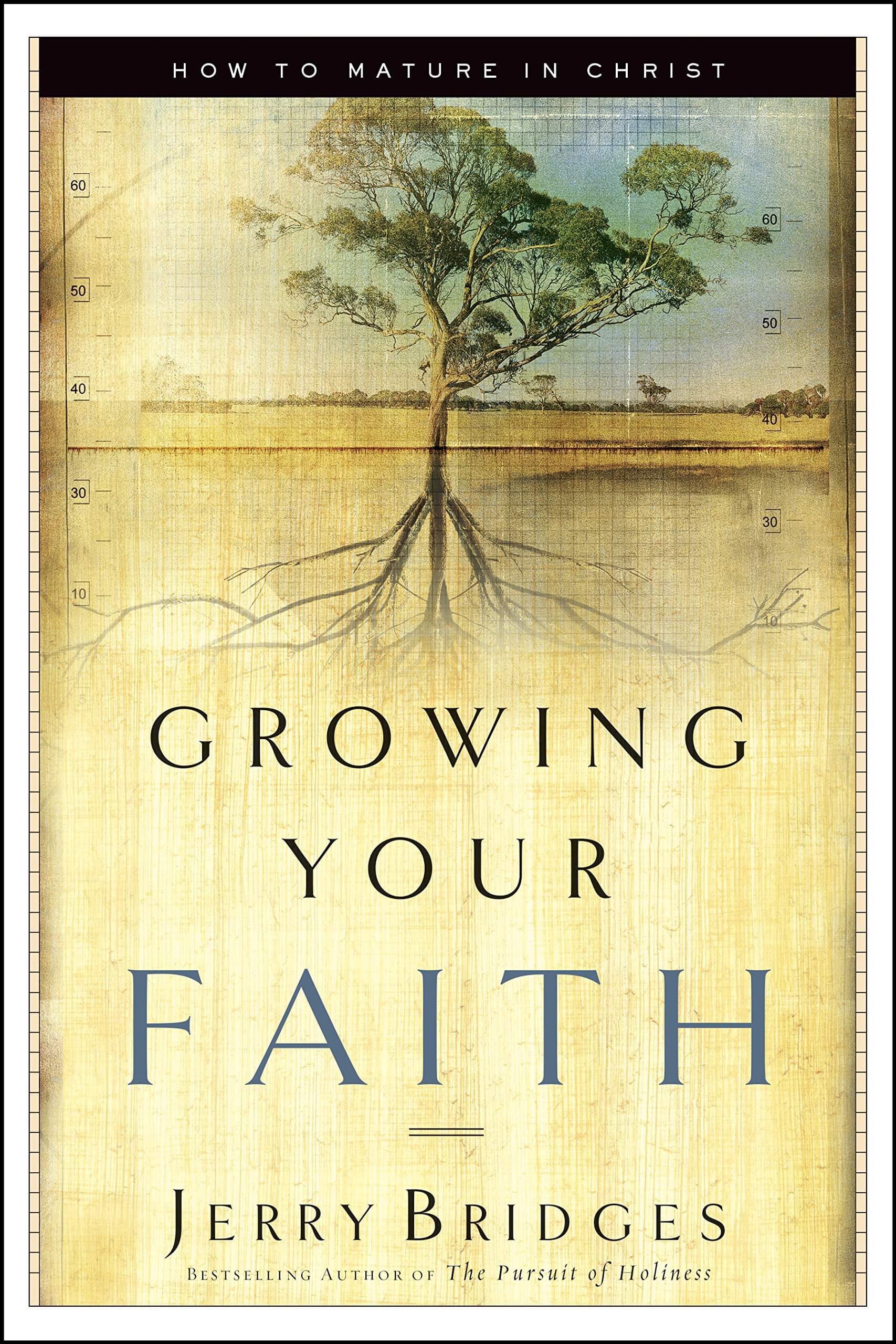 When you're gripped by the astonishing fact of Christ's love for you, you desire to draw close to Him. But what can you do to deepen your relationship with Jesus? What does He expect of you, and how can you be more like Him?
In Growing Your Faith, Bridges presents the essential elements of Christian life in a highly readable, surprisingly practical form.
You'll learn how to feed your spiritual life through taking in the Scriptures, rely on the Holy Spirit in obedience and prayer, trust God during life's trials, and contribute your unique gifts to serve others.
Whether you're a new Christian seeking direction in growing spiritually or a time-tested saint looking for a refresher, Growing Your Faith offers a solid foundation for genuine growth in spiritual maturity.