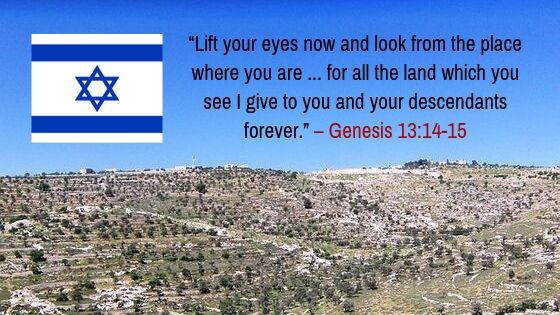 God's Unconditional Promise to Israel
Whether the Jews have a right to their land has been the subject of dispute among many nations up until today. Some say that the Jews have occupied land that wasn't theirs and that the occupation must be stopped.
However, the Jews claim that the land originally belonged to them and they have every right to it. They base their claim to the land of Israel on at least four premises and one of them is that God promised the land to the patriarch Abraham.
The Nation of Israel was Founded by God
The Bible clearly tells us that Israel is the only nation founded by a sovereign act of God. It all started when God told Abraham to "get out of his country, from his family and from his father's house, to a land that He will show him" (Genesis 12:1). And then God promised to give him that land (Genesis 12:7).
However, there are two controversies concerning the nation of Israel. The first is whether the promise to Abraham was a promise of literal land or promise of heaven. The second controversy asks whether the promise to Abraham and his seed for a literal land is conditional based upon Israel's obedience to God or an unconditional promise.
We will then examine Scripture to verify beyond any doubt that God intended for Abraham and the Jewish people to have a literal land upon which they would live.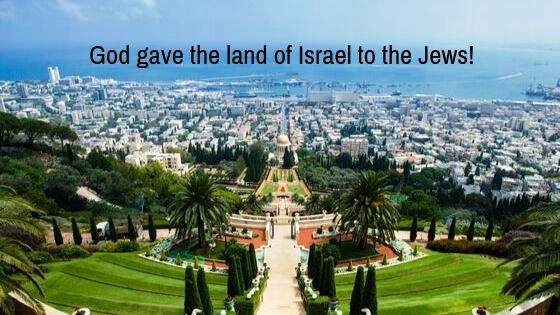 God Promised a Land
In Genesis 13:14-15, God told Abraham, "Lift your eyes now and look from the place where you are … for all the land which you see I will give to you and your descendants forever."
And Genesis 15:18 states, "On the same day the LORD made a covenant with Abram, saying: 'To your descendants I have given this land, from the river of Egypt to the great river, the River Euphrates.'" This is a very literal land. Heaven is not described, even allegorically, as the area between the river of Egypt and the Euphrates.
God told Abraham, "Know certainly that your descendants will be strangers in a land that is not theirs, and will serve them, and they will afflict them four hundred years. And also the nation whom they serve I will judge; afterward they shall come out with great possessions" (Genesis 15:13-14).
Israel's departure from the Promised Land was literal because they went into a literal Egypt. After four hundred years they became a nation of two to three million people and they physically left a literal Egypt for a literal Promised Land – not heaven.
The title deed to the Promised Land was passed from Abraham to Isaac. God said to Isaac, "Sojourn in this land, and I will be with you and bless you; for to you and your descendants I will give all these lands, and I will perform the oath which I swore to Abraham your father" (Genesis 26:3).
The title deed to the Promised Land was then passed to Jacob from Isaac. In Genesis 28:13, God said, "I am the LORD God of Abraham your father and the God of Isaac; the land on which you lie I will give to you and your descendants."
You have to be in a very literal land to lie on it.
God's Promise was Unconditional
Was God's promise to Abraham of a Promised Land conditional or unconditional? Those who believe God's promise was conditional simply do not understand the blood covenant.
In the Old Testament, there were three ways by which covenants could be made; a shoe covenant, a salt covenant, and a blood covenant.
In the blood covenant, the contracting parties would agree on the terms of the covenant. Then they would take an animal, kill it, split the carcass in half down the backbone, and place the divided parts opposite each other on the ground forming a pathway between the pieces.
The two would join hands, recite the contents of the covenant, and walk between the divided halves of the slain animal. The blood covenant meant they were bound until death, and if either broke the terms of the covenant, his blood should be spilled as the blood of the slain animal. A blood covenant was a permanent and unconditional covenant.
In Genesis 15, God commanded Abraham to take a heifer, a she-goat, a ram, a turtledove, and a pigeon; and all were split in half except the birds. God placed Abraham in a deep sleep, for no man can look upon God and live, as He prepared to enter a blood covenant with Abraham.
In his sleep, Abraham saw "a smoking oven and a burning torch that passed between those pieces" (Genesis 15:17). In the Old Testament, the burning lamp signified the presence of the Shekinah Glory of God. God was binding Himself, unconditionally, by a blood covenant to Abraham and his descendants forever, saying, "To your descendants I have given this land" (Genesis 15:18).
Confirmation that the promise to Abraham and to his seed was unconditional is presented in Psalm 89:30-37. God says, "If his sons [Israel] forsake My law and do not walk in My judgments, if they break My statutes and do not keep My commandments, then I will visit their transgression with the rod, and their iniquity with stripes."
"Nevertheless My lovingkindness I will not utterly take from him, nor allow My faithfulness to fail." God is saying here that He will not break His covenant.
God's Promise Fulfilled
What about the future of Israel? Israel was reborn as a nation in one day on May 14, 1948, when the United Nations recognized the state of Israel. This was a fulfillment of Isaiah 66:8.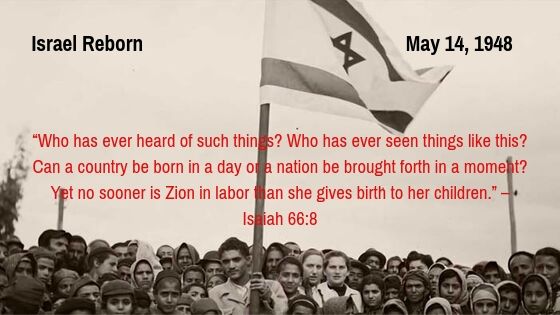 Amos writes concerning the restoration of Israel, "I will bring back the captives of My people Israel; they shall build the waste cities and inhabit them; they shall plant vineyards and drink wine from them; they shall also make gardens and eat fruit from them. I will plant them in their land, and no longer shall they be pulled up from the land I have given them, says the LORD your God" (Amos 9:14-15).
The prophets of Israel declared the nation of Israel would be reborn, would be rebuilt, and the Jewish people would never again be removed. When the Messiah comes, He will set up His throne in the city of Jerusalem and of His kingdom, there shall be no end.
*Read more of the promises of God to the nation of Israel in this article: The "I Will" Promises of God
Conclusion
God's covenant with Abraham and the nation of Israel was unconditional, depending solely upon God who obligated Himself in grace. The unconditional character of this covenant is indicated by God's declarations "I will" that repeat throughout without corresponding "you must" demands of Abraham.
This covenant contained all that God then began to do, has since done throughout history, and will continue to do.
---
Reference Material:
NKJV Prophecy Study Bible {Top 20 Questions About Bible Prophecy & God's Great Promises}
General Editor: John Hagee