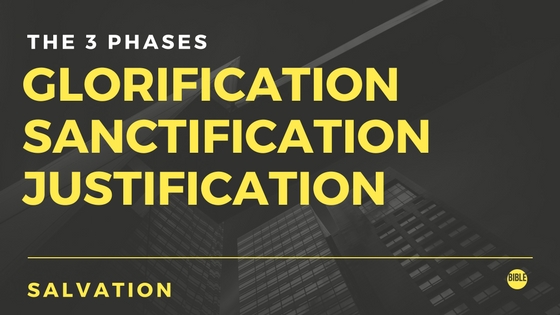 The Three Phases of Salvation
As Christians, we understand that to be saved we need to come to Christ, repent of our sins, and receive Him as Lord and Savior of our life.
In my last article "What is salvation in Christianity," we defined salvation as God's act of reaching out to man to rescue him from the power of sin and eternal punishment in hell.
But biblically speaking, salvation in Christ is often spoken of in three phases or tenses: salvation past (justification), salvation present (sanctification), and salvation future (glorification). The Bible undoubtedly teaches that:
We have been saved (past) – Ephesians 2:8

We are being saved (present) – 1 Corinthians 1:18

We will be saved (future) – 1 Peter 1:5
In this article, we define salvation as a process by which an unsaved sinner separated from God by sin and destined for hell, is redeemed from hell, reunited with God, and destined for heaven. This threefold process of salvation begins in justification, proceeds through sanctification, and ends in glorification.
Justification
"A right understanding of justification is crucial to the whole Christian faith. And if we are to safeguard the truth about the gospel for future generations, we must understand the truth of justification because a true view of justification is the dividing line between the biblical gospel of salvation by faith alone and all false gospels of salvation based on good works." – Wayne Grudem (Systematic Theology, Justification)
Justification is the judicial act of God whereby He forgives the sinner of all his sins – past, present, and future – and declares him righteous in His eyes and free from guilt and punishment. It is an immediate and instantaneous act of God upon the sinner's confession and his acceptance of Jesus Christ as Lord and Savior (Romans 10:9).
Justification is NOT Pardon
One of the modern errors of today is to identify justification with pardon. Justification is more than just pardon; to justify means to declare righteous. When God justifies the sinner, He does not acquit him of his sins. Instead, God restores him back to a state of innocence.
It's also important to note that the sinner is not made righteous but declared righteous and justified by God the Father based on the works and merits of our Lord Jesus Christ. The sinner puts on the righteousness of Jesus Christ (2 Corinthians 5:21).
Henceforth, God sees the sinner as righteous and perfect in the righteousness of Christ. The sinner is justified by grace through faith in Jesus Christ and not by works (Romans 5:1; Romans 3:28).
For a more detailed study on the doctrine of Justification by Faith, I highly recommend you get the book "The God Who Justifies" by James R. White.
Sanctification
Perhaps you've heard somebody refer to salvation as a continuous process in the life of a believer and not just a one-shot deal. That's true because of sanctification – the second phase of salvation.
The basic meaning of sanctification is "separation" or "to be set apart." In the spiritual sense of a believer's life, sanctification means to be set apart: 1) by God 2) for God 3) from sin 4) unto a holy life, and 5) to be made more holy through conforming to the image of His Son Jesus (Romans 8:29).
Sanctification differs from justification in several ways. In justification, our standing in the Lord is changed while in sanctification our character is changed. Justification occurs at the moment of salvation; it is a one-time work of God that results in a declaration of "not guilty" before Him because of the work of Christ on the cross.
Sanctification is Spiritual Growth
Sanctification, on the other hand, is a process. It is primarily the work of the Holy Spirit in a believer's life (2 Thessalonians 2:13), beginning with justification and continuing throughout life, whereby the believer moves from spiritual infancy to spiritual maturity over time as he learns God's Word (2 Peter 2:2) and chooses to live under God's will. In short, sanctification means spiritual growth (2 Peter 3:18).
We have to reiterate that good works cannot save us. What does Paul mean when he says in Philippians 2:12-13 that "we must work out our salvation…?" To "work out" means to bring to completion or to accomplish. We need to work out our salvation because though our past sins have been removed and we have been justified, the present is still here. We are still living and every day we face a world full of sin and temptations.
Paul goes on to say in Philippians 3:13-14 that he's not perfect but he presses on to achieve all the purposes for which Christ has saved him. This should be our goal as believers in Christ. To keep pressing on until the day we will meet face-to-face with the Lord. But until then let us retain a sanctified walk by living a life of implicit obedience to God, (if we fail, we immediately confess it to God and He will restore us), resisting the devil, and by faithful regular Bible reading, prayer, witnessing and living for others.
Sanctification is not instantaneous but is ongoing until the believer leaves this world and goes to heaven.
Glorification
Glorification is the final phase of the saved sinner's salvation experience wherein he leaves this world, either by death or by rapture (1 Thessalonians 4:15-17), and is reunited with the Lord Jesus in heaven. The believer never achieves sinless perfection until he is glorified in heaven; his sin nature is removed and is given a perfect glorified body.
Philippians 3:20-21 says, "Our citizenship is in heaven from which we wait for our Savior to transform our lowly body to be conformed to His glorious body…"
Jesus died on the cross to save us from eternal death and to grant us eternal life. He will come again to complete our salvation by transforming our bodies into immortal glorified bodies to live with Him for all eternity.
IN CLOSING, I challenge each one of us to maintain a sanctified walk with Jesus, just as the apostle Paul did. Let us deal with the present and allow God daily to work in us for His purpose and glory. Let us grow in holiness by completely submitting to the lordship of Jesus in every area of our lives and continuously leave past behind all the things that are not right in the sight of God.
Let us live as Jesus wants us to live, allow Him to work in us, have His way in us, and let us be always open and sensitive to the prompting of the Holy Spirit.