What Can We Learn From Suffering?
What Can We Learn From Suffering?
The subject of human suffering is not easy to understand, for there are mysteries to the working of God that we will never grasp until we get to heaven. Why does God allow bad things to happen to good people? What can we learn from suffering?
Some people argue that the suffering of the righteous is the major obstacle to faith in God. They reason that God cannot be loving and all-powerful if disasters strike good people. Either he doesn't love His followers enough to take care of them or He isn't powerful enough to protect them.
If God's love or power is defective, He isn't worthy of human worship and allegiance.
In the Word of God, there are four great examples of believers suffering for the sake of righteousness: Joseph, Job, Jeremiah, and Paul. In this article, we will look at the accounts of Job and Paul and see what we can learn from them.
The Suffering of Job
Whenever Christians speak of suffering, it is impossible to not consider the account of Job. The Bible describes Job as a blameless and upright man; one who feared God and shunned evil (Job 1:1).
Job was prosperous in his family life (Job 1:2-3). The events in this book took place during the Patriarchal Age (Job may have been a contemporary of Abraham or Isaac) when a large family was seen as a blessing from God (Genesis 12:2; 13:16; 30:1). His children must have enjoyed each other's company since they met frequently to celebrate their birthdays.
And after each feast, Job would offer special sacrifices to God not because their celebration was wicked and that they needed to repent. It only shows that Job was a pious man and wanted to be sure his family was right with God.
Until it happened that Job suffered the loss of his wealth and the death of his children, all in one day. Then, sometime later, his health failed, and apparently, he would never get well.
Finally, his best friends came and accused him of being a secret sinner who needed to get right with God. Add to this Job's wife who was of the opinion that he should curse God for letting all this misery befall him (Job 2:9). In her eyes, God had obviously failed Job.
Interestingly, Job never found out why disaster struck him. Job knew what had happened, but he did not know why it had happened, and that is the crux of the matter. Because the author allows us to visit the throne room of heaven and hear God and Satan speak, we know who caused the destruction and why he was allowed to cause it.
The Suffering of Paul
Paul who used to be Saul, the number one persecutor of Christianity, but later on became Paul, the number one propagator of Christianity, had suffered quite a lot for the sake of the gospel.
In his second letter to the Corinthian believers, Paul opened his heart to them (and to us) and revealed the trials he had experienced. To begin with, he had been severely criticized by some of the people in Corinth because he had changed his plans and apparently not kept his promise to visit them again (2 Corinthians 1:12-18).
When Christians misunderstand each other, the wounds can go very deep. Then there was the problem of opposition to his apostolic authority in the church. One of the members – possibly a leader had to be disciplined, and this gave Paul great sorrow.
Finally, there were difficult circumstances Paul had to endure. He was plotted against several times (Acts 9:23, 29; 20:3; 21:30; 23:10, 12; 25:3), was stoned and left for dead (Acts 14:19), was subjected to satanic pressure (1 Thessalonians 2:18), was beaten and jailed at Philippi (Acts 16:19-24), was ridiculed (Acts 17:16-18; 26:24), was falsely accused (Acts 21:21, 28; 24:5-9; endured a number of violent storms at sea (2 Corinthians 11:25; Acts 27:14-20), was beaten by a serpent (Acts 28:3-4) and was forsaken by all (2 Timothy 4:10, 16).
Learning from Suffering
Perhaps the most painful question confronting the believer is the problem of suffering. Why does a loving and wise God permit His children to suffer?
1. Suffering helps bring out the best in us.
While Satan attempts to use temptation and suffering to bring out the worst in us, God uses them to bring out the best in us.
The hosts of heaven and of hell watched to see how Job would respond to his first test: the loss of his wealth and children. He expressed his grief in a manner normal for that day, for God expects us to be human (1 Thessalonians 4:13). After all, even Jesus wept (John 11:35).
But then Job looked up, worshiped God, and uttered a profound statement of faith: (Job 1:21). Instead of cursing God, as Satan said Job would do, Job praised the Lord. Anybody can say, "God gave me what I had" or "God has taken it away," but real faith says, in the midst of sorrow and suffering, "Blessed be the name of the Lord."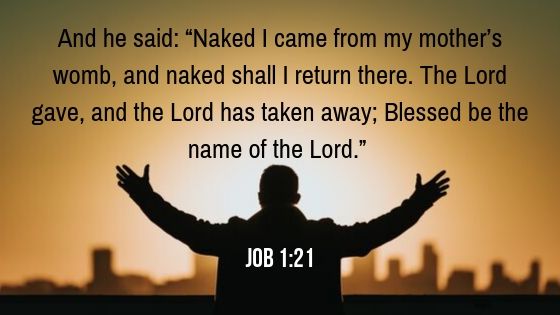 But Satan does not give up easily, and he returned to God's throne to ask for His permission to torment Job physically, which the Lord willingly gave (Job 2:1-7). We get the impression that God was confident that his servant would not fail the test.
Satan was absolutely sure that his strategy of suffering (Job 1:11; 2:4-5) would destroy the faith of Job, which the devil consistently misunderstood (Job 1:9-10). After losing all his wealth and children, and being afflicted with painful boils all over his body, Job's faith in God remained firm. His wife told Job to "curse God and die" which was exactly what Satan wanted him to do, but he didn't (Job 2:9-10).
The two things Job would not give up were his faith in God and his integrity. Even if God permitted evil to come into his life, Job would not rebel against God by taking matters into his own hands. God used Job's sufferings to bring out the best in him.
2. God uses suffering to silence the devil.
Satan accused Job of merely serving God for the material blessings involved (Job 1:9-11). We might paraphrase it like this: "The only reason Job fears you is because you pay him to do it. You two have made a contract: You protect him and prosper him as long as he obeys you and worships you."
We can see that Satan's accusation against Job was really an attack on God. Satan was telling God, "You are not a God worthy of worship! You have to pay people to honor you." So the Lord allowed the devil to torment Job to demonstrate that His servant loved God because of who He was, and not for what he could get from Him (Job 1:12).
God found no fault with Job, but Satan did. God's statement in Job 1:8 echoes the description of Job in verse 1, but Satan questioned it. The word "Satan" means adversary – one who opposes the Law. Imagine a courtroom scene where God and Satan each deliver different verdicts. Satan said Job was guilty, but keep in mind that God said, "Not guilty!"
The readers get the sense that Job's life was a battlefield over which the forces of light and darkness waged war. Satan suffered a tremendous defeat, but Job never knew it. Eventually, Job's insight into God grew, but that in no way diminished the horror of his suffering.
Some of the so-called tragedies in our lives have really been weapons of God when He is "silencing our enemies and all who oppose us (Psalm 8:2)." We may not know until we get to heaven why God allowed certain things to happen.
Meanwhile, we are to "walk by faith" and say with Job, "Blessed be the name of the Lord."
3. Suffering teaches us to depend on God.
In his second letter to the believers at Corinth, Paul began with a doxology (2 Corinthians 1:3). He certainly could not sing about his circumstances, but he could sing about the God who is in control of circumstances. Paul had learned that praise is an important factor in achieving victory over discouragement and depression.
Despite his suffering, Paul was confident that whatever the Father did for Jesus when He was ministering on earth, He is able to do for him and for us today. We are dear to the Father because His Son is dear to Him and we are citizens of the "Kingdom of His dear Son" (Colossians 1:13).
We are precious to the Father, and He will see to it that the pressures of life will not destroy us. God enables us to bear trials. But the first thing God must do is show us how weak we are in ourselves.
Paul was a gifted and experienced servant of God, who had been through many different kinds of trials. Surely all of his experience would be sufficient for him to face new difficulties and overcome them. But God wants us to trust Him, not our gifts or abilities, our experience, or our "spiritual reserves" (2 Corinthians 1:9).
In 2 Corinthians 1:10, Paul says, "God delivered us, will deliver us, and will still deliver us" from all trials. Paul saw God's hand of deliverance whether he looked back, around, or ahead. However, God does not always deliver or rescue us immediately, nor does He always rescue us in the same way. Sometimes God rescues us from our trials, and at other times He rescues us in our trials.
We must never think that trouble is an accident. For the believer, everything is a divine appointment. There are only three possible outlooks a person can take when it comes to the trials and suffering of life.
If our trials are the products of "fate" or "chance," then our only recourse is to give up. Nobody can control fate or chance. If we have to control everything ourselves, then the situation is just as hopeless. But if God is in control, and we trust Him, then we can overcome circumstances with His help.
4. God is glorified through our trials and suffering.
When Paul reported what God has done for him, a great chorus of praise and thanksgiving went up from the saints to the throne of God (2 Corinthians 1:11). The highest service you and I can render on earth is to bring glory to God, and sometimes the service involves suffering.
Every one of us will face various trials and difficulties in our lives. Some may suffer more but as Christians, we must take each situation as an opportunity to show the world how God is still with us and loves us.
Through suffering, we have the opportunity to demonstrate to the unbelieving world how Christ is more glorious and precious to us than any pain and difficulty we might endure. While others are anxious and wallowing in depression, we have every reason to thank God and rejoice.
When we place our ultimate hope in Christ rather than in the temporary things of this world, such as trials and suffering, God is glorified.
5. Sufferings will produce fruit.
If we allow suffering to accomplish its purpose, it can bring forth patience (James 1:3; Hebrews 10:36), joy (Psalm 30:5; 126:6), knowledge (Psalm 94:12), and maturity (1 Peter 5:10).
For more of this please refer to this article: The Christian's Response to Trials
6. Suffering can perfect our character and help us to minister to others.
In every church, there are mature saints of God who have suffered and experienced God's grace, and they are great "encouragers" in the congregation. Paul experienced trouble, not as punishment for something he had done, but as preparation for something he was yet going to do – minister to others in need.
Just think of the trials that King David had to endure in order to give us the great encouragement that we find in the Psalms.
2 Corinthians 1:7 makes it clear that there is always the possibility that the situation might be reversed: The Corinthians believers might go through trials and receive God's grace so that they might encourage others. God sometimes calls a church family to experience special trials in order that He might bestow on them special abundant grace.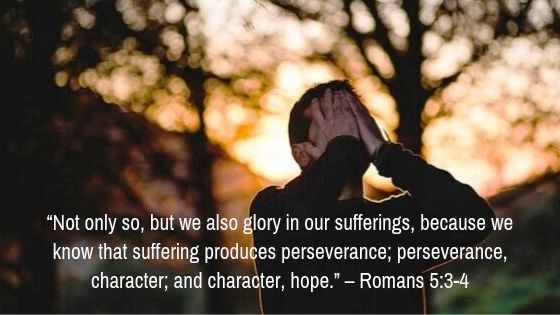 God's gracious encouragement helps us if we learn to endure. "Patient endurance" is evidence of faith. If we become bitter or critical of God, if we rebel instead of submitting, then our trials will work against us instead of for us. The ability to endure difficulties patiently, without giving up, is a mark of spiritual maturity (Hebrews 12:1-7).
God has to work in us before He can work through us. It is much easier for us to grow in knowledge than to grow in grace (2 Peter 3:18). Learning God's truth and getting it into our heads is one thing, but living God's truth and getting it into our character is quite something else.
God put young Joseph through thirteen years of tribulation before He made him the second ruler of Egypt, and what a great man Joseph turned out to be! God always prepares us for what He is preparing for us, and a part of that preparation is suffering.
Suffering: A Barrier to Faith?
In A Grief Observed, C.S. Lewis admits that when his wife Joy died of bone cancer he felt as though the heavens had become a barrier of bronze between him and God. Rabbi Harold Kushner in his book When Bad Things Happen to Good People reports that the issue of the suffering of people who love God is the ultimate theological question for sensitive religious people.
Oswald Chambers wrote in Christian Disciplines, "Perhaps to be able to explain suffering is the clearest indication of never having suffered." He concluded that suffering is one of life's "mysteries that awaken all the other mysteries until the heart rests in God."
That's the dilemma: Some conclude that the suffering of the righteous makes faith in a loving, powerful God impossible; others conclude the suffering of the righteous makes faith in a loving, powerful God imperative.
A Father Suffers
In the Parable of the Prodigal Son, the father lets the younger son leave home and suffer sorts of consequences for his folly. He also let his older son at home struggle with his bitterness and pride. The father endured the anguish of watching both sons deal with pain.
God the Father made humans free moral agents, and with that liberty set the course for our suffering and His: ours because tragedies occur in a world marred by human sin, and Him because He doesn't prevent the pain of those He loves.
What the Father offers us is refuge. We can run to Him and cling with all our might and He will comfort us and share our pain, or we can blame Him and stubbornly suffer.
Closing Thoughts
Why does God allow His people to suffer?
Suffering helps bring out the best in us, produces fruit in us, teaches us to depend on God, can perfect our character, and help us to become more like Jesus so we can minister to others.
Suffering is also used by God to silence the enemy (Satan) and for Him to be glorified in the lives of His people. God works out His purposes in the trials of life, if we yield to Him, trust Him, and obey what He tells us to do. 
Whatever suffering we are experiencing right now, let us find comfort in the words of God in Revelation 21:4.
Should you have anything else to add or if you want to share your story: the trials and difficulties you went through, please use the comment section below.