Trusting God With All Your Heart
Trusting God With All Your Heart
When life gets tough, we need to trust someone. And that someone is none other than God. When we are going through one of life's storms, the Great Physician has a prescription in Proverbs 3:5
"Trust in the Lord with all your heart, and lean not on your own understanding."
You can trust God with your heart because He is trustworthy. He knows the burdens you carry and the tears you shed. He suffered a broken heart and even had a dear friend betray Him. He is the healer of broken hearts, broken dreams, and broken lives. You can trust Him for He never fails.
In Psalm 31:1, David affirms his trust in the Lord, "In You, O Lord, I put my trust." We do not know the precise nature of the trouble David was in, but it severely afflicted him and made him despair of life.
*Related Article: Why We Should Trust The Lord
Trusting in the Wrong Things
Some people place their trust in the wrong things such as money, wealth, power, etc. The apostle Paul wrote, "Command those who are rich in this present age not to be haughty, nor to trust in uncertain riches but in the living God, who gives us richly all things to enjoy" (1 Timothy 6:17).
Why are riches "uncertain?" It's because billionaires are one stock market crash away from being broke. Money can buy a bed of gold, but only God can give us rest. Money can buy the best physicians, but only God can give us health.
Mr. Chee Tat Ng (also known as Philip), the richest man in Singapore, said that he was always in search of a better life, a better purpose, a better everything, but realized he was just looking at all the wrong things. After receiving Jesus Christ as his Lord and Savior, He said he has found the missing piece in his life.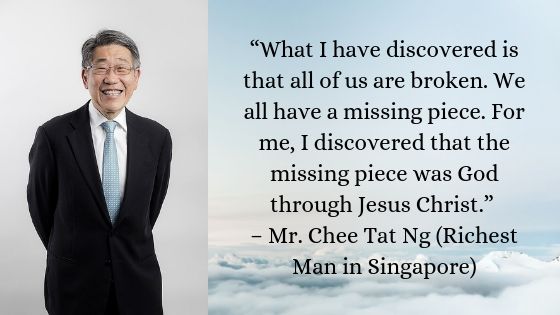 Some people place their trust in education but education without God only produces intellectual barbarians. Take Hitler's Nazis for instance. They were well educated, and yet they threw Jewish children alive into the blazing ovens of Auschwitz. They had obtained scholarly degrees, but they have educated heathens with hearts of stone.
Public schools in America have thrown the Bible out the back door and brought condoms in the front. Without much imagination, we can see where public schools are heading. Without God, they will produce human beings with little moral fortitude.
Trusting God Completely
Trust must be complete or it is not trust.
A farmer went to the county fair and saw a sign that read, "Airplane rides for $50." He told the pilot the price was too high. The pilot said, "I'll make you a deal. If you trust me enough to ride without screaming, the ride is free. If you scream, you pay double."
The farmer agreed to the deal. The pilot took off and took the plane through a series of aerobatic maneuvers. After the plane landed, the pilot said to the farmer, "I'm amazed; you didn't scream once." The farmer replied, "I almost screamed on that barrel roll when my wife fell out."
God asks but one thing of us – that we should trust Him. He does not ask that we understand Him or explain Him or vindicate Him, just that we trust Him.
Unbelief: The Opposite of Trust
The opposite of trust is unbelief. What does God think of people who will not trust Him? Revelation 21:8 says, "But the cowardly, unbelieving, abominable, murderers, sexually immoral, sorcerers, and all liars shall have their part in the lake which burns with fire and brimstone, which is the second death."
Unbelief releases fear, doubt, and suspicion. Unbelief binds the hands of God and releases the demons of hell.
The woman who doubts her husband's love and loyalty does not sing for joy. Her face is haggard, her heart is broken, and her eyes are flooded with tears. That's emotional.
A person filled with self-doubt is not a picture of joy. He is withdrawn, fearful of other people, angry, and seething with resentment. Again, that's emotional.
The Knowledge of God Builds Trust
Trust is not emotional. It is based on knowledge. We know that God is faithful, and trust is born in faithfulness.
When David was facing great trials, he remembered the faithfulness of God in times past (Psalm 31:15). When the lion roared against David's sheep, God came. When the bear appeared, God came through. When Goliath mocked Israel, God gave David victory (1 Samuel 17:34-37, 48-50).
Closing Thoughts
All relationships are built on trust. We trust our spouses, our friends, our co-workers, and our family members. If we do not trust them, our relationships wither and die, choked by suspicion, jealousy, and fear.
In the same way, our relationship with God is based on trust. We are saved by trusting in Jesus. We are healed by trusting in His Word. We are delivered by trusting in the power of His name.
We are forgiven by trusting in the power of His blood. We have hope for the future because we trust He is all-powerful and sovereign.
When we are facing a crisis, we need to remember how many times God has come through for us. God is faithful. He paid our sin debt at Calvary. He conquered death in the grave. And He is coming again with power and great glory.
Do you trust God with all your heart?
---
*Taken from Diamonds for Daily Living, NKJV Prophecy Study Bible