The Women in the Lineage of Jesus Christ
The Women in the Lineage of Jesus Christ
The New Testament was written at a time when genealogies didn't normally contain even a single female name. That is why it's somewhat unusual for Matthew to include not just one but five women in the genealogy of Jesus Christ (Matthew 1:1-17), especially when some of these women are shown to have rather shady characters.
What could have prompted the author to include women in his account of the lineage of Jesus the Messiah? Who are these women in the lineage of Jesus Christ and what does their presence imply?
Tamar:

The Liar and Deceiver
Tamar is the first woman named in Matthew 1:3 as the mother of Judah's twins Perez and Zerah, but her story is told in Genesis 38. Tamar was the wife of Judah's first-born Er who became a widow when her husband died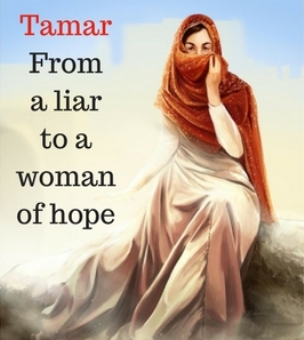 because of his wickedness, leaving her with no children.
According to Jewish tradition, Tamar's father-in-law Judah was obligated to marry her to one of his other sons to raise up an offspring for the firstborn.
However, Onan did not want to comply so the Lord put him to death as well. Apparently, Judah considered Tamar a source of bad luck. For fear that his youngest son Shelah might die too if he married her, he told Tamar to live with her father while she waits for him to grow up.
When Tamar realized later on that she would never be Shelah's wife as Judah had no intention of giving him to her, she decided to take matters into her own hand.
After the death of Judah's wife, Tamar took an opportunity to keep her ties with her dead husband's family. She tricked Judah into impregnating her by veiling her true identity and disguising as a prostitute.
Judah was deceived and slept with her. God granted Tamar conception with not just one but two boys. Perez, one of the twins, is in Jesus' lineage in fulfillment of the prophecy that the Messiah will come from the tribe of Judah (Genesis 49:10).
Tamar's Transformation
Tamar is often described as a prostitute for deceiving Judah into getting her pregnant and thus a blot on the family record. But if we understand Tamar in her specific context, we realize that it was Judah and his sons who failed to do the right thing of raising up children for their dead son and brother; they were the sinners in this story. Tamar had to resort to trickery in order to produce the son that would be the ancestor of Jesus.
Tamar had to veil who she was, humbling herself, in order to preserve a lineage that would eventually open the way for all to gain eternal life. Tamar was transformed from being a liar into a woman of hope; hope not only for her and her family but hope for all mankind.
Rahab:

The Harlot
Rahab, the wife of Salmon, is the second woman in the lineage of Jesus Christ mentioned in Matthew 1:5. Unlike Tamar who posed as a harlot – but actually wasn't – Rahab really was a prostitute. Her story is found in Joshua 2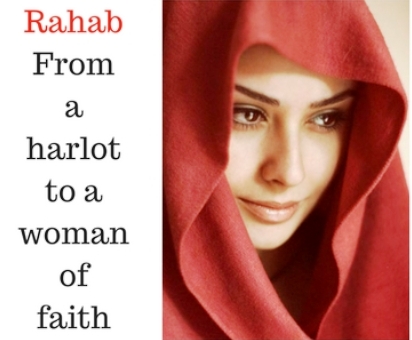 and Joshua 6:22-24.
When Moses' successor Joshua sent two spies into the city of Jericho to find the best way to conquer it, Rahab welcomed them into her house and hid them from the men who wanted to kill them during a search.
Clearly, Rahab has heard about the amazing works that God has performed among the Israelites during their journey from Egypt into the Promised Land that she wanted to be on their side during the battle for control over Jericho.
Her confession is evident in Joshua 2:11 where she openly acknowledged the Lord their God as "the God in heaven above and on the earth below."
In return, the spies promised protection for her and her entire household during the onslaught. After the fall of Jericho, the promise is kept and Rahab together with her family was taken in by the Israelites. She then married Salmon and gave birth to Boaz who will marry the next woman mentioned in the lineage of Jesus Christ, Ruth.
Rahab's Transformation
Rahab took the opportunity that God has given her by saving two Israelite spies. She did not only help them by hiding them in her house but she also aided them with information for their safe return (Joshua 2:16). And when the spies promised safety for her and her household, she put her faith into immediate action by binding a scarlet thread in her window that very day (Joshua 2:21).
Rahab's story certainly affirmed God's power to transform a life from both ignorance of God and a sinful lifestyle to a woman dearly loved by God and praise for her goodness. Rahab was transformed into a woman of faith, and it's because of her faith in the promise of God's messengers that she was later on listed in the "Faith Hall of Fame" in Hebrews 11 as "Rahab, the prostitute" (Hebrews 11:31) and is on equal footing with Abraham himself in James 2:21-25.
Ruth:

The Pagan Gentile
Ruth was a widow and a Moabite who became the daughter-in-law of Rahab (Matthew 1:5). Her story is told in an Old Testament book named after her. Ruth married one of the sons of two Israelites, Elimelech, and Naomi when they went to the land of Moab because of the famine in Bethlehem in the land of Judah.
Naomi's other son also married a Moabite named Orpah. After ten years of dwelling there, both women's husbands died and Naomi decided to return to her native land of Judah (Ruth 1:1-5).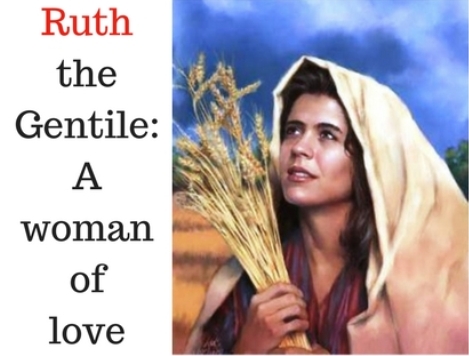 Naomi tells Ruth and her sister-in-law Orpah to return to their own homes (Ruth 1:8). But Ruth refused and vowed loyalty to the mother of her dead husband.
Her vow has become a classic quote, often used in weddings to indicate the bride and groom's intention of loyalty to one another.
"Where you go I will go, and where you stay I will stay. Your people will be my people and your God my God" (Ruth 1:16).
Ruth's loyalty was not only rewarded when she became the wife of Naomi's relative Boaz but more importantly her loyalty to Naomi led her to faith in and loyalty to the God of the Jews.
She becomes the daughter-in-law of Rahab and the great-grandmother of David, the great king of Israel and man after God's own heart (1 Samuel 13:14).
Ruth's story is a beautiful one of loyalty. She's one of the few women for whom an Old Testament book is named. Ruth speaks to us of the enjoyment of life under the loving care of God. We can be like Ruth, for we too, have a kinsman Redeemer like Boaz – the Lord Jesus Christ.
Read the entire story of Ruth in this article: A Summary of the Book of Ruth
Bathsheba:

The Beautiful Manipulator
Matthew does not list Bathsheba by name but identifies her only as "that who had been the wife of Uriah" (Matthew 1:6). This emphasizes the fact that Bathsheba became the wife of King David only after committing adultery with him. After what happened between them, King David arranged for Bathsheba's husband to be killed in battle to cover up their shame (2 Samuel 11-12).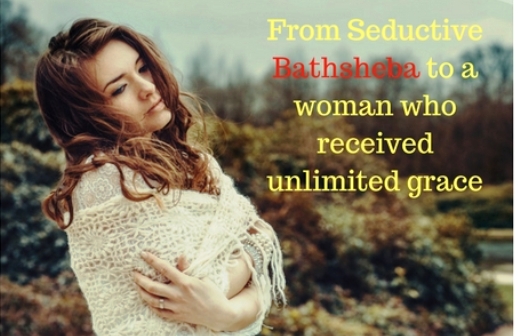 Unfortunately, Bathsheba often gets a bad rap for seducing King David by bathing naked where he could see her.
But a careful reading of the passage (2 Samuel 1:1-4) tells a completely different story. According to Jewish law, women must be purified after their monthly periods by bathing in a ritual bath provided by the community.
Bathsheba was merely following the law, she was minding her own business but happened to attract the attention of King David who was on the rooftop.
King David was clearly the one in control here. So what did King David do? He sent someone to find out more about beautiful Bathsheba then, later on, sent his messengers to get her so he could sleep with her, despite knowing that she was the wife of one of his soldiers.
Some commentators suggest that what actually happened "was probably closer to rape," although it was called adultery which implies mutual consent. King David took advantage of Bathsheba. How could she say no to the king? So Bathsheba becomes pregnant and David has her husband killed in order to cover up his sin (2 Samuel 11:14-16).
Bathsheba's Transformation
Bathsheba's story is sad, yet it presents to us the tremendous grace of God. Clearly, God held David responsible for the sin of adultery and murder, while no responsibility was laid on Bathsheba or Uriah. David's child as a result of his sin died, but Bathsheba became David's lawful wife and mother of his sons, Solomon and Nathan.
We learn from this affair that God can transform situations and bring about newness and hope as Bathsheba was transformed into a woman who received unlimited grace.
Mary:

The Virgin
The fifth and final woman in the lineage of Jesus Christ is His own mother, Mary (Matthew 1:16), who was perhaps the only Jewish woman among the women listed. Mary was a young virgin who was engaged to Joseph.
In the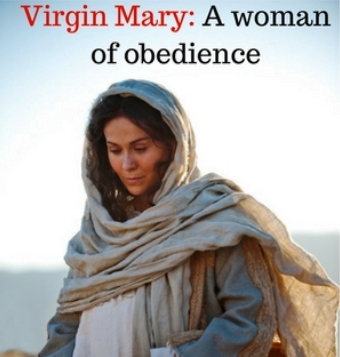 Jewish culture, engagements were serious contracts between two families that usually last about a year before the couple was formally married and began to live together.
Anyone of the couple who was found to have committed sexual misconduct prior to the wedding would be penalized either by stoning to death or breaking off the engagement (divorcing her, Matthew 1:19).
Matthew gives us an account of how Joseph struggled with Mary's virgin conception. The Bible describes him to be a good man who did not want to expose Mary to public disgrace or death (Matthew 1:18-21).
Mary's Obedience
According to the prophecy in Isaiah 7:14, "The Lord Himself will give a you a sign. Behold, a virgin shall conceive and bear a son who shall be called Emmanuel."
It would not be remarkable for a virgin woman to get married and have a son, but for a virgin to conceive and bear a son would be extraordinary. Mary was a woman of obedience. The Bible does not tell us how Mary had the courage to tell Joseph that she was pregnant.
But her courage and willingness to be the servant of the Lord (Luke 1:38) enables her to bear the shame of pregnancy before marriage to be the mother of the Messiah.
Conclusion
The inclusion of women in the genealogy of the Messiah reminds us that from the very beginning of God's interaction with man, women have been a very important part of God's plan. Although their place is not as celebrated, not as obvious and not recorded as much as God's interaction with men because of the domination of women by men, I believe that God holds godly women in such high favor.
Even where society did not encourage the inclusion of females in genealogies, the faith of these five women was so strong they burst out of the confines of socially accepted silence. We learn that God is able to take anyone, such as you and me, who appears to be insignificant and unlikely to succeed and transforms them into important witnesses to the power of God.
---
Recommended Resource: The Confident Woman Devotional: 365 Daily Inspirations by Joyce Meyer
God has created you to be confident, bold, and free-free to be yourself, free from the need to compare yourself to others, and free to step into His destiny for your life.
Based on her #1 New York Times bestseller The Confident Woman, Joyce Meyer taps into concerns and issues that many women commonly experience-lack of confidence, poor self-image, dysfunctional relationships – and provides encouragement and practical wisdom to help resolve problems in those areas of life.
In today's busy, fast-paced world, it's easy to forget the need to slow down and live in the present, while holding on to personal "baggage" that's keeping you from being the woman God created you to be.
But this powerful daily devotional, revised and expanded with new insights, inspirational quotes, and practical action items, will help you on your journey toward a confident life filled with love, laughter, and God's acceptance, one day at a time.