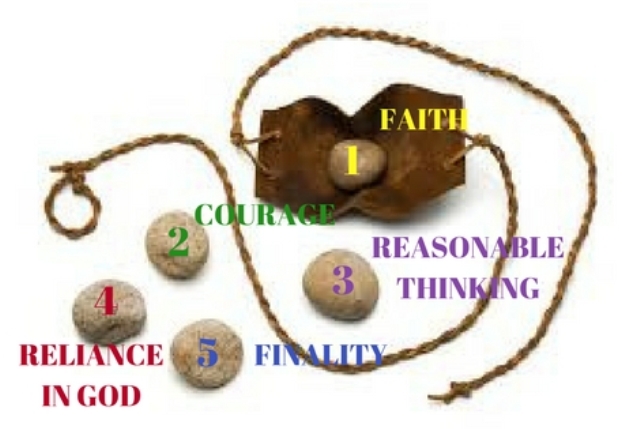 The Weapons that David had
The Weapons that David had
A few years ago, I have talked about how David bravely fought Goliath, the Philistine giant of Gath (1 Samuel 17). Focused on the great battle, I have paid no attention on the stones that David brought with him that day. Going back through the same Scriptures today, I pondered on the five stones that the young David brought with him. If David was so certain he could kill Goliath with just one stone, why then the other four stones? Had David doubted if God was really on his side?
Others say that David was equipping himself in case the other four giant siblings of Goliath will step forward in retaliation if big brother gets defeated. Yet, some say that David was simply preparing in case the Philistines assault him in support for Goliath. The latter invites more skepticism than clarity on how David was thinking to fight against an army with the remaining four stones.
The Bible however, does not explicitly narrate why David had brought more than one stone with him, specifically five in numbers. With any of the above reasons, David nonetheless, carefully handpicked each stone from the brook and must have chosen those that were sound and round to make perfect ammunition. The stones are anyway his only weapons.
It was written that Goliath challenged the armies of Israel repeatedly for forty days and nights. If someone is brought forward to fight against Goliath and kill him, then they will be their servants. On the other side of the coin, if Goliath prevails against David, the people of Israel will be their servants (1 Samuel 17:9).
Saul and all Israel were dismayed and afraid upon hearing this because Goliath is so tall, mighty, and was having the physique of a seasoned experienced soldier designed to kill and to conquer (1 Samuel 17:11). Who will by any other reason not fear a vicious giant? Saul and the rest of the Israelite army were terrified and certainly losing hope.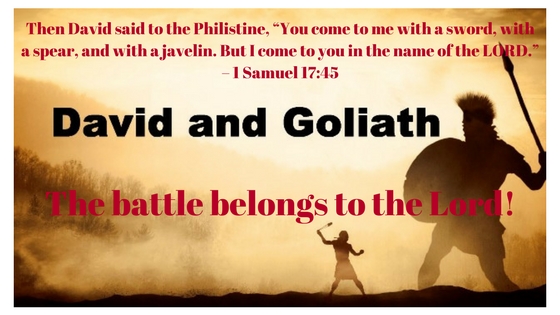 David was then a young shepherd who was made to run errands. Being the youngest among his siblings and inexperienced in war, David was sent by his father, Jesse in between feeding his father's sheep back home and taking care of the needs of his three elder brothers who were in the battle camp (1 Samuel 17:15-18). Eliab, Abinadab and Shammah, were fighting in the front line against the Philistines.
It came to pass that one day, while David was checking on his elder brothers as instructed by his father Jesse, he over-heard Goliath's challenge while the Israelites warriors were turning back with great fear. David expressed his protest from what he has heard and this had reached the attention of Saul.
Saul sent for David (1 Samuel 17:23-31). David told Saul, "Let no man's heart fail because of him; your servant will go and fight this Philistine" (1 Samuel 17:32). Saul belittled David pointing out his youthful inexperience such that he cannot go against this man of war (1 Samuel 17:33). Against all odds, David was so dogged and he insisted. Finally, after Saul might have considered that so many lives were already lost in this battle anyway, the loss of this boy's life will not hurt his statistics. Saul conceded, "Go and the Lord be with you."
At this point, as the encounter between the young David and the villain Goliath is about to begin, let us name the stones not by their physical features but by the good element that each one would have represented.
1) The Stone of Faith
The battle was not actually between the Philistines and the children of Israel but the battle is the Lord's (1 Samuel 17:47).
David believed the outlandish in the minds of men. By heart, he trusted that the Lord who delivered him from the paw of the lion and the bear from whom he protected his father's sheep against, will deliver him as well from the hands of this Philistine (1 Samuel 17:37). Inexperienced, young and armed only with a sling and five stones, David depended more on his faith in God rather than on the things he had as his weapon.
David knew that he was not fighting his own battle but the Lord's. With fullness of trust in God, he loaded his sling with the stone, and ran with all his strength towards Goliath. David needed to launch only a single stone to defeat Goliath (1 Samuel 17:50). Along with that stone is his full trust and faith in God (1 Samuel 17:45-46). The Lord will never fail those who trust and believe in Him!
"Now faith is the substance of things hoped for, the evidence of things not seen." – Hebrews 11:1
What about your faith in God when you face your own Goliaths? Every day in our lives, we are faced with monstrous Goliaths, big and fierce full as they may be. Goliaths transformed into bills to pay, broken family relationships, the loss of a loved one, a deteriorating health condition, or anything that brings uncertainty of a brighter tomorrow. Do we load our sling with the stone of faith just like David did or do we allow our Goliaths to cripple us down in defeat
2) The Stone of Courage
The young David is a true example of an inexperienced but brave warrior. In contrary with the rest of the Israelite armies, Goliath never intimidated him. With his comparatively weaker and ruddy appearance, David certainly seems to be the least favorite bet in this fight. Armed with only a sling and five stones against a giant armored with bronze helmet, coat of mail, bronze armor on his legs and a bronze javelin between his shoulders (1 Samuel 17:5-6), David knew so well where he needs to get his courage from. God bestowed on him a pure heart where all his courage nested. David won the victory with just one stone of faith but he was armed with courage as well!
"Be strong and of good courage, do not fear nor be afraid of them; for the Lord your God, He is the One who goes with you. He will not leave you nor forsake you." – Deuteronomy 31:6
How do you go about in dealing with Goliaths in your life? Do you have the same fortitude just like David had? Well, it takes a genuine faith in God to keep courage brewing in your heart. If God is for us, who can be against us (Romans 8:31)?
3) The Stone of Reasonable Thinking
Going back a few scenes of what took place that day, in preparation for the battle, Saul geared up David with his own armor, helmet and a coat of mail. David fastened his sword to his armor but he took them off after he tried to walk. David took them off not because he thought that he did not need them; neither because they did not fit him. David took them off saying he cannot walk with them on him because he had not tested them (1 Samuel 17:38).
Here goes the third stone that David had; the stone of reasonable thinking. It was either David's innocence or his determination to win this fight that did not make him settle for anything excessive or anything less than what he was sure of. Either way, he got around from creating a probable problem resulting from his inexperience. He was not comfortable with all that stuffy armor and sword but would rather use what he is very well familiar with, his sling. David was not armed with faith and courage alone, but with a reasonable thinking too.
"If any of you lacks wisdom, let him ask of God, who gives to all liberally and without reproach, and it will be given to him." – James 1:5
How do we battle against our own Goliaths? Do we use our reasonable thinking in wrestling against them? Do we conform to the things of this world in getting over our Goliaths even if we know that these are not fitting in the eyes of the Lord? Not everything acceptable in this world is pleasing to God. We have to use our reasonable thinking in dealing with our problems.
4) The Stone of Total Reliance in God
Perhaps anyone who was about to face a great battle would feel secure being armed with completeness of the must-have stuff of a warrior. David's experience of being protected by God in fighting against a lion and a bear that took a lamb from his father's flock brought him in total reliance to God's grace. He has his full trust in God rather than on the King's heavy armor of steel and sword. His faith, courage, reasonable thinking and total reliance in God paved his way to victory.
"My help comes from the Lord, who made heaven and earth." – Psalm 121:2
When we face our Goliaths, do we rely more on the weapons made by man instead of total reliance in God's loving kindness and divine protection? Weak as we are, we trust more on the things we can see and touch instead of trusting on the Almighty.
5) The Stone of Finality
David prevailed in the fight. With a single stone slung and struck, the giant fell to the ground. He did not leave his task unfinished. David stood over the fallen giant, took his sword, drew it out of its sheath and cut off the giant's head (1 Samuel 17:50-51).
"But thanks be to God, who gives us the victory through our Lord Jesus Christ." – 1 Corinthians 15:57
Whenever we face our Goliaths, we do not stop halfway to victory. We thrust in the whole armor of God, crashing down and finishing our Philistine giants (Ephesians 6:12-13).
Conclusion
In the story of David, we were taught that it takes faith, courage, wit but reasonable thinking, total reliance in God and finality in our own battles against the trials and challenges we face in our daily life, to win the victory. We should not look at how big or how difficult the challenge is ahead of us. Rather, we must focus on the author and finisher of our faith, who for the joy set before Him despised the shame and endured the cross (Hebrews 12:2).
If God is for us, we are more than conquerors through Him who loved us (Romans 8:37-39). Have a victorious life with Jesus!
*** For a complete list of various Bible translations, study guides and reference materials, music, toys, gifts and many more at very affordable prices, visit Christian Book Distributors.