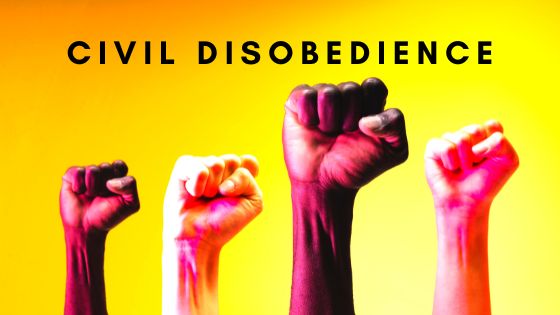 Obey God Rather Than Authorities
Have you ever been in a situation where you had to choose if you should obey God rather than the authorities? On the one hand, the Word of God exhorts us to submit to the governing authorities (Romans 13:1). But on the other hand, we are told to obey God rather than the governing authorities that God has put in place.
So, where do we draw the line? In what instances can we commit civil disobedience?
Bible Verse:

Acts 5:29
But Peter and the other apostles answered and said: "We ought to obey God rather than men."
The apostles obeyed God and trusted Him to take care of the consequences. They could not serve two masters and they had already declared whose side they were on. Had they been diplomats instead of ambassadors, they could have pleased everybody and escaped a beating. But they stood firmly for the Lord, and He honored their courage and faith.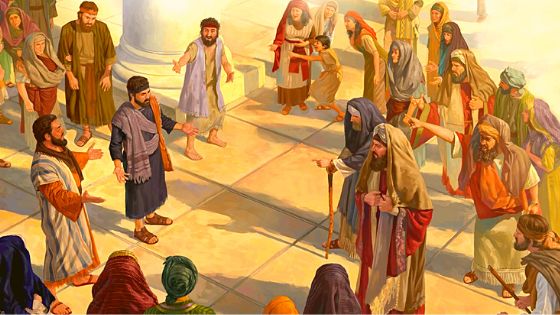 Peter and John set a good example of boldness amidst intimidation and persecution. They did not stop preaching about the resurrection even after they were presented before the council of religious leaders, elders, and teachers. But they acted with respect and courtesy, even when they defied the law.
Doing What's Right
Many times Christians imply that resisting authorities is always a sin and obedience at all costs. That is just not true. That is like saying Corrie Ten Boom should have let those Jews be killed by the Nazis or Rahab should not have hidden the two spies.
God does allow dictators to rule nations at different times in history. But that does not mean Christians must obey them. All of us need to follow Peter's example and make our decisions based on "Is it right?" and not "Is it popular?" or "Is it safe?"
We must be sure, however, that we have the clear teaching of the Word on our side before we disobey the government. Peter knew what the Lord commanded the believers to do (Acts 1:8) and he was going to obey Him at any cost.
The situation of the apostles is not that different from what Shadrach, Meshach, and Abednego had to go through. We read in Daniel 3:1-30 how these three young Jewish men refused to bow down and worship the golden image of King Nebuchadnezzar. As a result, the king's men cast them into the burning fiery furnace.
But because they did what is right before the Lord, the God of Israel rescued them from the furnace that was heated seven times more.
Civil Disobedience
The governing authorities during Peter's time were doing the same thing that is happening today. Those authorities were trying to silence Peter and the apostles from speaking. Isn't this what the authorities in Canada, Australia, China, and America are doing today?
They were trying to remove Peter's God-given right to proclaim the gospel and whatever Peter wanted to say. The government in many countries is arresting those who are speaking against their mandates. This is a violation of their God-given right to free will and free speech! Are we willing to stand up with courage to resist this tyranny?
Two years ago, it was just a mask, then closing the churches and small businesses (a.k.a the livelihood of many people). Then it was about a vaccine, a booster shot, and a mandate.
When are all the Christians going to say, "We have had just enough of this tyranny being imposed upon us?" Where are the Peters of today who will stand up and say, "God has given us the right to refuse these vaccines?" Why are we not refusing these vaccine passports imposed by the ruling class and the government?
My Body, My Choice
We often hear people say, "My body, my choice," when talking about abortion. But these same people who believe in "bodily autonomy" do not believe we have a choice as to what we inject into our bodies. If you are going to stand by this principle, at least try your best to be consistent!
Thank God for the first amendment that allows Americans to make their own choices. Our freedom is a gift from God and we should not allow anyone, even the government, to take it away from us.
1 Corinthians 6:19 says that we have the right to take care of our temple (our body) as we see fit. That is our choice. Since when did God give the government the right to dictate our choices to us? He didn't. So, Christians, stand up for liberty.
Final Words
Yes, Christians should obey governmental authority (Romans 13:1-7; 1 Peter 2:13-17). But when government decrees are clearly contrary to God's Word, we must obey God rather than men. See also Exodus 1:15-17 and Daniel 6:4-10.
In other words, we can respect authority and at the same time disobey the authorities. Remember the example of Daniel who tried to avoid getting his guard into trouble (Daniel 1:5-16). Also, the apostles used their arrests as opportunities to witness to the lost (Acts 5:26-42).
---
Disclaimer: As an Amazon Associate, I may earn a commission when you use any links on this page to make a purchase, but at no additional cost to you.
Recommended Resource: Radical Submission to God: The Awesome Life-Changing Secret to Peace, Power, & Permanent Victory by Philip A. Matthews
True and pure Christianity is God downloading heaven to earth!
That is not happening very often or in very many places. This explains why the world, especially Western society, is getting sick of and cynical about Christianity.
In today's world, when people "have a problem with religion," it is simply because they are not seeing heaven downloaded to earth!
This book will change your life! It is a must-read for the deeply wounded, the depressed, the forsaken, the disillusioned, the abused, the marginalized, and, in fact, anyone who has existential suffering of any kind.
But the message is also great for anyone who wants to go through the crazy changes of life and stay on top with peace, power, and perpetual victory!
In other words, the "abundant life" that Jesus promised His disciples, but which so many Christians today fail to experience. This book contains the secret-radical submission to God!