Study Bibles for Beginners
For new believers, understanding and interpreting the Bible on their own could be a real challenge. I know many Christians who are very zealous in sharing the Word and also in encouraging others, and I do admire them for that.
The only issue I have is that they often take verses out of their contexts in support of a topic that is not in any way related to it. This is called "proof-texting," one of the common errors of biblical interpretation.
How do we avoid committing this error? Having a good study Bible will help. If you are serious about the Word of God, it's time you invest in a good study Bible that will help you to understand and properly interpret God's Word.
Regular Bible vs. Study Bible
What is the difference between a study Bible and a regular Bible? They are the same in that they both contain the Word of God: 39 books in the Old Testament and 27 books in the New Testament.
The difference is that a study Bible has additional features such as book introduction, historical context, cross-references to other Bible passages, outlines or maps, extensive study notes and explanations of key doctrines, devotionals, and so much more.
But which study Bibles are recommended for beginners? In this post, I will be sharing with you a list of my recommended study Bibles.
Selecting a Study Bible
Choosing the best study Bible can be overwhelming because there are hundreds of great choices. So how can one possibly determine which one suits them best? Can we even say that one study Bible is better than the rest? I don't believe so. But I would say that there are a few that are better than the rest.
Let me also mention that in selecting a study Bible, there are certain things you need to consider. First is the translation. We have the NIV, ESV, NASB, KJV, CSV, NLT, and numerous other options. How do you select which one is best for you from among them?
The Best Study Bibles 
If you are a beginner or new believer, I highly recommend that your first study Bible is one that focuses on interpretation rather than on application. You can always purchase an application study Bible later on.
So here we go.
NIV Cultural Backgrounds Study Bible
Publisher: Zondervan
Publishing Date: August 23, 2016
Editors: Craig S. Keener & John H. Walton
Description: The Bible was originally written to ancient people removed from us by thousands of years and thousands of miles.
It includes subtle culturally based nuances, undertones, and references to ancient events, literature, and customs that were intuitively understood by those who first heard the texts read.
So, for us to truly understand the Scriptures as they did, we need a window into their world and language. This is what the NIV Cultural Backgrounds Study Bible provides. Every page is packed with expert insight into the customs, culture, and literature of biblical times.
These fascinating explanations will serve to clarify your study of the Scriptures, reinforcing your confidence and bringing difficult passages of Scripture into sharp focus.
Best Places to buy: Amazon & ChristianBook Distributors
NKJV Spirit-Filled Life Study Bible (Third Edition)
Publisher: Thomas Nelson
Publishing Date: September 4, 2018
Editor: Jack W. Hayford
Description: Take a deep and powerful look at Scripture — and experience the presence of the Holy Spirit as you encounter God in His Word.
This best-selling NKJV Bible draws on the expertise of an expanded team of respected, Spirit-led scholars, led by Pastor Jack Hayford, founding pastor of The Church on the Way and chancellor of The King's University.
With over 2 million copies sold, the NKJV Spirit-Filled Life Bible continues to equip God's people to live in His kingdom, exercise the gifts of the Spirit, and lay hold of God's promises.
Best Places to buy: Amazon & ChristianBook Distributors
Quest Study Bible
Publisher: Zondervan
Publishing Date: November 19, 2011
Editor: Christianity Today Int.
Description: Get answers to the Bible questions you have … and questions you haven't yet pondered!
The NIV Quest Study Bible features over 7,000 notes written in an engaging question and answer format that gives insight into the common, uncommon, and sometimes perplexing passages from the Bible.
You will have the opportunity to consider questions like, "Why did God send angels to Jacob?" "What prevents God from hearing our prayers?" and "Why does God test us?" as you explore God's Word using the many study helps.
Best Places to buy: Amazon & ChristianBook Distributors
The Jeremiah Study Bible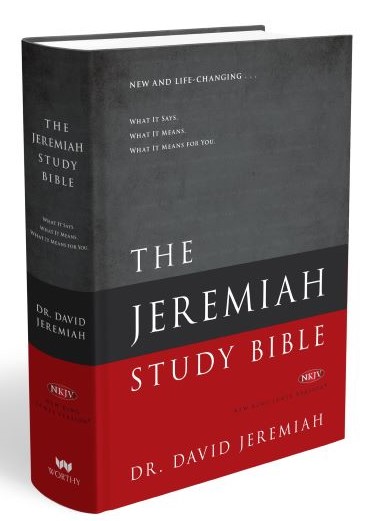 Author: Dr. David Jeremiah
Publisher: Worthy Books
Publishing Date: November 26, 2013
Description: Drawn from more than 40 years of study, Dr. David Jeremiah, one of America's leading Bible teachers, has produced a deeply personal and comprehensive study Bible packed with features specifically focused to help you discover what Scripture says, what Scripture means and, most importantly, what Scripture means to you.
The Jeremiah Study Bible presents the best of biblical insight and study tools along with clear, practical application to bring about authentic transformation in your life.
Best Places to buy: Amazon & ChristianBook Distributors
The MacArthur Study Bible
Publisher: Thomas Nelson
Publishing Date: November 5, 2013
Editor: John F. MacArthur
Description: The NASB MacArthur Study Bible is a classic resource that is perfect for serious study.
Dr. John MacArthur has collected his pastoral and scholarly work of more than 35 years to create the most comprehensive study Bible available. No other study Bible does such a thorough job of explaining the historical context, unfolding the meaning of the text, and making it practical for your life.
Features: A 25-page concordance, including people and places, more than 20,000 study notes, charts, maps, outlines, and articles from Dr. John MacArthur, Overview of Theology, Index to Key Bible Doctrines.
Best Places to buy: Amazon & ChristianBook Distributors
NIV Biblical Theology Study Bible
Publisher: Zondervan
Publishing Date: September 4, 2018
General Editor: D.A. Carson
Description: Biblical Theology allows you to ponder the individual stories and themes of Scripture while observing how they all fit together in God's grand biblical narrative.
It answers the question, "How has God revealed his word historically and organically?"
With three articles introducing Biblical theology and 25 articles unpacking key themes of Scripture, the NIV Biblical Theology Study Bible equips you to follow the progressive unfolding of God's story.
Features: Complete text of the accurate, readable, and clear New International Version (NIV), previously published as NIV Zondervan Study Bible, 28 theologically rich articles by authors such as Tim Keller and Kevin DeYoung, 20,000 verse-by-verse study notes, Hundreds of full-color photos, more than 90 maps, and over 60 charts, Comprehensive book introductions, Over 60 trusted contributors, Cross-references and the NIV Comprehensive Concordance, Single-column, black letter edition, Two ribbon markers, and more.
Best Places to buy: Amazon & ChristianBook Distributors
The NKJV Prophecy Study Bible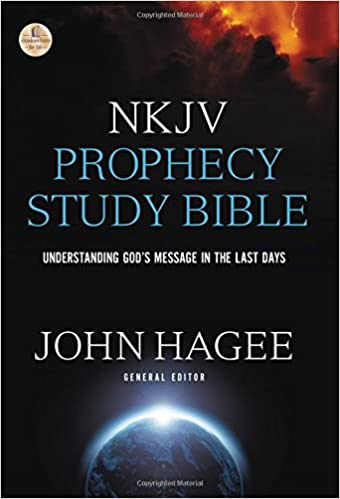 Publisher: Thomas Nelson
Publishing Date: November 10, 2015
General Editor: John Hagee
Description: The prophecies of the Bible assure us that God will prevail.
The NKJV Prophecy Study Bible, 2015 Edition has hundreds of pages of special features that offer a broad understanding of prophetic themes, salvation, covenants, and other important doctrines of the Christian faith.
Features: Introduction to Bible Prophecy, Index to Prophetic Passages, Top 20 Questions about Bible Prophecy, Diamonds for Daily Living, God's Great Promises, God's Great Salvation, Evidences, Spokesmen for God, Bible Insights, Bible Prophecy Charts, and Full concordance.
Best Places to buy: Amazon & ChristianBook Distributors
NLT Life Application Study Bible (Third Edition)
Publisher: Tyndale
Publishing Date: October 1, 2019
Description: Today's number 1 selling study Bible, the NLT Life Application Study Bible, has been thoroughly updated and expanded, offering even more relevant insights and spiritual guidance for applying God's Word to everyday life in today's world.
This study Bible for women and men answers real-life questions and provides practical yet powerful ways to apply the Bible to your life every day.
Explore the stories and teachings of this NLT study Bible with verse-by-verse commentary. Gain wisdom from people in the Bible by exploring their accomplishments and learning from their mistakes.
Survey the big picture of each book through overviews, vital statistics, outlines, and timelines, and grasp difficult concepts using in-text maps, charts, and diagrams.
Best Place to buy: Amazon
Compass Study Bible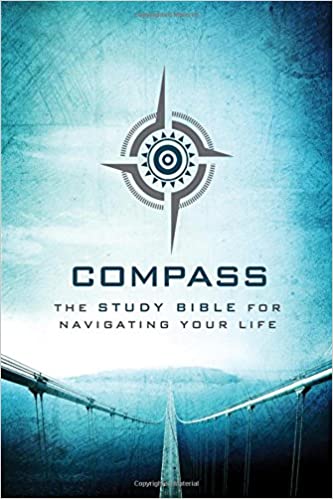 Publisher: Thomas Nelson
Publishing Date: February 11, 2014
Editor: Ecclesia Bible Society
Description: Do you want to start reading and applying the Bible to your life, but aren't quite sure where to start? Let Compass point you in the right direction.
Packed with Bible-reading helps and using an energizing, new Bible translation, Compass is a Bible designed with you in mind.
Features: In-text notes that include cultural, historical, theological, and devotional thoughts, God's Promises—Thomas Nelson's bestselling guide to Scripture for your every need, Book introductions, Reading plans for every day of the year, Topical Guides to Scripture, and notes, and In-text maps.
Best Places to buy: Amazon & ChristianBook Distributors
Closing Thoughts
Why do you need a study Bible?
A study Bible is a great supplementary resource that will help you understand Scripture more clearly as you read it. It can also help you interact with God's Word in a deeper and more meaningful way and to properly apply it in your life.