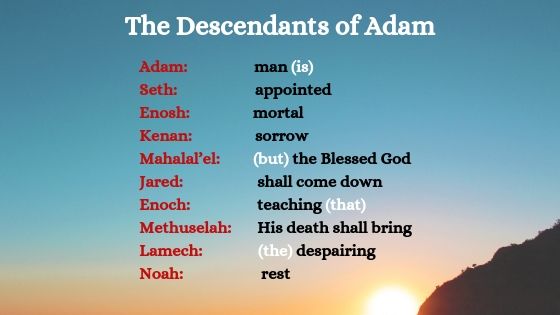 Hidden Messages in Genesis 5
The fifth chapter of Genesis includes the first genealogy in Scripture and introduces "the written account of the descendants of Adam." Ten generations are listed here, from Adam to Noah, just as ten generations are listed from Shem to Abraham in the "account of Shem's family" (Genesis 11:10-26).
But how true is it that there are actually hidden messages in Genesis 5? Adam and his descendants lived a long time but Methuselah lived the longest. Methuselah is well-known as the oldest man in the Bible, yet he died before his father. How can that be?
Enoch didn't Die
Enoch, Methuselah's father, didn't die; he was transferred directly to heaven without passing through death ("raptured," as some would say). Instead of the echoed words "and then he died," Enoch's life story ends with the statement, "And Enoch walked with God; and he was not, for God took him" (Genesis 5:24).
It was "by faith" that Enoch was taken to heaven (Hebrews 11:5). He believed in God, walked with God, and went to be with God, which is an example for all of us to follow. It must have been difficult to live in close fellowship with God during those years before the flood when vice and violence were prevalent and only a remnant of people believed in God (Genesis 6:5).
But Enoch's life of faith wasn't a private thing, for he boldly announced that God would come to judge the world's sins. Isn't it interesting that the oldest prophecy in the Bible was uttered by Enoch before the flood of Noah concerning the Second Coming of Christ?
It is not found here in Genesis but in the next-to-last book of the Bible, Jude.
Now Enoch, the seventh from Adam, prophesied about these men also, saying, "Behold, the Lord comes with ten thousands of His saints, to execute judgment on all, to convict all who are ungodly among them of all their ungodly deeds which they have committed in an ungodly way, and of all the harsh things which ungodly sinners have spoken against Him." – Jude 14-15
Enoch's life and witness remind us that it is possible to be faithful to God "in a world full of crooked and perverse people" (Philippians 2:15).
The Birth of Methuselah
The birth of Methuselah when Enoch was 65 was a turning point in his life because he then began to live "in close fellowship with God." The Bible says, "After he begot Methuselah, Enoch walked with God three hundred years" (Genesis 5:21-22).
"If men walk contrary to God, he will not walk with them, but contrary to them. Walking together implies amity, friendship, intimacy, love, and these cannot exist between God and the soul unless the man is acceptable unto the Lord." – Charles Spurgeon
Did the responsibility of raising a son in such a godless world so challenge Enoch that he knew he needed God's help? Or when the baby was born, did God give Enoch insight into the future so that he knew the flood was coming? We do not know, but we do know that (as history has repeatedly demonstrated) the arrival of Methuselah changed his father's life.
What's in a Name?
Enoch named his son using two Hebrew roots: muth, which means "his death," and shellac, which is a verb form that means "bring," or "sent forth." So the name Methuselah means, "his death shall bring."
It seems that when Methuselah was born, Enoch was told that as long as his son was alive, the forthcoming judgment of the flood (the Flood of Noah) would be withheld. So as we can see, the flood of Noah did not come as a surprise; it had been predicted for four generations.
This significance behind the name Methuselah also hints that a message might be hidden behind these other names found in chapter 5 of Genesis. Adam had a son named Seth; Seth had a son named Enoch, and so on.
The problem with Genesis 5 is that these proper names are not translated for the reader from their Hebrew meanings, so you have to unravel these by digging into the meaning of the Hebrew roots that make up the names.
Adam: (adomah)

"man"

Seth:

"appointed"

(Genesis 4:25)
Enosh: (from root anash, "to be incurable")

"mortal,"

"frail," "miserable"
Kenan:

"sorrow,"

"dirge," "elegy"
Mahalal'el:

"the Blessed God"

– (mahalal) "blessed"; (El) the name of God
Jared: (from the verb yaradh)

"shall come down"

Enoch: "commencement" or

"teaching"

Methuselah:

"his death shall bring"

– muth, a root that means "death"; shalach means "bring" or "send forth"
Lamech:

"despairing"

(from which we get "lament" or "lamentation")
Noah: (derived from nacham) "comfort" or

"rest"

(Genesis 5:29)
We now can look at genealogy with more insight. The sequence: Adam > Seth > Enosh > Kenan > Mahalaleel > Jared > Enoch > Methuselah > Lamech > Noah reads, in English, "Man [is] appointed mortal sorrow; [but] the blessed God shall come down teaching [that] His death shall bring [the] despairing rest."
Hidden in the meaning of the names in the genealogy is a beautiful presentation of the Gospel of God's saving grace.
Lessons in Genesis 5
There are several profound lessons here. First, here is a summary of the New Testament Gospel tucked away in genealogy in the Torah. This demonstrates something we will encounter throughout the Scripture: every detail is there by design.
It was only after Methuselah died that the flood came. This tells us one thing: It was no accident that Methuselah lived for nine hundred and sixty-nine years. God kept him alive longer than anybody to give people as long as possible to repent.
It also tells us that God's plan of redemption was not a knee-jerk reaction to Genesis chapter 3 (The Fall of Man). God had ordained it before the foundation of the world.
It is also noteworthy that the words "and he died" occur eight times in this chapter, emphasizing the fact that death was now reigning over mankind because of Adam's sin (see Romans 5:12-17, 21). Sin and death still rule today, but through Jesus Christ, we can "live in triumph over sin and death" (Romans 5:17).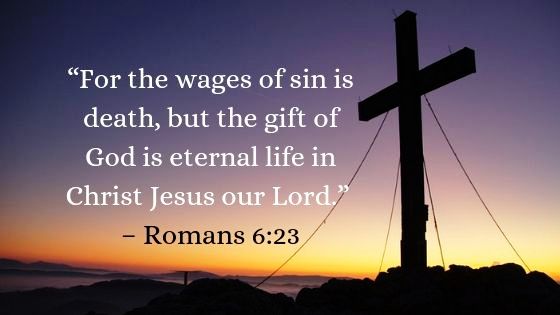 Conclusion
There are hidden messages in the Bible, and they're not just the equidistant letter sequences that have caused such controversies in recent years. There are dozens of other kinds of codes that don't require a computer to decipher; they are there if we know how to look.
The Scripture is inexhaustible – we can never get to the bottom of its depth. And this is exactly what every Bible reader would expect from God.
As Chuck Missler and Perry Stone always say, "The New Testament is the Old Testament concealed, and the Old Testament is the New Testament revealed."
In other words, many things in the Old Testament do not make sense until you illuminate them with the New Testament.
Note: I need to make a correction here. It should have been, "The Old Testament is the New Testament concealed and the New Testament is the Old Testament revealed."
---
Reference:  
Learn the Bible in 24 Hours by Dr. Chuck Missler
For those who have tried and failed to follow through on a plan to study the entire Bible, Chuck Missler has the answer. Learn the Bible in 24 Hours is an ideal study aid to help you grasp the big picture of Scripture. Each chapter is designed for study in an hour or less.
Features include:
Sound, fresh teaching on Scripture

Historical and cultural insight into biblical passages

Sidebars that highlight the primary concepts of the chapter