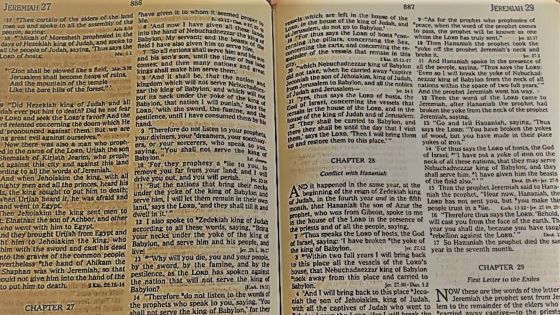 A Letter from Jeremiah to the Exiles
Jeremiah 29 records several letters: one from Jeremiah to the exiles, including reference to a letter concerning Jewish false prophets in Babylon to which Jeremiah replied; one from Shemaiah to the Temple priests, concerning Jeremiah; and one from Jeremiah to the exiles concerning Shemaiah.
Let us examine Jeremiah's letters and see how the principles he laid out might and should be applied in our lives today as Christians.
A Letter of Instruction and Encouragement
Sometime after the deportation in 597, Jeremiah sent a letter to the exiles in Babylon to tell them how to behave in their new land. Governed by special laws concerning clean and unclean things, the Jewish people would have a difficult time adjusting to a pagan society.
Jeremiah wanted the Jewish people to be good witnesses to the idolatrous Babylonians, and he also wanted them to be good even though they were separated from their Temple and its services. He addressed himself to the needs of three kinds of people: those with no hope, those with false hopes, and those who have true hope.
Those With No Hope



The exiles had lost everything but their lives and what few possessions they could carry with them to Babylon. They had lost their freedom and were now captives. They had been taken from their homes and had lost their means of making a living. They were separated from relatives and friends, some of whom may have perished in the long march from Jerusalem to Babylon.
No matter how they looked at it, the situation seemed hopeless. So, Jeremiah gives them a Word from the Lord (Jeremiah 29:5-7). Clearly, the Jewish people were in Babylon by the will of God.
Yet, they were instructed to build houses and dwell in them; plant gardens and eat their fruit. Take wives and beget sons and daughters; and take wives for their sons and give their daughters to husbands, so that they may bear sons and daughters – that they may be increased there, and not diminished.
Also, they must seek the peace of the city where God has caused them to be carried away captive, and to lift it up to the Lord in prayer it; for when the city is peaceful, they will have peace.
Application to the Christian



When something as depressing as this happens to us, how should we handle it? It's pretty difficult to remain hopeful while we watch everything we hold dear crumble before our very eyes. But no matter how tragic it might be, we must not allow any difficult circumstance to hold us back. Hanging our harps on the willow and sitting around weeping may be a normal reaction to tragedy but it sure won't do us any good (Psalm 137:1-4).
One of the first steps in turning tragedy into triumph is to acknowledge that God has allowed it (Jeremiah 29:4). We must accept the situation courageously and entrust our lives completely into the hands of a loving God, who makes no mistakes.

Those With False Hopes



The false prophets in Babylon were giving false hopes to the people concerning Jerusalem and Judah. Apparently, these false prophets had convinced the people that their stay in Babylon would be brief; thus they did not need to settle down and try to resume a normal life.
This word got back to Jeremiah so he wrote to the exiles again not only to warn them about these false prophets but also to tell them just the opposite of what they have been told (Jeremiah 29:8-9).
Since Jewish exiles would be in Babylon for as long as seventy years (Jeremiah 29:10), they would have plenty of time to build houses and set up homes. The exiles needed to have families so that people would be available to return to Judea when the captivity ended. This small Jewish remnant was holding in its hands the future of God's great plan of salvation, and they must obey Him, be fruitful, and multiply.
The Jews could have easily waged constant warfare against their idolatrous Gentile captors, but Jeremiah instructed them to strive to get along with the Babylonians. The exiles were to be peacemakers, not troublemakers, and they were to pray sincerely for their enemies. (See Matthew 4:43-48; 1 Timothy 2:1-3; Titus 3:1-2.)
Application to the Christian



It was possible to be good Jews even in pagan land; it's also possible to be good Christians in a secular and wicked world. Remember, if we reject the wooden yoke of submission, we only end up wearing an iron yoke of subjugation (Jeremiah 28:12-14).
Thus, the best course is to yield ourselves to the Lord and to those who are over us, no matter how badly they may treat us. (See Peter's counsel to Christian slaves in 1 Peter 2:18-25). To indulge in false hope is to miss what God has planned for us.
Those Who Have True Hope



True hope is based on the revealed Word of God, not on the dream messages of self-appointed prophets (Jeremiah 29:8). God had given His people a gracious promise to deliver them from captivity, to gather them from all the nations and from all the places where He has driven them and bring them back to their land (Jeremiah 29:10-14).
And God is faithful, He would keep His promise. All the people have to do is to seek the Lord with all their hearts. According to Jeremiah 29:14, these promises reach beyond the Jews captive in Babylon and include all of Israel throughout the world. Jeremiah was looking ahead to the end of the age when Israel will be gathered to meet their Messiah and enter their kingdom (Isaiah 10:20 – 12:6).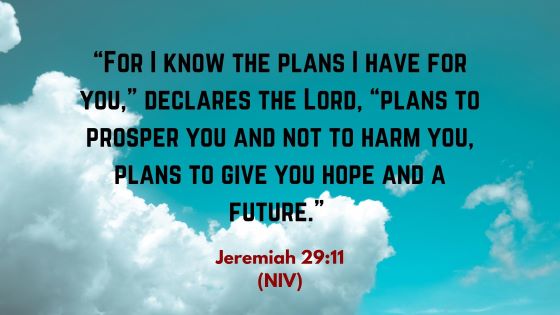 Application to the Christian



In every situation, God's people have the responsibility to seek the Lord, pray, and ask Him to fulfill His promises, for the Word and prayer go together (Acts 6:4). They say that what life does to us depends largely on what life finds in us. If we seek the Lord and want His best, then circumstances will build us and prepare us for what He has planned
If we rebel or if we look for quick and easy shortcuts then circumstances will destroy us and rob us of the future God wants us to enjoy.
Closing Thoughts



God caused the Jews to be carried away captive in Babylon; it was part of His plan in bringing judgment on Judah for their generations of rebellion against Him. And in God's plan, they would be in Babylon for a long time. But God has not forgotten about them and He never wanted to destroy them.
A man with a heart of a true shepherd, Jeremiah wanted to enlighten and encourage the Jewish exiles in their new life in Babylon.
God wanted the exiles to multiply in Babylon just as they multiplied in Egypt. He also wanted them to be good in their communities and to be a blessing to their Babylonian neighbors.
How was it possible for Jeremiah to get in touch with the Jewish exiles in Babylon? Correspondence like this wasn't difficult to maintain in those days, for diplomatic missions between Jerusalem and Babylon were regular.
In the same way, God wants His children to be good neighbors, employees, co-workers, and a blessing even to the meanest people. The Word of God exhorts every believer in Jesus to do everything with all their heart as though they are working for the Lord (Colossians 3:23-24).
---
Disclaimer: As an Amazon Associate, I may earn a commission when you use any links on this page to make a purchase, but at no additional cost to you.
Recommended Resource: Hope in the Hard Places: How to Survive When Your World Feels Out of Control by Sarah Beckman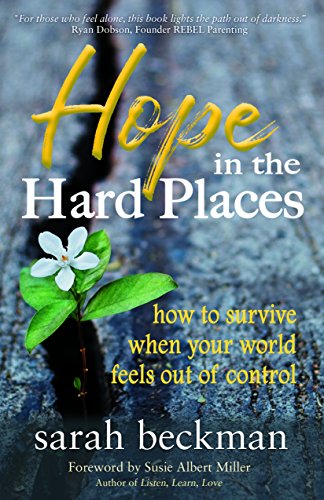 Hope in the Hard Places is a practical, encouraging guidebook for the weary soul looking for hope in dark circumstances.
In this life, everyone must face trials. Cancer, chronic illness, loss of a loved one, divorce, depression, prodigal children, caring for aging parents, and other unknown terrains can cause people to feel hopeless and helpless.
For those who feel like they don't know where to turn, Hope in the Hard Places equips readers to walk through their trial with hope rather than desperation.
Sarah Beckman, a speaker, and author, teaches effective and powerful ways to get through the pain with biblical truths and principles. She also includes insight from others who have experienced all manner of trials.
Packed with practical strategies, checklists, encouragement, wisdom from seasoned travelers, and rock-solid biblical truth, Hope in the Hard Places provides a beacon of hope in the darkness so that readers can walk through the depths of hardship with insight, dignity, and certainty.