Living Out Your Heavenly Citizenship
Many people all around the world want to get to America and eventually become citizens. Why not? I've heard many Americans say that the United States is the greatest country on planet earth. And that the poorest people in the United States are the richest people in third-world countries!
So, I get it. People, especially from third-world countries see America as a ticket to a better life. So much so that there are thousands of illegal crossings at the Texas-Mexico border daily. I can't blame them. Who does not want to live the American dream?
But if there's one citizenship that every person on planet earth should want to have, it's heavenly citizenship.
Bible Verse:
Philippians 3:20, NLT
"But we are citizens of heaven, where the Lord Jesus Christ lives. And we are eagerly waiting for Him to return as our Savior."
We must note that in his letter, the apostle Paul was addressing the Philippian believers. When he said, "We are citizens of heaven …" he was referring to himself and the church.
How did they acquire their heavenly citizenship? By acknowledging their sins, repenting, and trusting in Christ as their Lord and Savior.
If you did the very same thing that the church at Philippi did, then you are also a citizen of heaven. You may be holding a Philippine passport, British passport, American passport, etc. But you also have an invisible passport to heaven.
A Heavenly Citizenship
In the sight of God, there are only two kinds of citizenship: earthly and heavenly. Your earthly citizenship is temporary while your heavenly citizenship is for eternity.
God has already predetermined our race and nationality before conception. But that does not mean we can't choose to become citizens of another country. God does not forbid you to move to another country and become a citizen there.
But God desires for everyone to become citizens of heaven just as He originally designed them to be.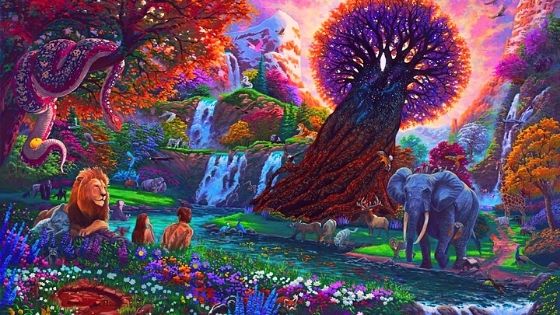 Before the fall, Adam and Eve held heavenly citizenship. Didn't they enjoy intimate daily fellowship with God? However, things changed after they deliberately disobeyed God.
As a result, Adam and Eve's relationship with God was broken and they forfeited their heavenly citizenship. The good news is that God wanted to restore that broken fellowship. He also wanted to open the pathway for all earthly citizens to become citizens of heaven.
John 3:16 tells us what God did to accomplish that.
How to Live as Citizens of Heaven
The moment a sinner repents and accepts the gift of eternal life from God, he acquires heavenly citizenship. But what does it mean to become a citizen of heaven? How should Christians live out their heavenly citizenship?
1. Do Not Live Like the World
Paul said this to the church in Rome:
"Do not be conformed to this world, but be transformed by the renewal of your mind …" (Romans 12:2, ESV).
In the NIV translation, this verse reads, "Do not conform any longer to the patterns of this world…" This simply means Christians should STOP copying the lifestyle of the world.
Before coming into the knowledge of God's truth, we were just like the people in the world. We conducted ourselves in the same manner and behavior, held the same beliefs and customs. And whatever the world dictates as acceptable, we also deemed acceptable.
Paul said the same thing to the believers in Ephesus but reworded and expounded on it. "So I tell you this, and insist on it in the Lord, that you must no longer live as the Gentiles do, in the futility of their thinking" (Ephesians 4:17, NIV).
If we continue reading Ephesians 4:18-32, Paul enumerates all the things that the Gentiles do and tells them how they should live instead. To summarize, Paul said, "Throw off your old sinful nature and put on your new nature."
Now that we're no longer earthly citizens, we need to stop behaving just like the people of the world. Instead, we are to start living our new life in Christ as new creations (2 Corinthians 5:17).
2. Do Not Love the World
"Do not love the world nor the things in the world. If anyone loves the world, the love of the Father is not in him." – 1 John 2:15, NASB
This does not mean we should loathe anything and everything that is in the world. Remember, God originally created everything "good" (Genesis 1:10, 12, 21, 25).
For instance, marriage and family which are earthly institutions are good. Scientific and advanced medicines are good because they help cure diseases and prolong human life. Technology is good because it connects people who are miles away from each other.
Wealth and riches are good because they allow us to have a comfortable life. The Bible does not say money is the root of all evil. It's the love of money that is the root of all evil (1 Timothy 6:10).
The "good things" from God become "bad" only as a result of Satan's perversion. So, there's nothing wrong and everything right about enjoying God and the blessings He freely bestows on us in this life.
But let us be careful to not get too attached to this life and the things of this world. This is what it means to not love the world. It's about setting our priorities straight.
The Word of God reminds us to not start obsessing about the wealth and pleasures of this world. This is because earthly pleasures are not from the Father (1 John 2:16-17, NASB).
Friendship with the World
As citizens of heaven, we should not also be too friendly with the world. Friendship with the world makes you an enemy of God (James 4:4). Intimate friendship requires a commitment. When you choose to side with the world, you just chose to be in opposition to God. It's because the world is currently ruled by Satan who is the archenemy of God (2 Corinthians 4:4).
You can't be loyal to two opposing parties. As Matthew 6:24 (NIV) says, "No one can serve two masters. Either you will hate the one and love the other, or you will be devoted to the one and despise the other."
Joshua said the same thing (Joshua 24:15), "Choose this day whom you will serve…"
The bottom line is, there is no middle ground, there is no gray area. When you love the world, the love of the Father is not in you. If you are friends with the world, you become an enemy of God.
It's a matter of choice!
3. Live as Pilgrims in a Foreign Country
"Dear friends, I warn you as temporary residents and foreigners to keep away from worldly desires that wage war against your very souls." – 1 Peter 2:11, NLT
Peter kind of echoed what King David said.
"We are here for only a moment, visitors and strangers in the land as our ancestors were before us. Our days on earth are like a passing shadow, gone so soon without a trace." – 1 Chronicles 29:15, NLT
A stranger or foreigner is a temporary resident or traveler in a foreign country, passing through on his way to his home country. This is what we are in this world. Thus, we have a different mentality about life as compared to the permanent residents of this world.
As travelers, we don't live according to the customs and standards of the foreign country we are in. But for the sake of not offending the locals, we may temporarily adopt some of their customs if they are morally neutral.
For instance, women here in Saudi Arabia are required to wear abayas and keep their heads covered. So, foreign women must do the same when they come here. Also, during Ramadan which is the month of fasting for Muslims, we should not eat or drink in front of them.
4. Set Your Hearts & Minds on Heavenly Things
"Since, then, you have been raised with Christ, set your hearts on things above, where Christ is, seated at the right hand of God. Set your minds on things above, not on earthly things." – Colossians 3:1-2, NIV
To set our minds on things above means we should think of heavenly things; we should meditate on the things of God and His Kingdom.
But what about setting our hearts on the things above? What does this mean? In the Bible, the "heart" always stands for our affection, aspiration, desire, and passion.
Paul's encouragement to the believers is that their desires align with God's desires and be passionate about them. And also for them to develop a heavenly mindset – a way of thinking that goes far beyond what humans perceive.
We must note that everything on earth is temporary. Everything visible will come to an end while what is unseen is eternal (2 Corinthians 4:18).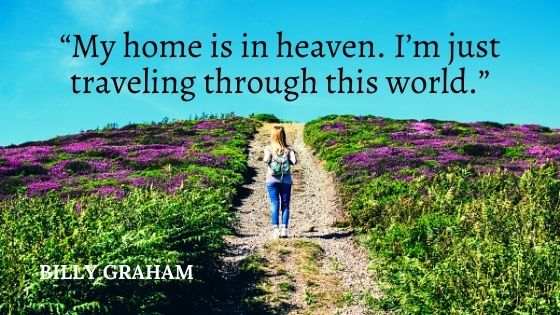 Know Your Priorities
However, to desire heavenly things and think about the things of God does not mean we should not live in fullness. It does not mean you should not get married and have a family just because our Lord never married.
Or if you have a family, you neglect your responsibilities to them and claim that you are focused on God's work. And if you're a mother, you need to take care of your husband and children.
As a man or woman of God, your first ministry is your family. Take care of your family first before attempting to take care of God's business in the church. You cannot be effective in the church if you can't even take care of your own family.
It's the same thing at work. Whatever your job maybe you should, by all means, give your best. Always give it your 100%. As Colossians 3:23-24 (NIV) says, "We must do everything as working for the Lord…"
But as citizens of heaven, we need to always prioritize the Kingdom of God. We have to carry out God's mandate known as the Great Commission (Matthew 28:19-20) – witnessing/evangelism and discipleship.
We are to keep building the church by using our God-given talents and resources to serve God and others.
Conclusion
Are you living as citizens of heaven?
We are aliens and strangers on this earth, heading as pilgrims toward heaven. We've got to adopt that mindset, which includes constantly remembering that we aren't staying here for long. Our home is in heaven. We should live like it!
Although we are still in this world, we are not of this world. Many things could go wrong in this world but we shouldn't get distracted.
As heavenly citizens, we are to remain faithful to God, live in righteousness, and anticipate the promised return of Christ. Philippians 3:21 tells us what happens when Christ returns.
"He will take our weak mortal bodies and change them into glorious bodies like his own, using the same power with which he will bring everything under his control." – Philippians 3:21, NLT
This is the third and final phase of our salvation – the glorification of our bodies. This will take place in the event known as the rapture, our blessed hope.
---
Recommended Resource: A Place Called Heaven: 10 Surprising Truths about Your Eternal Home by Dr. Robert Jeffress
If any of us learned we were going to move to a foreign country, we'd do everything we could to learn about that place so that we'd be prepared when moving day arrived.
As Christians, we know someday we will leave our familiar country and be united with God in heaven. And yet many of us know very little about this place called heaven.
In this enlightening book, bestselling author Dr. Robert Jeffress opens the Scriptures to unpack ten surprising truths about heaven and explain who we will see there and how we can prepare to go there someday.
Perfect for believers or skeptics who are curious about heaven.