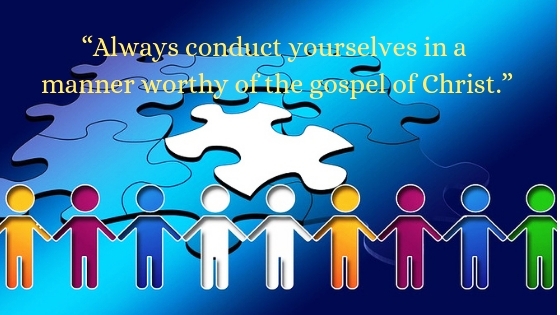 How to Live as Citizens of Heaven
Bible Verse: Philippians 1:27 (KJV)
"Only let your conversation be as it becometh the gospel of Christ; that whether I come and see you, or else be absent, I may hear of your affairs, that ye stand fast in one spirit, with one mind striving together for the faith if the gospel."
Reflection & Challenge
This verse is not as straightforward as you might think. In this context, the word conversation has nothing to do with what you say. It actually means what you do or your lifestyle.
Your lifestyle speaks volumes about who you are. Since as a Christian, Jesus saved us and is changing who we actually are. It is called sanctification. Since we are progressively being changed by the Holy Spirit, our lifestyle should be changing as well.
As this verse is saying, does your lifestyle preach the gospel to the unsaved world? Do you act different from unsaved people or are you just like them? Throughout the Bible, God tells us ways how we can act differently from the world. We just need to go find those verses.
For instance, Philippians 2:3 mentions how Christians should esteem others over themselves. Do you do that? Philippians 2:7 reminds us of how Christ, the Creator of all, took the form of a servant. Do you serve others?
Unsaved people murmur or complain all the time. Philippians 2:17 reinforces that we can be different from the world by not complaining. 1 Corinthians 10:31 tells us that everything we do needs to be done for the glory of God.
*Related Article: Bible Study – The Great Commission
If your life is a sacrifice to God, you will work hard at everything you do. Do you? Matthew 28:19-20 tells us we need to go into the world and give the gospel to as many people as possible and disciple new believers. Do you know how to give the gospel, nonetheless have you done it? The point is, our lifestyle should radiate the gospel, not just with our words, but our actions as well. Does yours?