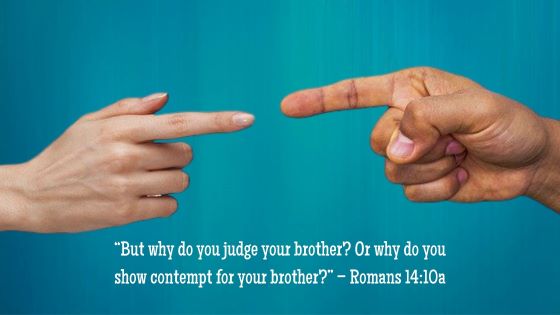 Judging Your Brother in Faith
Judging Your Brother in Faith
Do you know of any brother or sister in Christ who only eats vegetables? What could be the reason behind it? More importantly, how do you feel about it or your reaction to it? Perhaps you know some Christians who consider one day more sacred than the other while you consider every day alike.
Do you condemn or judge them for their weak faith?
Bible Verses:

Romans 14:10-14
But why do you judge your brother? Or why do you show contempt for your brother? For we shall all stand before the judgment seat of Christ. For it is written: "As I live, says the Lord, Every knee shall bow to Me, and every tongue shall confess to God." So then each of us shall give an account of himself to God.
Therefore let us not judge one another anymore, but rather resolve this, not to put a stumbling block or a cause to fall in our brother's way. I know and am convinced by the Lord Jesus that there is nothing unclean of itself; but to him who considers anything to be unclean, to him it is unclean.
Condemning the Weak Believers
The whole chapter of Romans 14 is talking about Christian liberty and unity. Paul addresses those who were strong in the faith, that is, those who understood their spiritual liberty in Christ and were not enslaved to diets or holy days.
Who are the weak believers? The "weak in faith" were immature believers who felt obligated to obey legalistic rules concerning what they ate and when they worshiped. Many people have the idea that the Christians who follow strict rules are the most mature, but this is not necessarily the case.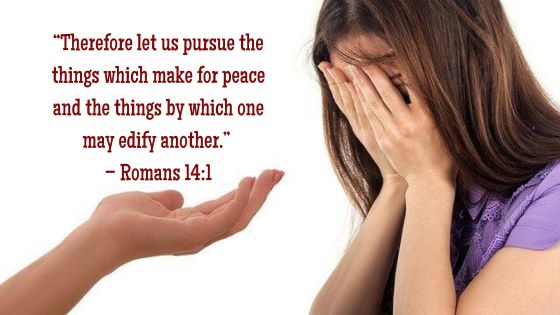 We don't have the responsibility to decide the requirements for Christian fellowship in a church, only God can do this. To set up human restrictions, based on personal prejudices (or even convictions) is to go beyond the Word of God. We receive one another because God has received us (Romans 14:1-3).
Our first responsibility is to the Lord (Romans 14:8). If Christians would go to the Lord in prayer instead of going to their brother or sister with criticism or condemnation, the fellowship in churches would be stronger. See also John 21:15-25.
Every church has weak and strong believers. The strong understand spiritual truth and practice it, but the weak have not yet grown into that level of maturity and liberty. The weak must not condemn the strong and call them unspiritual. The strong must not despise the weak and call them immature.
God has received both the weak and the strong; therefore they should receive one another (Romans 14:12).
Do Not Judge Your Brother; Love Them Instead
The first part of Romans 14:13 admonishes us to stop judging one another. But if we stop with this, we might give the impression that Christians should leave each other alone and let the weak remain weak. But the second admonition explains things further.
The emphasis is not on master-servant but a fellow believer. It is the principle of brotherly love. If we love each other we will seek to edify each other and build each other up in the faith (Romans 14:19). In the succeeding verses of Romans 14, Paul shared several facts to help his readers help their brothers.
Stop judging your brother in faith. Stop condemning the weak believers.
In the meantime, we must help each other grow. All believers, strong and weak, need to grow. Strong believers need to grow in love; weak believers need to grow in knowledge. So long as a fellow believer is weak in the faith, we must lovingly deal with that person in his or her immaturity.
But if we really love the weaker believer, we will help them to grow. For a Christian to remain immature, having a weak conscience is wrong.
Unity Does Not Always Mean Uniformity
If you have been following the late Dr. Ravi Zacharias, you should be familiar with the phrase, "Unity does not always mean uniformity." He always used this every time he had to deal with the question of the differences in minor theology among Christian denominations.
Paul is telling us the same thing in Romans 14. Sure, God wants us (and expects us) to set standards in our lives. Sometimes those standards will be different from other Christians and there is actually nothing wrong with that.
God does not want unity based on conformity. God does not want Christians to live by a set of rules given by their pastor. This then results in Christians having different standards in many different areas.
However, disputes arise when believers start judging other believers for having stronger standards. In Romans 14:10, God is telling us, "Don't worry about what other Christians are doing." In other words, how they live their Christian life is none of your business. At the end of the day, we will all stand before Jesus to give an account of ourselves. You are not responsible for them.
This is actually what I use to completely ignore what other Christians are doing. All I'm saying is, don't get all offended over what people do. You are not their judge so stop acting like one. Romans 14:14 implies that God has given all Christians the liberty to decide what standards they want to have. Thus, we must be convinced of the standards we set for ourselves.
Closing Words
If you do not know yet the standards you should live by, go figure. Nothing is inherently wrong, but if you believe Christian rock music is wrong and drinking alcohol is wrong, then don't do it. You are responsible for your own actions.
We will all give an account of the way we lived our lives. On that day, we won't have time to look at everyone else. Are you prepared to stand before God?
---
Get a copy of my devotional book "Life According to the Truth."
Publisher's Description
Do you know what it means to be a disciple of Jesus Christ? Did you know that God wants to prepare you during this life to live in heaven with Him? Does your purpose for life evade you? In Life According to the Truth, disciple of Jesus Christ, Michael Heilman, honestly writes to the issues facing the church and how to live the victorious Christian life.
Michael expounds on biblical principles God has applied to his life and led to God's blessing in many areas of his life. With illustrations, humor, and most importantly Scripture, he explains to any born again believer who is spiritually wandering through life, how to be spiritually blessed by God as a disciple of Jesus Christ.
In this devotional Bible study, you will be enlightened in regards to:
Why God must be the key focus of your life.

How to love God

How to love others.

How to discern God's will for your life

How to be confident with your identity in Jesus Christ
Life is difficult, but God can enable you to have abundant joy. If you are a born-again believer that needs encouragement, this book is for you.