Bible Verses About Stress and Anxiety
Bible Verses About Stress and Anxiety
Nobody is excused from stress and anxiety, not even Christians. We all feel stressed from time to time; we are anxious about our children, our finances, our health, our jobs. The long list could go on and on. Often times we find it pretty hard to find peace in the midst of a stressful situation. But what a great comfort to know that there are a lot of Bible verses about stress and anxiety telling us exactly how to deal with them.
Admittedly, my job has been the constant cause of my stress and although I trust God to take care of all my fears and worries, I still find myself stressing out every time I'm at work. I feel stressed thinking of the things that need to be accomplished. I feel stressed every time I see my co-workers not caring about getting their works done on time.
And whenever I get home and reflect on what happened at work that day, I realize how worked up I've been the entire day that I almost did not have time to thank God for all His blessings. Below are just 7 of the verses we can read and meditate whenever stress and anxiety kick in:
Psalm 55:22
"Cast your burden on the Lord, and He shall sustain you; He shall never permit the righteous to be moved."
When we find ourselves in the midst of trouble, our first thought is: "How can I get out of this?" But as firm believers in the Lord, we need to ask, "What can I get out of this?" In the same way that David learned to rest in the Lord and found in Him peaceful refuge while hiding in the wilderness from Saul, let us learn to cast our anxiety unto the God who never changes.
In times when you find yourself in the midst of the storm, know that the Lord is forever faithful and He will never allow you to slip and fall. You do not have to fret and get stressed out, for the Lord will be by your side to rescue you; that's His promise.
Philippians 4:6-7
"Be anxious for nothing, but in everything by prayer and supplication, with thanksgiving, let your requests be made known to God; and the peace of God, which surpasses all understanding, will guard your hearts and minds through Christ Jesus."
The NLT (New Living Translation) uses the word "worry," which means "to be pulled in different directions." Our hopes pull us in one direction, our fears pull us the opposite direction, and we are pulled apart. Worry has definite physical consequences, such as neck pains, headaches, back pains, and ulcers.
Do you know that worry can affect our thinking, our digestion, and even our coordination? Paul exhorts us to take everything to God in prayer. Talking to God about everything – not only the "big things" but even the so-called "little things" – will result in God's peace that will guard our hearts and minds.
1 Peter 5:7
"Casting all your cares upon Him, for He cares for you."
What does it mean to cast all your cares or anxiety on God? Luke 19:35 uses the exact same form. "Then they brought him to Jesus. And they threw their own clothes on the colt, and they set Jesus on him." This simply means that if you have a garment on and you want an animal to carry it for you, you "cast" the garment on the animal so you won't have to carry it anymore.
God wants to be a burden-bearer; He is willing to carry your anxieties and burdens (Matthew 11:28; Psalm 55:22), the same way a donkey carries your baggage. But how is this possible? By trusting Him. Casting your cares on God means trusting Him to handle every situation because you believe that He cares.
Isaiah 41:10
"Fear not, for I am with you; be not be dismayed, for I am your God. I will strengthen you, yes, I will help you, I will uphold you with My righteous right hand."
As the Jewish remnant faced the challenge of the long journey home and the difficult task of rebuilding the Temple, they could think of many reasons to fear. But the one big reason for them not to be afraid: the Lord was with them and would give them success. God calmed their fears by assuring them and working on their behalf.
God's promise in this verse is not only for the Jewish people; it's for everyone who puts their trust in Him. However, you first need to recognize that God is greater than your personality. He is greater than your past timidity. Do not fear because He is your God, He is always with you; He will strengthen you and uphold you with His righteous right hand.
---
Recommended Resource: Do Not Be Afraid!: How to Find Freedom from Fear by Rabbu K. A. Schneider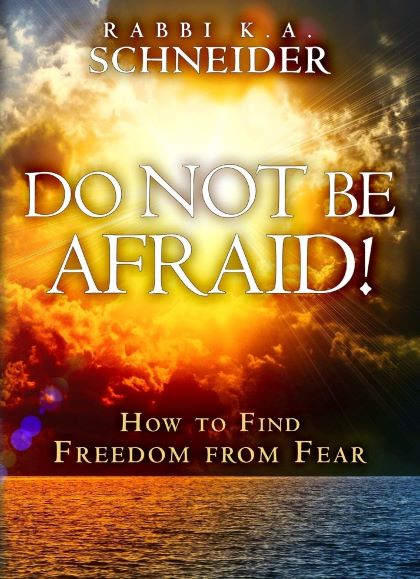 You Can Live Without Fear!
For God has not given us a spirit of fear, but of power and of love and of a sound mind.  2 Timothy 1:7
Everyone deals with fear; not everyone conquers it. Throughout our lives, we all experience different kinds of fears. Unfortunately, many of us believe the lie that fear is something we have to live with. You don't! According to Scripture, God desires every one of His children to be free from fear—including you!
In Do Not Be Afraid!, Rabbi K.A. Schneider shares a personal testimony of how he struggled with and experienced victory over fear—and how you too can walk in this same supernatural freedom.
This book shows you how to:
Identify and overcome the enemy's number one weapon against believers

Unlock the power of God's Word to defeat different fears that come against you

Pursue freedom as a lifestyle, not a temporary experience

Enjoy supernatural peace even while living in a dark world
Resist the devil's trap, walk in Jesus' supernatural freedom, and fearlessly step into your destiny today!
---
Joshua 1:9
"Have I not commanded you? Be strong and of good courage; do not be afraid, nor be dismayed, for the Lord your God is with you wherever you go."
Whenever Joshua faced an enemy and was tempted to be afraid, he would remember that he was a man with a divine commission, and his fears would vanish. Whenever things went wrong and he was tempted to be dismayed, he would recall God's command and take new courage.
God does not only expect us to live strong and courageous; He has called us to live without fear because God is with us wherever we go (Hebrews 13:5). While we are to fear God and live in reverence of Him, Scripture tells us to live with confidence in God's promises and power.
Matthew 6:34
"Therefore do not worry about tomorrow, for tomorrow will worry about its own things. Sufficient for the day is its own trouble."
Worrying about tomorrow does not help either tomorrow or today. If anything, it robs us of our effectiveness today, which means we will be even less effective tomorrow. Focus on whatever God is doing right now without having to get worked up about what may or may not happen tomorrow.
The Lord has appointed to each day its own portion of pleasure and trouble. So never misappropriate the troubles that God has allotted for tomorrow. Do not ever bring them forward into today in the form of anxiety. But believe that God will take care of tomorrow because He is not only the God of today, He's also the God of tomorrow.
Psalm 46:10
"Be still, and know that I am God; I will be exalted among the nations; I will be exalted in the earth."
To "be still" literally means "take your hands off and relax." Often times, we like to be "hands-on" people and manage our own lives, but God is God, and we are but His servants. Remember how Jacob often got into trouble because he liked to get his hands on circumstances and tried to play God.
There is a time to obey God and act, but until then, we had better take our hands off and allow God to work on His own time and His own way. When faced with a lot of stress and anxiety, let us learn to be still and acknowledge that God is the one and only victorious God.
Conclusion
Christians need not feel stressed and anxious. God is on our side and He has given us what we need in order to have peace of mind. He knows everything that's going on in our lives, and although He can prevent or permit whatever He wants – including some things that could hurt us – He will work them all out for our own good; we just need to trust Him.
What do you think are the common reasons why Christians are stressed out and anxious? Had there been times in your life when you were overwhelmed with fear and worry? How did you deal with it? Please let us know in the comments below.