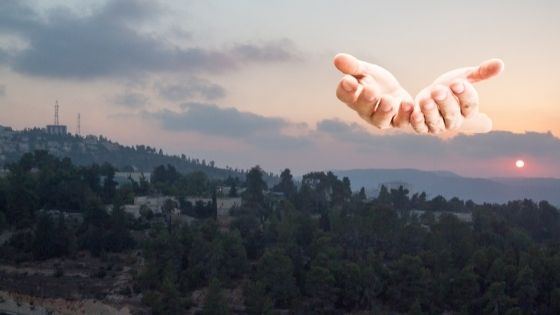 The theme of Isaiah chapter 40 is God's promise of comfort for His people. As the Jewish remnants were about to leave Babylon, Isaiah announces God's future blessings for them.
The Jews were few in number and were facing a long and difficult journey. What kind of future awaits them? Will they be able to rebuild Jerusalem and the Temple?
As the remnant in Babylon looked back, they saw failure and sin, and they needed encouragement. And so, God gave them His message in four voices with a special message.
The Voice of Pardon
"Comfort, yes, comfort My people!" says your God. "Speak comfort to Jerusalem, and cry out to her, that her warfare is ended, that her iniquity is pardoned. For she has received from the LORD's hand double for all her sins" (Isaiah 40:1-2).
The nation of Israel had sinned greatly with their idolatry, injustice, immorality, and insensitivity to His messengers. And at the moment Isaiah spoke this, Jerusalem was well aware of her sin. Isaiah made her aware of it.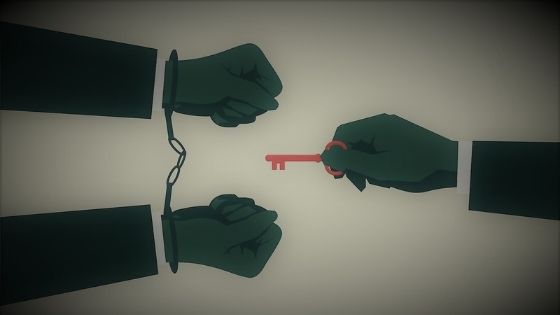 Yet, the prophet declared that "her iniquity is pardoned." This is real comfort! Their sinfulness did not stop them from being God's people. God still loved them. Though He would chasten them, He would not forsake them.
Some Christians today believe that God has already forsaken the Jews because they have rejected Christ as Messiah. But anyone who knows the Bible pretty well should know that God keeps His promises. God made an everlasting covenant with Abraham and will never break it.
The Voice of Providence
The voice of one crying in the wilderness: "Prepare the way of the LORD; make straight in the desert a highway for our God. Every valley shall be exalted and every mountain and hill brought low. The crooked places shall be made straight and the rough places smooth. The glory of the LORD shall be revealed, and all flesh shall see it together. For the mouth of the LORD has spoken" (Isaiah 40:3-5).
As the Jews head back to rebuild Jerusalem and the Temple, they can only imagine the challenges that await them. But the Lord promised He would go before them to open the way.
The picture here is of an ambassador repairing the roads and removing obstacles, preparing the way for the coming of a king. God would remove every obstacle before them so they can travel with ease.
---
Disclaimer: As an Amazon Associate, I may earn a commission when you use any links on this page to make a purchase, but at no additional cost to you.
Recommended Resource:
The God of Comfort: 100 Bible Verses to Soothe Your Spirit by Zondervan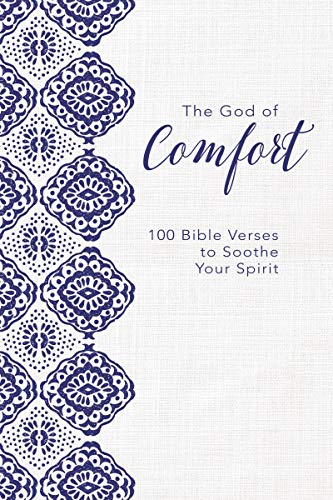 Are you filled with worry? Does anxiety interfere with your joy? God knew His people would suffer from anxiety even though He warned us not to worry. The God of Comfort is another soothing reminder for your spirit. Inside you'll find Scripture and reflections that will guide, support, and assure you that God is with you through every trial.
Each of the 100 Bible verses includes a:
supportive reflection

simple prayer inspired by the Bible verse

a minimalistic designed interior that is great for men and women
This beautiful book is chock-full of rich insight on everything from trusting the Lord, to bring your troubles to Him in prayer, to finding refreshment for your soul.
The God of Comfort is:
a great self-purchase to help you work through your own anxiety and worries

a thoughtful gift for a friend who is going through a challenging time

a meaningful gift for an essential worker, teacher, or co-worker
---
How does this apply to Christians today? Building a road is much like the kind of preparation that God must do in our hearts. It's expensive in the sense that accomplishing it would require an expert engineer (God) to deal with the problems that need to be fixed.
We need to understand that the glory of God is not only revealed to Jerusalem or Judah. God reveals His glory to every heart that is prepared as described in Isaiah 40:5. We can be assured of this because it's the mouth of the LORD that said it.
The Voice of Promise
The voice said, "Cry out!" And he said, "What shall I cry?" "All flesh is grass, and all its loveliness is like the flower of the field. The grass withers, the flower fades, because the breath of the LORD blows upon it. Surely the people are grass. The grass withers, the flower fades, but the word of our God stands forever" (Isaiah 40:6-8).
Isaiah must be thinking of the beautiful green grass covering the hills of Judah after the winter rains. And then how quickly the grass dies and the hills end up brown and barren.
"People are like grass." They are frail and weak. Even man's beauty is fleeting and passes as quickly as wildflowers. In the same way, the nations of Assyria and Babylon have come and gone. Like the grass, nations and their leaders fulfill their purpose and then fade away. But the Word of God abides forever (Psalm 37:1-2; 90:1-6; 103:15-18).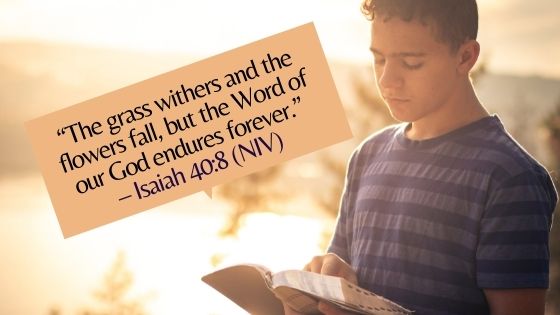 As the Jewish remnants begin their journey home, they could depend on God's promises. Perhaps they were especially claiming 2 Chronicles 6:36-39).
Peter makes a beautiful application of this passage in 1 Peter 1:22-25 as he gives a stirring call for love among Christians. Since the Word of God is eternal, we are both obliged and able to sincerely love one another. In need of more love for others? It begins with having more of the incorruptible seed set in our hearts and allowing it to grow.
The Voice of Peace
O Zion, You who bring good tidings, get up into the high mountain; O Jerusalem, You who bring good tidings. Lift up your voice with strength, lift it up, be not afraid. Say to the cities of Judah, "Behold your God!" Behold, the Lord GOD shall come with a strong hand. And His arm shall rule for Him; behold, His reward is with Him, and His work before Him. He will feed His flock like a shepherd; He will gather the lambs with His arm. And carry them in His bosom, and gently lead those who are with young (Isaiah 40:9-11).
Isaiah speaks of a message so great (good tidings) that must spread as quickly and widely as possible. The message had to be shouted out, so the messenger is told to lift up his voice with strength. The messenger had good news to shout. The good news on that day was the defeat of Babylon and the release of the Jewish captives (Isaiah 52:7-9).
Today, the good news that needs to be shouted out is the defeat of sin and Satan by Jesus Christ. We invite people to accept the gift of salvation that God freely gives to all who will trust in Christ (Isaiah 61:1-13; Luke 4:18-19).
Some scholars say this invitation to "behold your God" speaks of a study and a long-term mission to know the greatness and the character of God. Nothing is far greater than for a follower of Jesus to study and know their God.
Another aspect of our God to behold is the fact of His return. The Lord will return to earth to rule and reign. Maranatha, come, Lord Jesus!
Closing Thoughts
What a comfort to know that we are never alone, both in our joys and struggles. God spoke to the Jewish remnants in four voices with a special message for them through the prophet Isaiah.
In the same way, God speaks to us through His Word (the Bible) to give us His message of forgiveness, providence, promise, and peace. We can rest in God's promise of comfort because He is faithful.